From quiet retreats to luxurious pampering, the best spas in Ontario offer the chance for a little personal pampering and couples getaways. Here are our top picks.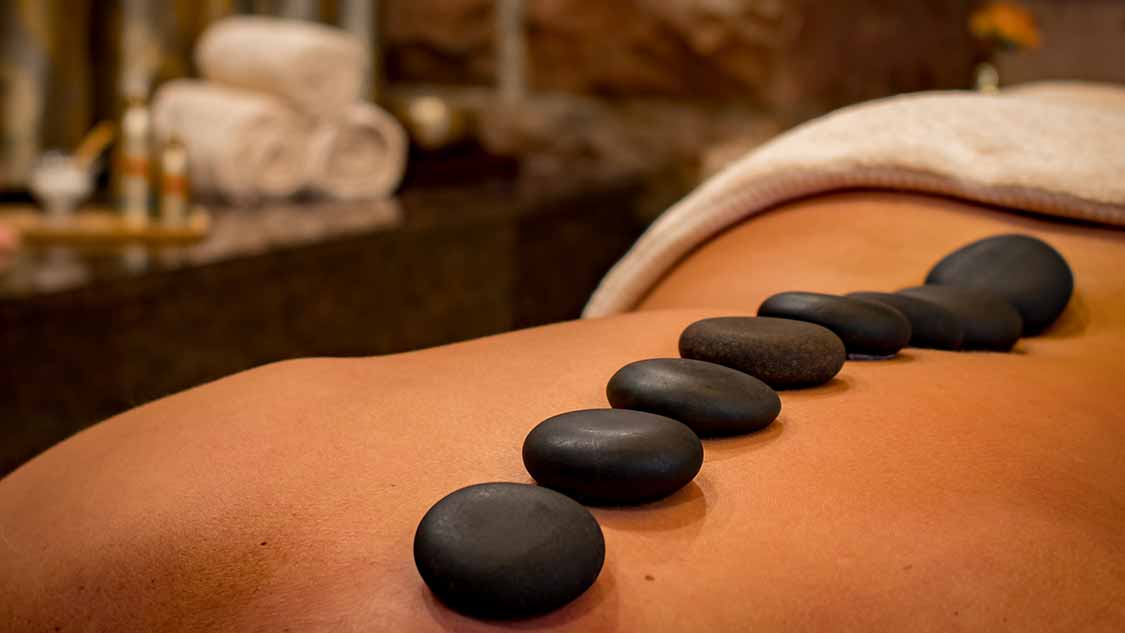 As life in Ontario seems to be on a forever cycle of stress and pressure, the importance of taking time for ourselves to break away from the chaos and focus on personal health and wellbeing has never been more important. Luckily there are some absolutely magical spa and wellness centres throughout Ontario that specialize in reviving tired bodies and souls.
From the gorgeous hills of the Blue Mountains to the blue shores of Lake Ontario, the best spas in Ontario offer the chance to relax, unwind, and rejuvenate, and maybe add in a facial and pedicure while you're at it. And honestly, is there any better way to celebrate a return to normality than with a hot stone massage surrounded by scented candles?
Whether you're looking to experience a romantic couples getaway in Ontario or escape for a weekend of solitude and self-care, these Ontario spas are guaranteed to do the trick. So, we've rounded up our favourite spas in Ontario from the time-honoured Ste. Anne's Spa in Grafton to soon-to-open Thermea Spa in Whitby to help you plan your next wellness getaway.
From Swedish massages to hydrotherapy, the wellness masters at work in these retreats will help undo all of those knots and leave you feeling like a new you.
Scandinave Spa, Blue Mountain
The thermal waters of Scandinave Spa in Blue Mountain, Ontario are just one of the many features that make this one of the most popular spas in Ontario. In fact, this has become of the most popular spas to enjoy Ontario in winter.
This tranquil getaway just outside of Collingwood sits on 25-acres of pristine forest overlooking one of Ontario's UNESCO World Biosphere Reserves, the magnificent Niagara escarpment. The resort runs year-round and the spa offerings adapt with the change of the seasons.
During the spring and summer months, guests can experience the healing powers of forest bathing or take on one of the many hiking and cycling trails that offer stunning views of southern Georgian Bay. During the fall months, the stunning foliage explodes and the area is transformed into one of our favourite spots to see the fall colours in Ontario.
During the winter months, you can warm up in one of the many hydrotherapy Scandinavian baths and even relax under the heated Nordic waterfall. And you're never too far away from Ontario downhill ski resorts like Blue Mountain Resort if you want to add a little adrenaline to your relaxation journey.
If you're looking for some pampering or a digital detox surrounded by tranquil nature, Scandinave Spa is a destination you won't want to miss. Treat yourself to a room at the Westin Trillium House in Blue Mountain Village and relax away at Scandinave.
Ste. Anne's Spa, Grafton
There are few spas in Ontario that have helped raise the bar of health and wellness in the province more than Ste. Anne's Spa in Grafton. Situated on over 500 acres of rolling fields, forests, hiking trails, and gardens, Ste. Anne's is as much a getaway for the mind and spirit as it is for the body.
The spa is located in a proper country estate dating back to the 1800s. While the fairytale buildings and gorgeous surroundings might seem to leap from the pages of a storybook, the personalized programs, and catered facilities are stocked with modern amenities run by some of the province's most skilled therapists.
The upscale and luxurious setting might seem full of pomp, but relaxation is at this resort's core. It's not rare for guests to wander the property in the supplied supple bathrobes (some guests even wear theirs to dinner). Slip yours off for a dip in one of their four-season meditative and therapeutic heated pools or rejuvenate from the inside out in their eucalyptus steam room.
Ste Anne's Spa is, without a doubt, one of the best Ontario spas. The all-inclusive spa, just 45-minutes from Belleville, invites you to leave your troubles at the door and enjoy a weekend of bliss. You can opt for individual treatments or stay the weekend in one of their large and luxurious rooms.
iwa Spa, Blue Mountain Village
Located right in Blue Mountain Village, iwa Spa is one of the most popular spas in Ontario. Since launching in 2015, this Ontario spa has reaped awards including the Best New Spa in Canada from the Canadian Spa & Wellness Awards and 2019's World Luxury Spa Awards for the Best Luxury Yoga Experience.
iwa Spa takes a unique approach to wellness. The spa's large panoramic windows look out onto the beautiful Blue Mountain Village pond and towering ski hills while the insides offer a relaxing flow of energy that flows throughout the facility. As per Chris Ryall, Ultimate Ontario's wellness expert, "pretentiousness and uppity attitude is shunned here – instead, the spa staff exude a sense of youthfulness, passion and take your health and wellness seriously. Their welcoming and personable manner is also reflected in the quirky and eclectic furnishings, decor, and signage."
Among a wide range of unique treatments is the Ganban Volcanic Rock Therapy. Ganban, short for "ganbanyoku", is a studio designed with a warm volcanic rock floor and includes a soothing hot stone bath, but without water and bubbles. The floor is heated by boiling water located below and the treatment soothes muscles, eliminates toxins and boosts immunity.
Millcroft Inn and Spa, Caledon
Owned by the popular Vintage Hotels group that runs some of Ontario's best hotels including the Prince of Wales and Queen's Landing in Niagara-on-the-Lake, Millcroft Inn and Spa offers a luxury stay that includes plenty of pampering.
Located in a historic mill that was built back in 1881 and renovated to include outdoor hot springs and a fully licensed cafe, Millcroft Inn and Spa is a world away, yet just an hour's drive from the urban bustle of Toronto. The inn is located on a trickling river that cascades over a tall dam to a babbling brook below.
Millcroft Inn and Spa is a place where time comes to a sudden halt. You can relax and unwind with plenty of self-care options at their on-site spa and hot spring pools or enjoy a fine meal at the Headwaters Restaurant with views of the surrounding landscape.
If you're thinking of an Ontario winter getaway, this spa should be on your list as well. With wood-burning fireplaces, hot stone massages, and year-round hot spring pools, there is plenty to keep you warm here. Plan your couples weekend by booking a room or a package at Millcroft Inn and Spa.
Elora Mill Hotel and Spa, Elora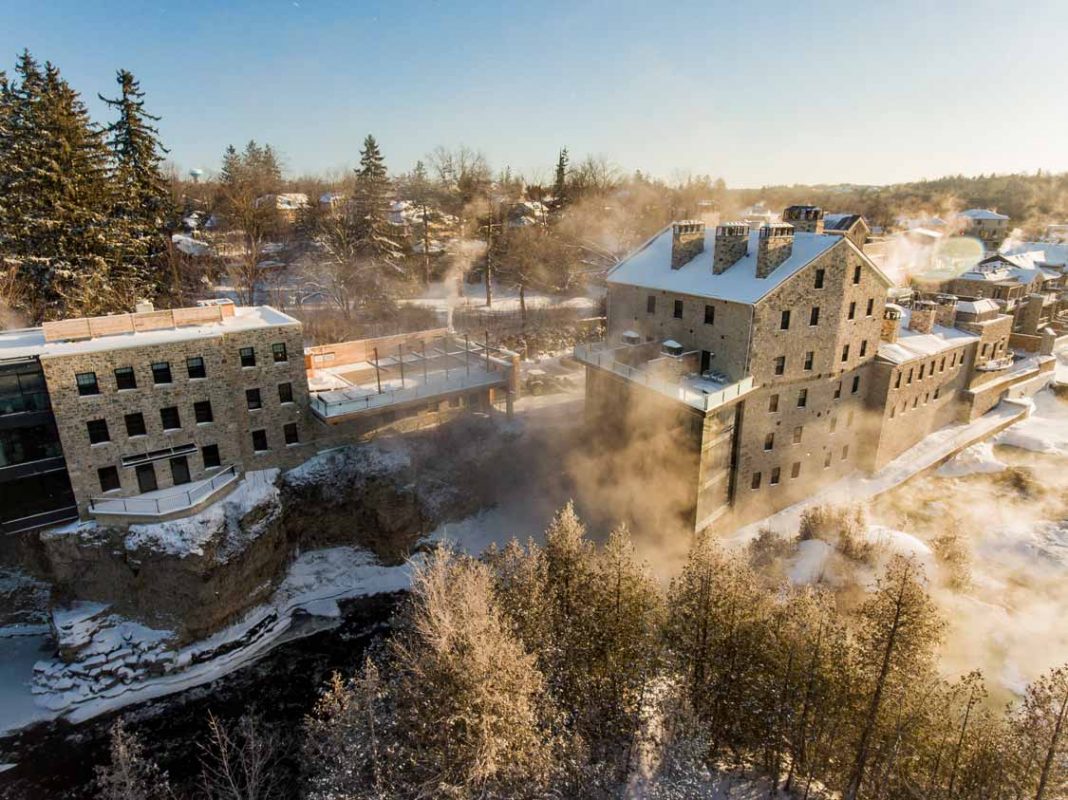 Elora is a charming small town located just thirty minutes east of downtown Kitchener. This historic property situated on the rocky narrows of the Grand River features a rustic limestone facade with stunning views of the Elora Gorge. This Ontario spa is magnificently designed to blend seamlessly into its surroundings while offering understated luxury mixed with modern facilities.
To top it all off, the Elora Mill Hotel and Spa also has one of the most incredible rooftop pools in the province. The pool, which offers views overlooking the rushing waters below is one of the best places to relax and unwind in the summer sun.
It's not all pools and escapes here though, this spa and hotel offers plenty of invigorating treatments that will have you feeling like yourself in no time. Their mimosa body scrub is a particular favourite. This unique spa treatment is designed to hydrate and brighten your skin for a fresh, youthful look.
To add to your Elora adventure, those visiting in the summer can make a visit to one of the best beaches in Ontario just a short drive from the spa.
Spa Rosseau, Minett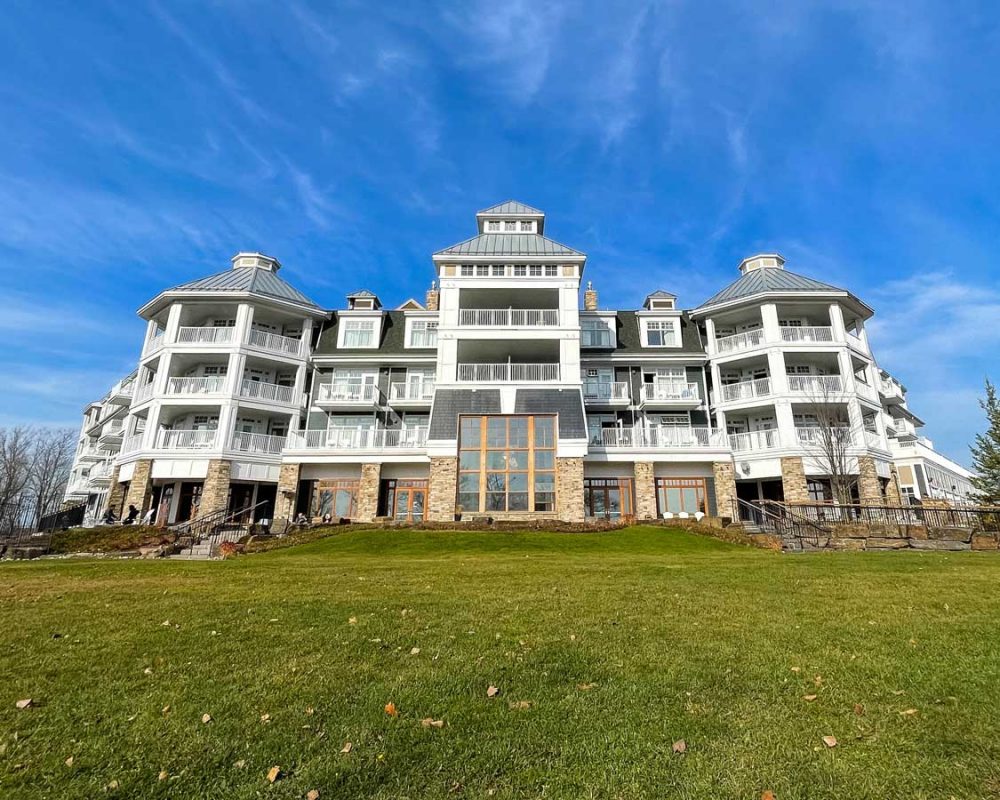 The experience of driving through Ontario's most famous cottage country is enough to take the edge off of even the most stressed-out traveller. But one step into Spa Rosseau at the JW Rosseau Resort in Muskoka will see all of those knots and worries wash away.
Located on a point looking out over beautiful Lake Rosseau, this spa and resort features a seasonal pool with one of the best views in Muskoka. And the spa treatments at Spa Rosseau will have your body melting away knots before you can say "aaaahhhhhh".
The Spa Rosseau treatments are all based on the elements of rock, wind, and water. The concept is to escape the unnatural while drawing on the energy of the earth for healing and comfort. Enjoy specialized treatments such as warm-stone massages or their energy-infusing oxygen bar. JW Rosseau is, without a doubt, one of our favourite staycation spots in Ontario.
One of the newest features of Spa Rosseau is their Hydrospa Therapy. It's the only one of its kind in Muskoka and offers guests a chance to choose the relaxation of their choice and the time that suits them. There are five unique treatment zones including foot massagers, H2O massage beds, massage chairs, an oxygen bar and oxygen facials.
Langdon Hall Hotel & Spa, Cambridge
Located in the picturesque countryside near Cambridge, Ontario, a visit to Langdon Hall feels like a trip far from Ontario. This quaint rural escape is surrounded by rolling farmlands and features a 7,500 square foot French-style retreat that includes tennis courts, an indoor swimming pool, a whirlpool, and a fitness centre.
The rustic surroundings make for an idyllic environment for those who flock here to enjoy full-body massages, hot stone massages, and holistic acupuncture treatments. Guests could easily spend an entire day enjoying the myriad of holistic spa treatments available.
It's not all spa life though, Langdon Hall boasts gorgeous walking trails, a croquet field. Guests can even take a stroll around the picturesque lily pond followed by mimosas on the garden patio.
This Cambridge spa is open to non-guests during the week and is also available for multi-day packages and overnight stays.
100 Fountain Spa at Pillar and Post, Niagara-on-the-Lake
Nothing caps off a full day of touring the incredible Niagara-on-the-Lake wineries than ending your day with a relaxing spa treatment at the 100 Fountain Spa.
Located in a converted 19th-Century canning factory at the Pillar and Post Hotel that now welcomes guests into 122 rooms, two restaurants, this 13,000 square foot Niagara-on-the-Lake spa is a must-visit for those seeking some proper pampering.
Featuring a heated indoor pool, hot tub, heated outdoor pool, hot spring, fitness centre, and an extensive menu of spa services, 100 Fountain Spa is designed to melt the stress away. They feature a wide range of holistic treatments including their signature Beyond Vino Body Wrap. This anti-aging treatment is designed to leave the skin feeling soft, supple, and luxurious.
Grab yourself a room at the beautiful Pillar & Post hotel and enjoy some pampering at the 100 Fountain spa.
Miraj Hammam Spa, Toronto
It's not all about country retreats and 19th-century mills when it comes to the best spas in Ontario. You can find some incredible Ontario spas within the big cities as well. Hamman Spa, on King St. in Toronto, lets guests indulge in Middle-East-inspired rituals and old-world traditions to leave you feeling light and refreshed.
Walking into this big-city oasis is reminiscent of being transported to the urban streets of Morrocco, visitors are treated like royalty with treatments such as skin, hair, and body therapies. Don't miss the Hammam Rassoul detoxifying body wrap. This holistic treatment, done with clay mined from Morocco's Atlas Mountains, is one of this Toronto spa's signature treatments.
The Miraj Hammam Spa is located inside the luxurious Shangri-La Toronto hotel. Book yourself a room and enjoy the ideal urban stay and play package.
The Spa At The Four Seasons, Toronto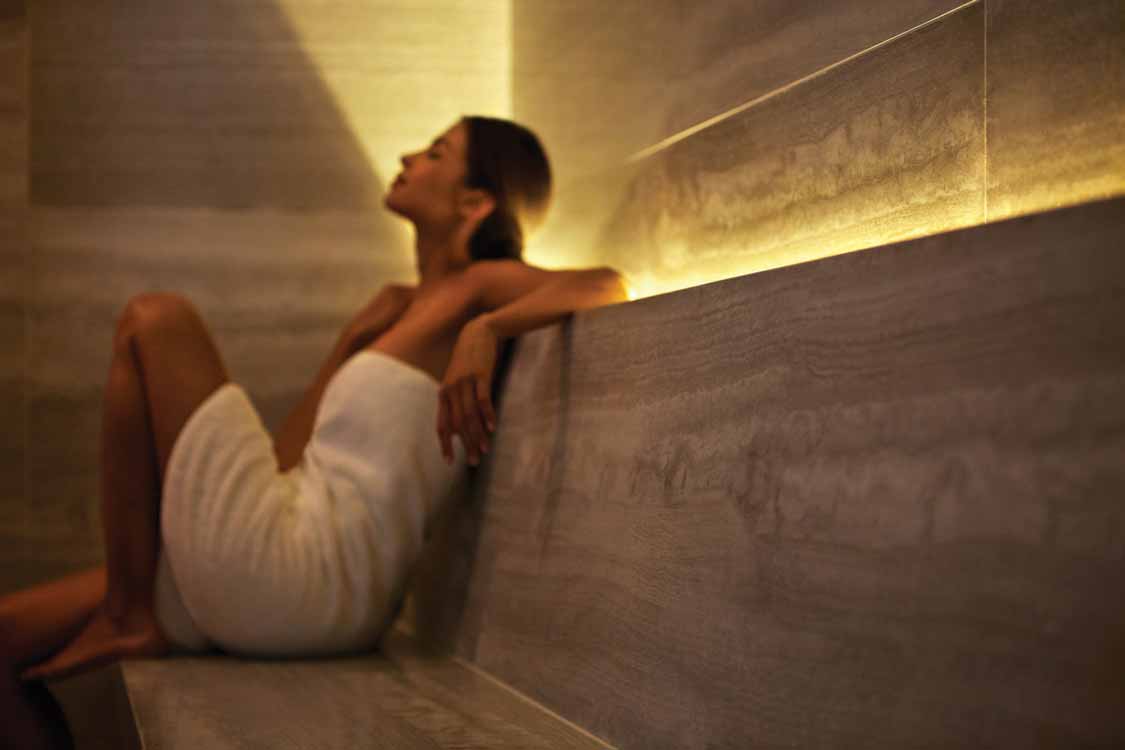 The stylish and modern design of the Spa at Four Seasons, Toronto instills the type of state-of-the-art wellness mixed with comfort and glamour that many urban dwellers desire. Sitting on the 9th floor of one of Toronto's most iconic hotels, not only does this spa have great views of the city, but they offer magnificent treatments that will leave you on cloud nine.
Treat yourself to an element facial. This mineral-rich mud mask gets its inspiration from the abundant natural elements within Canada. You can also enjoy their signature body scrubs, massage treatments, and even their hair and nail salon. As an added bonus, the outdoor relaxation deck offers an ideal place to soak in the sun and maybe look up some of our fun facts about Toronto.
The Four Seasons spa also has a Med Spa that provides "skin-enhancing" treatments to leave you bright and soulful for that next Zoom meeting. You can even combine it with a stay at the Four Seasons for a relaxing urban escape. Perfect for yourself or a romantic couple's getaway.
Coming Soon – Thermea Spa Village, Whitby
Although its opening date isn't until 2022, Thermea Spa Village in Whitby is already making waves throughout the Ontario wellness scene. This Ontario spa, which is from the same company that runs Therma Nordik Spa-Nature in Chelsea, Quebec, and Winnipeg, Manitoba, is, without a doubt, going to be one of the go-to spas in Ontario.
While the construction is a bit behind schedule, this Whitby spa is in the last stages of construction work. Soon it will be wide open and offer a wide array of massage pavilions, hot springs, and saunas along with 2,000-year-old Nordic treatments.
You won't want to miss their Kalla flotation pool in which you can rest effortlessly in waters loaded with Epsom salts.
Which Of The Best Spas In Ontario Will You Visit Next?
At Ultimate Ontario, we believe that small businesses in Ontario are the key to the diverse and amazing attractions and activities in Ontario. We know how difficult it is for these local businesses to succeed and thrive. These businesses build and drive energy in their local communities that help to showcase why Ontario is such a special place.
---
If you appreciated this article, you'll love our newsletter, as well as our Facebook group where Ontario comes together. Feel free to join, all are welcome.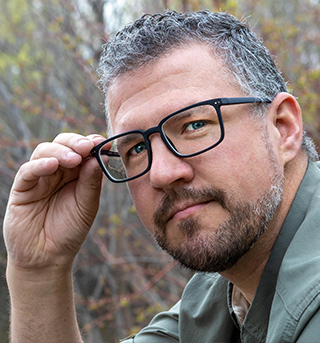 Kevin Wagar is a founder and editor of Ultimate Ontario. He has been working in the travel media industry since 2015 when he founded his family travel website Wandering Wagars – Adventure Family Travel.
Over the years Kevin has developed a deep love for his home province of Ontario and aims to showcase the incredible experiences and amazing small businesses found within it.