Thermëa Spa Village is one of the only "proper" Nordic spas near Toronto. This luxury retreat pampers the soul as well as the body.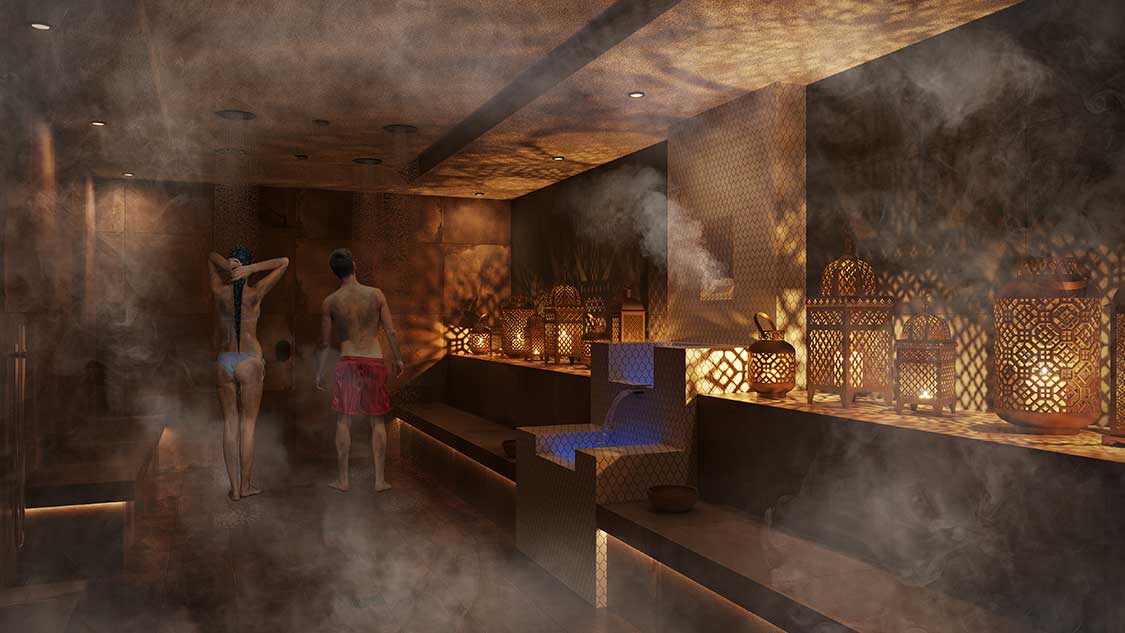 I am unsure what to expect when I am told to "enjoy the show," as I enter a massive cedar sauna, the largest of its kind in Canada. I settle myself on one of the circular amphitheatre-like benches to await, what I am told is, their Discovery Aufguss ritual involving some towel waving and lots of heat.
But I go with it and find the sensory experience surprisingly relaxing. In eight short minutes, my senses are ignited:
I listen to the loud upbeat music and smell the waft of blood orange and other essential oil-infused water that their "Ritual Artisan" pours over ice balls onto hot stones. I feel intermittent gusts of steaming heat waft over me during the towel-waving, and then cool down as the Artisan moves to another part of the room in a kind of dance.
This show is one of the three Aufguss rituals that guests can enjoy at the long-awaited Thermëa in Whitby Spa Village. After years of planning and construction (they first broke ground in 2019), this Nordic spa near Toronto finally opened its doors on October 6, quickly becoming one of the most popular spas in Ontario.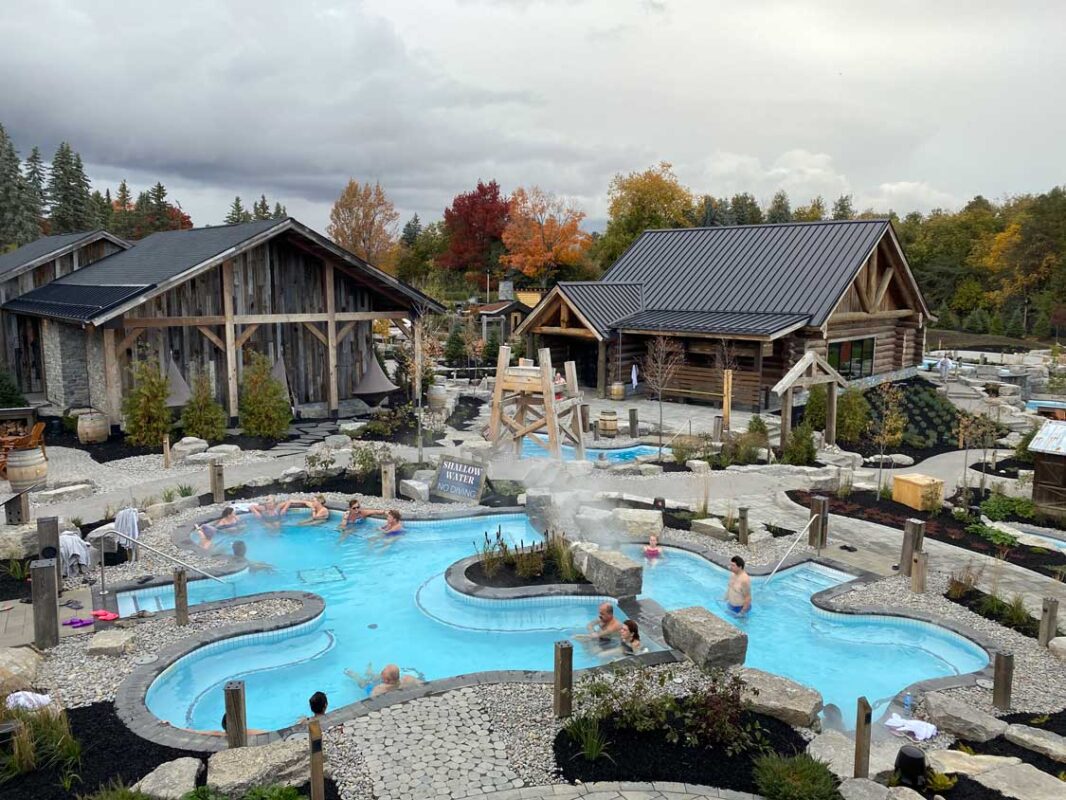 Thermëa Spa Village Whitby quickly drew attention from Ontario wellness aficionados who had spent most of their time focusing on retreats such as St. Anne's Spa in Northumberland Hills and Iwa Spa in the Blue Mountains.
But shortly after its grand opening, Thermëa spa faced a scandal. There were reports of people experiencing significant health problems from Staphylococcal infections following a visit to Kalla, a large underground saltwater flotation pool at the spa.
Although the Kalla pool has been shut ever since people continue to enjoy the other offerings at this Whitby wellness "village." The village, a collection of rejuvenation experiences that extends across 10 acres (including parking), includes seven outdoor pools, two steam rooms, six saunas, and three excellent restaurants.
Wellness Experiences at Thermëa Spa Village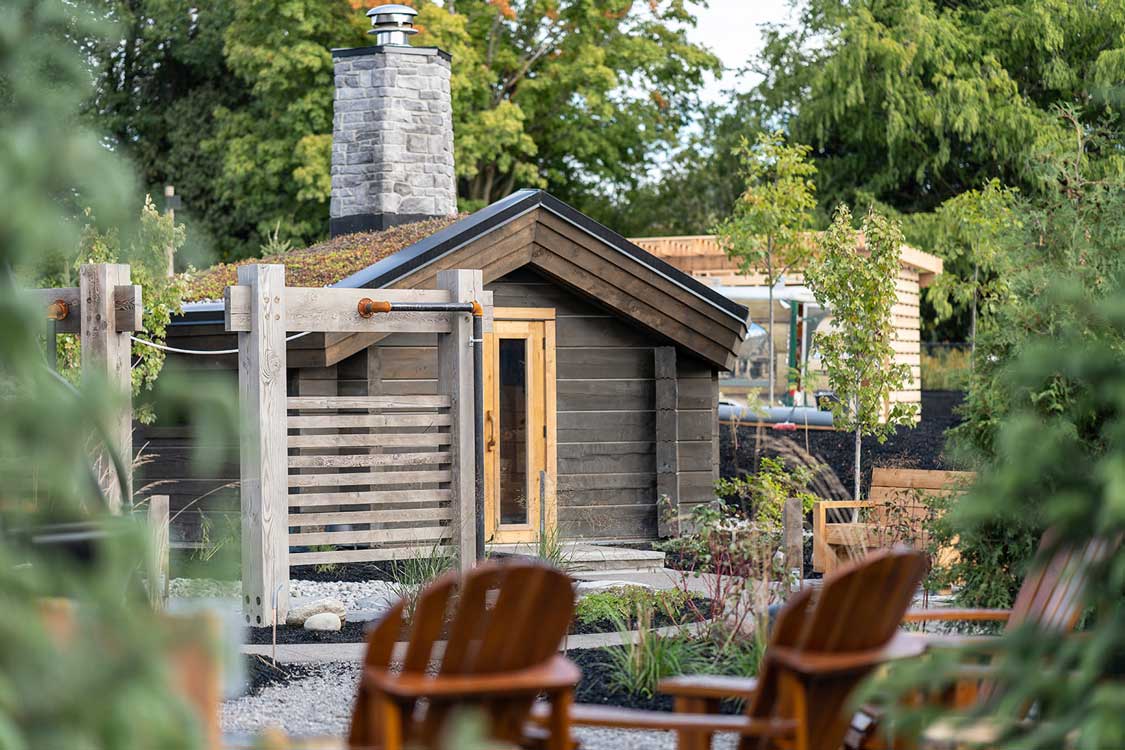 Thermëa Spa Village has the allure of being the closest Nordic spa to downtown Toronto, and one of only four in Ontario. By contrast, the province of Quebec, our next-door neighbour to the east, has a whopping 52 Nordic spas.
Some Nordic spas like the Scandinave Spas in Collingwood, ON and a similar one in Old Montreal require silence, with the philosophy that not speaking brings greater inner stillness and relaxation. Thermëa, by contrast, has more of a social vibe that I enjoyed, although I did find some guests posing with cell phones in the pools a bit disconcerting.
While a day at the Thermëa spa may feel like a total indulgence, it can also be very healing. Thermotherapy, or the 2,000-year-old Nordic tradition of alternating between hot and cold, and then resting, is purported to have great healing benefits, particularly for your immune system. But you do actually need to do the cold part to reap its full benefits!
That means first going into a sauna or steam room or hot pool, followed by a plunge into one of their frigid 10 to 15-degree Celsius pools or under an icy waterfall, followed then by rest — in a hammock, a gazebo, the a-frame or lounge, often with a fire pit or fireplace close by. Then repeat. And repeat some more!
As well as thermotherapy, Thermëa spa Whitby also offers some interesting signature treatments, such as the Moroccan-inspired Rhassoul, which is a communal treatment that takes place in a Hamman. During the Hamman experience guests are part of a group being guided through various body and face masks and exfoliations. These are followed up with rain showers to periodically cool you off: the journey ends with a drink of Moroccan mint tea paired with lokums, also known as Turkish Delights.
Thermëa Spa Village Restaurants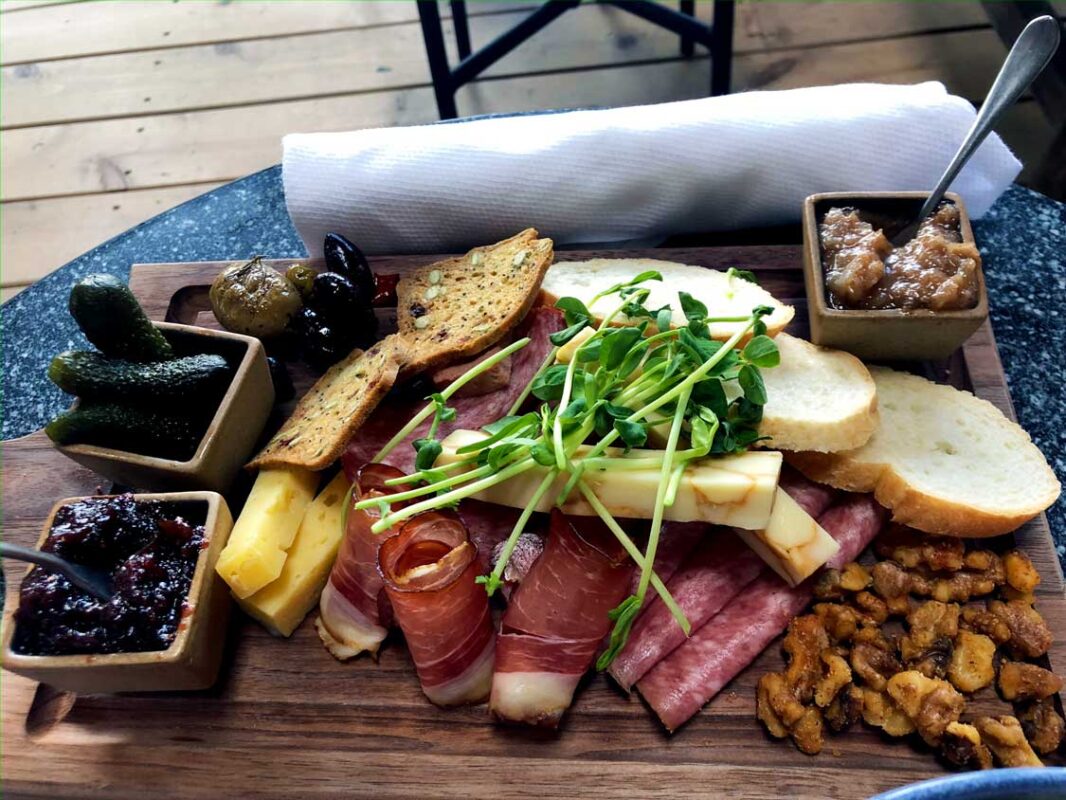 Of course, if you plan to spend a chunk of your day at the spa, you will need to eat.
There are several great restaurants at Thermëa spa Whitby including Le Resto, their higher-end option. At Le Resto we enjoyed farm-to-table options like their smorrebrod, a candied salmon appetizer on hearty pumpernickel, and I had their delectable jerk-grilled Ontario lamb chops, spicy but not hot, with a cumin-scented sweet potato mash as my entree.
The wine list at Le Resto was extensive. It included wines from many acclaimed Ontario wineries including Two Sisters and Foreign Affair in Niagara-on-the-Lake, and Closson Chase and Rosehall Run in Prince Edward County.
While this restaurant was an idyllic choice for dinner, I loved the laid-back Lounge for lunch. With light pouring through greenhouse-style windows that look out onto the bustle of the pools outside, we sat on a cushioned banquette with one of several fireplaces nearby.
From here, we could sip Paloma cocktails in our cozy hooded bathrobes while enjoying a charcuterie board and wild salmon poke bowl and chatting with some other women enjoying a similar experience: the atmosphere at Thermëa Spa Village Whitby is both social and relaxed.
Although I didn't sample from the Thermëa spa Biergarden upstairs, their more casual fare includes everything from smash burgers and tacos to pork belly bao buns paired with a large choice of draft and bottled beer, cocktails and wine.
Before You Go To Thermëa Spa Village Whitby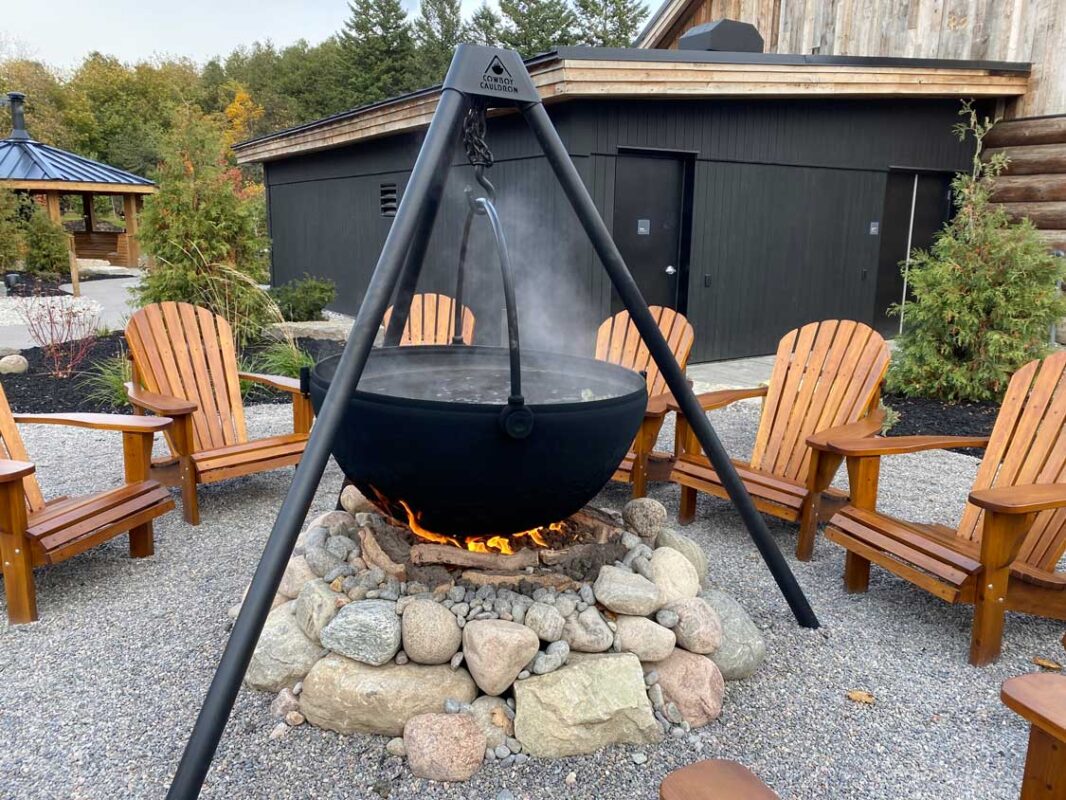 Thermëa Spa Village Whitby is located about an hour's drive from Toronto or slightly longer if you take the GO train to Whitby and then a cab or Uber for the short distance (under 10 minutes) from the Go station to the Whitby spa.
The thermal experience costs $110, and guests can remain as long as they want within operating hours. Separate spa treatments are charged on top of the thermal experience fee: 60-minute massages cost $175 while other 60-minute face, body and foot care treatments are available for $125 to $150. The Moroccan Rhassoul is $58. Tax is added to these charges.
Thermëa Spa Village Whitby massage treatments include options for relaxation, healing, lymphatic drainage, and even a special package for moms-to-be that is soothing, calming, and gentle.
You can book your own experience at this Nordic spa near Toronto right here.
Disclaimer: The author was a guest of Thermëa Spa Village Whitby. All opinions remain her own.
Many of these businesses and restaurants are anxious for visitors after a tough year. So let's support local and make the most of your Ontario travel experience.
Do you have a favourite attraction or restaurant in Ontario? Head over to the Ultimate Ontario Facebook Community and join the conversation! You'll find an amazing group of people passionate about Ontario and who love to share their local secrets.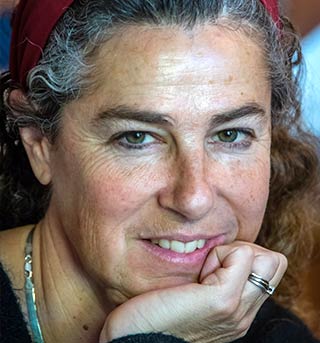 Health and travel writer Diana Ballon has a restless spirit and loves all forms of active adventure, whether that's hiking, cycling, kayaking, or enjoying cool things like an outdoor spa. Her stories have appeared in many major Canadian publications, including The Toronto Star, Zoomer Magazine, Best Health Magazine, Broadview Magazine, Azure Magazine, Canadian Living, Canadian Cycling Magazine, City Parent, Daily Hive, Travel Life Magazine, West Jet Magazine, and hotel-addict.com.