If you're looking for a true and tasty escape from daily routine, experiencing the Udderly Ridiculous Farm Life offers precisely that. From Alpaca Walks and other interactions with local animals to zany stories of farm life, there's a little something for everyone.
---
As you'll likely know by now, here at Ultimate Ontario, we love to applaud people and businesses that are doing things differently, and finding success in that approach.
For Greg and Cheryl Haskett, their move towards thinking outside the box happened when they were writing a business plan in 2015 with the goal of expanding and modernizing their 3rd generation family farm.
They asked themselves, "How could the farm become more than a primary producer of raw ingredients? How could we give back to our community?"
In the spring of 2019, inspired by the goats on their 200 acre farm near Bright, Ontario, they launched Udderly Ridiculous Goat Milk Ice Cream. You can take a peek at some of their award-winning flavours here! We should mention, it was a "New Product Award" winner at the 27th Annual Retail Council of Canada Canadian Grand Prix. Congrats from Ultimate Ontario!
Now, they're taking another big leap by focusing on having people on their farm to soak in what makes this place special.
How Did Udderly Ridiculous Farm Life Come to Be?
Part of the reason that they launched Udderly Ridiculous Farm Life is that Cheryl and Greg wanted to honour the people who were keen to come and see the goats and play on the farm to escape some of the difficulties of the pandemic.
They also wanted Greg's dad, Alvin, to be able to regale guests with stories of farming and his love of agriculture. They actually sped up their launch plan to the summer of 2021 when Alvin was diagnosed with terminal cancer.
Cheryl told us that, "sadly he didn't get to see the opening. In deciding to move forward with the plan we wanted to honour Alvin's legacy and life by sharing what it means to be on a family farm, to share the importance of food production from soil to finished product, and to spread more joy and memory making."
We feel that's a beautiful, important sentiment, and that's part of the reason we want to put more eyes towards what they're doing over at the Udderly Ridiculous Farm.
Simply put, they're doing things the right way, and for the right reasons.
What's Does This Unique Ontario Farm Life Experience Include?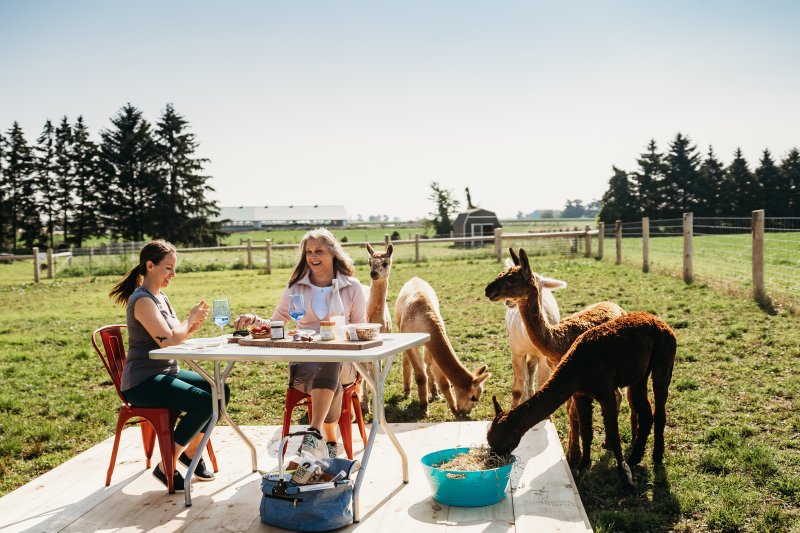 It's a little bit of everything. You get to understand what it is to run a farm, to do things like alpaca walks and goat yoga, and take some deep breaths of some fine Ontario country air.
If you're based in a city like Toronto, Ottawa, London, Hamilton, or another sizeable city, it's an experience that offers a lovely little escape.
You can read more about it on the page on their site, but I like the way that Cheryl explained it to us recently.
"Play or snuggle with miniature goats. Take in a Goat Yoga class to infuse calm and laughter or center yourself through a walk in the farm fields with an Alpaca. Why not indulge in an Ontario made picnic lunch in the pasture joined by our Alpacas!

More in the mood to shop? Our farm market store is stocked with our Award Winning Goat Milk Ice cream, Cheese, caramels, soaps and lotions and a full lineup of unique Ontario Made products.

We have created intimate, safe experiences where people can get out into the fresh air of the country, learn and have fun in a responsible way that protects our animals and land."
I also want to add here that Cheryl was quick to mention that they "aren't a petting zoo," and that the well being of their animals is their number one priority. We love that. She put it perfectly when noting that "when our animals are enjoying themselves then so are our guests and staff."
If you're more of a visual person, we'd love to include this video which showcases the Udderly Ridiculous Farm Life.
How Can You Experience the Udderly Ridiculous Farm Life?
Perhaps the easiest way is to head to their website, and inquire about dates when you might want to go. Here at Ultimate Ontario, though, we're happy to announce that we'll be running a giveaway with them!
Of course, it's time sensitive, so you might catch this a moment too late, but do know that we try to run regular giveaways, and the best way to ensure that you're always in the loop is to subscribe to our mailing list.
This giveaway in particular is worth over $1000! It includes:
It should be a fantastic time, and we wish luck to anyone who enters the giveaway.
When we asked Cheryl what she loved most about running Udderly Ridiculous Farm Life, she said it was "hands down is experiencing the smiles, laughter and moments of joy or calm on people's face. As a facilitator by training it's those moments I live for and keep me going when things are challenging."
Whether you visit on your own, or you happened to luck out on our giveaway, we know you're going to be in good hands.
Christopher Mitchell is the Cofounder of Ultimate Ontario. He's visited over 80 countries, and has lived on 4 continents, but now has his eyes set squarely on exploring this incredible province, and helping others do the same.