We've got great opportunities for kayaking in Ontario, but ultimately, we've got to take advantage of them. That's what these experiences with Riverview Tours are all about.
When you're driving on a road trip, you may notice the beauty of Ontario as it rolls past your window, but it's difficult to truly take in. As it turns out, cruising about 5km per hour in a kayak is an ideal pace to fully absorb your surroundings, but also see a fair but in one day.
Kayaking is an intimate way to explore this province, and it's actually perfectly suited for rivers in particular. Generally speaking, rivers are going to be a touch calmer than some of our bigger lakes, which can sometimes make you feel like you're kayaking across glass (especially if you start early enough in the day).
Not long ago, Bri and I headed up to Seagrave, Ontario to do a little kayaking ourselves. That's where Riverview Tours came into play.
About a year ago, Sean and Lorraine (the owners of Riverview Tours) were out for a kayak and they were struck by an epiphany. As Lorraine herself told me, "We were out kayaking and decided we needed to start a business so everyone can experience this beautiful, serene sanctuary that we are so blessed to call our backyard!"
The Nonquon River and the Surrounding Area
The Nonquon River is located in Durham Region, and is a part of the Nonquon Provincial Wildlife Area, which is about 2800 acres in size. The area isn't particularly well known for its trails and hiking as much as its known for the recreation potential of the Nonquon River.
The Nonquon River flows through the wildlife area for about 16.5 kilometres, and then empties into Lake Scugog. Long time readers of Ultimate Ontario may remember that Kevin and I actually had the chance to go ice fishing on Lake Scugog not all that long ago! We love the summer here at Ultimate Ontario, but suffice to say, we're also a big fan of Ontario ice fishing!
The area is known for playing host to a wide variety of prominent Ontario flora and fauna. You'll find songbirds and shorebirds galore around here, and on our kayak, we spotted more than a few striking great blue herons. We also came across some muskrats while paddling along, which I find adorable, despite whatever the consensus is on them.
You may also come across white-tailed deer, snowshoe hares, wild turkeys, ruffled grouse, and the list goes on and on.
The most well known town near the Nonquon River from a tourist perspective would be Port Perry, Ontario. If you're going to be heading to Seagrave to take part of this kayaking adventure, you'd be wise to schedule a little time before or after to walk up Port Perry's main strip, and perhaps stop for lunch (I'd recommend Marwan's Global Bistro or The Piano Inn and Cafe) or a beer at Old Flame Brewery.
If you're coming up from Toronto, it's also worth noting that it wouldn't be all that hard to visit some Schitt's Creek filming locations on your way home, as they're not all that far away!
What's the Best Way to See the Nonquon River?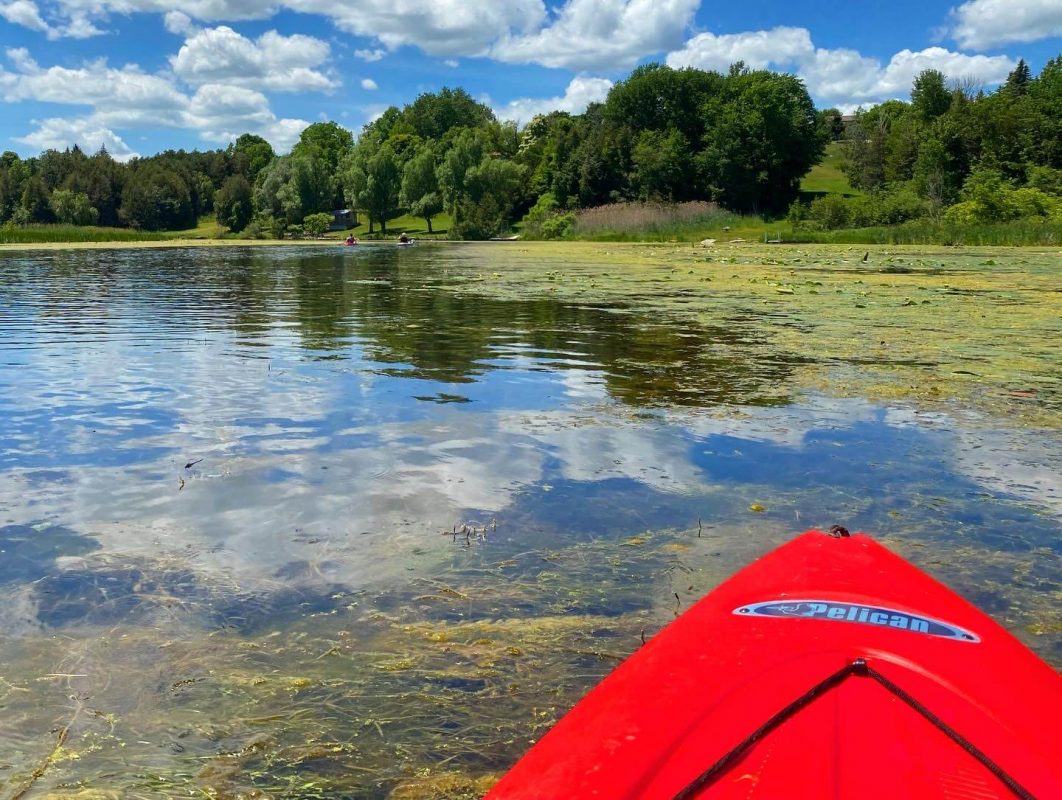 Lorraine and Sean have tried to offer a little something for everyone to ensure that folks can see the Nonquon River via kayak the way they'd like to.
I'll quickly roll-through what they're offering so you can get a sense of what may fit you best, but you can also find full details on their website. I should note here that a kayak and lifejacket are included for each person who book a tour. Sean was also kind enough to give Bri and I a flavoured Flow water since he works for them! It was a nice touch, but anyway, back to their tours!
The Riverview Tours team, I should note, consists of Sean and Lorraine (who founded Riverview), as well as Kayla and Christina. They each specialize in something different. Christina, for example, works in the mental health field, and thus she leads Wellness Kayaking Tour.
The Kayaking for Beginners Tour – This is an hour long tour offered daily that is meant for folks who are keen to try kayaking, but haven't had the chance just yet, or are still learning. Once you're comfortable and go over paddling safely, then you'll head down the Nonquon!
The Wellness Kayaking Tour – This is a one hour paddle that's focused on the relaxing and therapeutic side of things. The tour starts with some reflective meditation to help guide your adventure, and then you use some of the imagery you've cultivated and focused on to help guide your paddle. The tour is offered Saturday mornings.
The River Tour – This is the tour that Bri and I did (and which I'll explain in greater depth below). This will be the longest tour offered, and generally is about 1.5 hours long or so. The goal here is to head down the river and take note of the nature all around you – including noticing the great blue herons, or encountering one of the 32 fish species living in the Nonquon River. This tour, like the Kayaking for Beginners tour, is also offered daily.
The Sunset Paddle – This is a one hour paddle that takes place on Sundays, just as the sun is setting. The idea is to paddle down the Nonquon to Lake Scugog, and let the day's or week's worries melt away. As you might expect, it's a beautiful time to experience the natural surroundings of the area.
Power Kayaking – This takes place on Mondays (typically in the evening), and it's essentially a 30 minute exercise class for more experienced paddlers. It incorporates HIIT (High Intensity Interval Training), so essentially you'll paddle hard, then float, then paddle hard again, then float. It's for those looking to incorporate some more exercise into their weekly regime.
If you want to explore the river at your own pace, you're also welcome to rent kayaks for your desired period from Riverview Tours here. You can also check out their FAQ page if you've got further questions.
Experiencing "The River Tour" on the Nonquon
Bri and I got up nice and early and drove from Toronto to Seagrave, Ontario. We arrived at Sean and Lorraine's house, parked the car, and swung around back where we could see that their backyard led right to the dock where there were two kayaks with our names on them!
As I noted above, we did the River Tour, which is their longest tour, and it allows you to see more of the river, simply because you travel quite a ways away from your starting point. We had both Lorraine and Christina along for the ride with us, and the weather was as perfect as can be. Typically the tour is about 1.5 hours, but we did 2 hours since it was a lovely day, and we had energy to spare.
The moment we left shore, I remember thinking to myself that there was no place I'd rather be than in the seat of a kayak on that river. I was keen to see the natural elements of the river, but actually really enjoyed viewing some of the properties that we spotted the shore as well, especially the farm that had cattle who seemed intrigued by what we were up to.
There were also folks fishing along the shore, or in canoes or boats who would wave as they passed. It was a wonderful way to feel a part of something larger than yourself. Both Lorraine and Christina talked frequently on our ride about the power of kayaking to "melt your worries" and put things in perspective, and I think that's right.
On a kayak, you're not checking your phone, or feverishly responding to emails. You've signalled to the world that for that time period, you're going to be in the present, and not available, and that's powerful in this day and age. If you've read a fair bit of my writing, you'll know that I cherish each and every chance to be "off the grid" for a moment or two, and firmly plant the flag that says "I can't be reached, and I'm thrilled about it."
The four of us paddled along at a leisurely pace, and stopped whenever a heron was spotted, or there was a sight worth taking a moment to appreciate (which happened quite a bit, I might add). We also stopped under bridges for shade, and generally moved as a unified bunch with one purpose in mind – enjoyment and relaxation.
Life's Better in a Kayak
In life, I think it's vital that we provide ourselves as many different vantage points as possible.
We should take in the views from the top of mountains, appreciate that moment surrounded by trees on a good hike, and occasionally be close enough to the water's surface that we can run our fingers along the water like little kids. Recently, we were limited in what we could do and where we could do it, and it strikes me that now is as a good a time as any to safely get back to exploring, and to provide yourself with new views that might spark something in you that's always been waiting to be ignited.
---
We want to humbly thank Riverview Tours and Central Counties Tourism for hosting us as media. All opinions are completely my own.
If you appreciated this article, you'll love our newsletter, as well as our Facebook group! Feel free to join, all are welcome.
Christopher Mitchell is the Cofounder of Ultimate Ontario. He's visited over 80 countries, and has lived on 4 continents, but now has his eyes set squarely on exploring this incredible province, and helping others do the same.