Port Perry is a gem when it comes to Ontario tourism. You should make time to visit the top Port Perry Attractions, and that's exactly what this article on what to do in Port Perry is all about!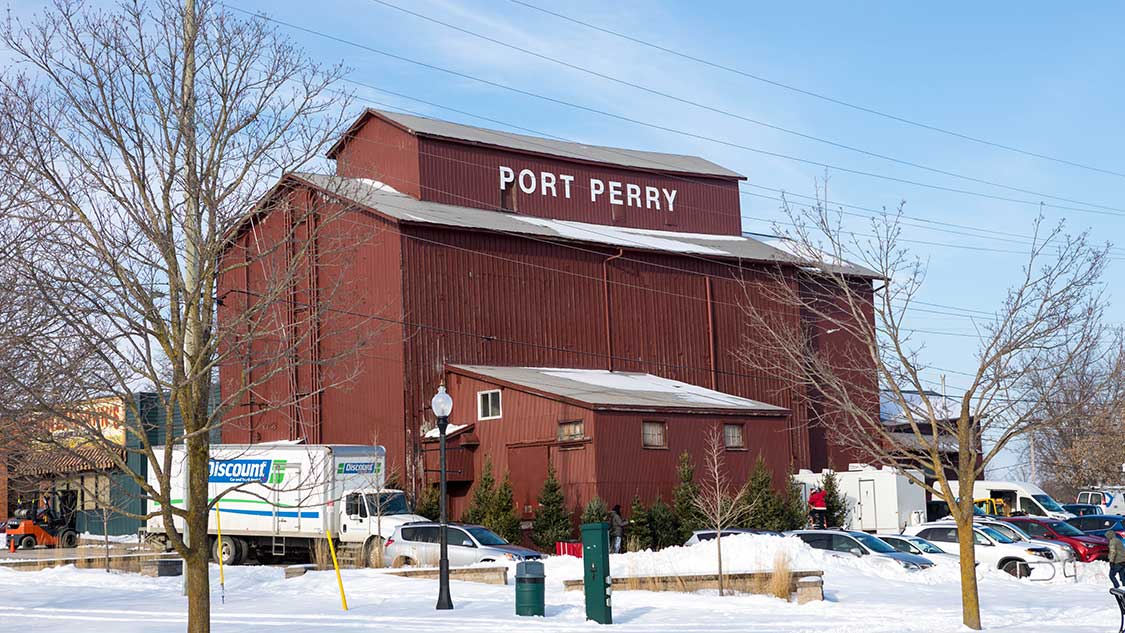 ---
Walking up and down Port Perry's main street, it's almost impossible not to conclude that it's one of the most charming towns in Ontario.
And so it's no wonder that people come from places like Toronto, Oshawa, Brampton and other population centres around the GTA to experience a bit of a change of pace, and to spend an afternoon, day, or weekend in Port Perry.
For a town its size, there's an incredible amount to do. Port Perry serves as a bit of a hub for the surrounding area when it comes to shopping, restaurants, outdoor activities, and even historic sites, and as such it's a town that hits well above its weight from a tourism perspective.
Generally speaking, we'd say that arriving in Port Perry without a game-plan and simply taking time to walk up and down the main strip is perfectly reasonable, and you'll stumble across some gems. However, if you're a little type-a like we are over here at Ultimate Ontario, perhaps you'd like to think about all things to do in Port Perry, Ontario before you get in the car and head here.
Of course, we've got you covered with all the noteworthy Port Perry attractions.
About Port Perry, Ontario
Port Perry is located about 85 kilometres northeast of Toronto in Scugog Township, which is technically within the confines of Durham Region. York Durham Headwaters literally brands themselves as "Ontario's road trip destination" because of towns such as Port Perry which are such a draw that folks are happy to pile into vehicles and come see what all the fuss is about.
In terms of population, there's only around 10,000 people, which is quite a nice size as far as we're concerned.
Located at the basin of the Trent-Severn Waterways, you'll find Lake Scugog (which you can see from many parts of the town), and it's actually one of the largest man-made lakes in the province. Many people don't realize that Lake Scugog is indeed man-made.
The town itself began to take shape in the middle of the 19th century. The railway arrived in the town in 1872, and the following year the famous grain elevator was built, which you can't miss if you're perusing Port Perry.
Port Perry, as we alluded to above, is best known today for its Victorian-era downtown, but there's more to the town than just that.
What to Do in Port Perry During Your Visit
As we always do with our Ontario town and city guides, we'll aim to provide a nice array of activities that you can take part in, so that there's a little something for everyone.
Let's get to it!
Set Eyes on Canada's Oldest Grain Elevator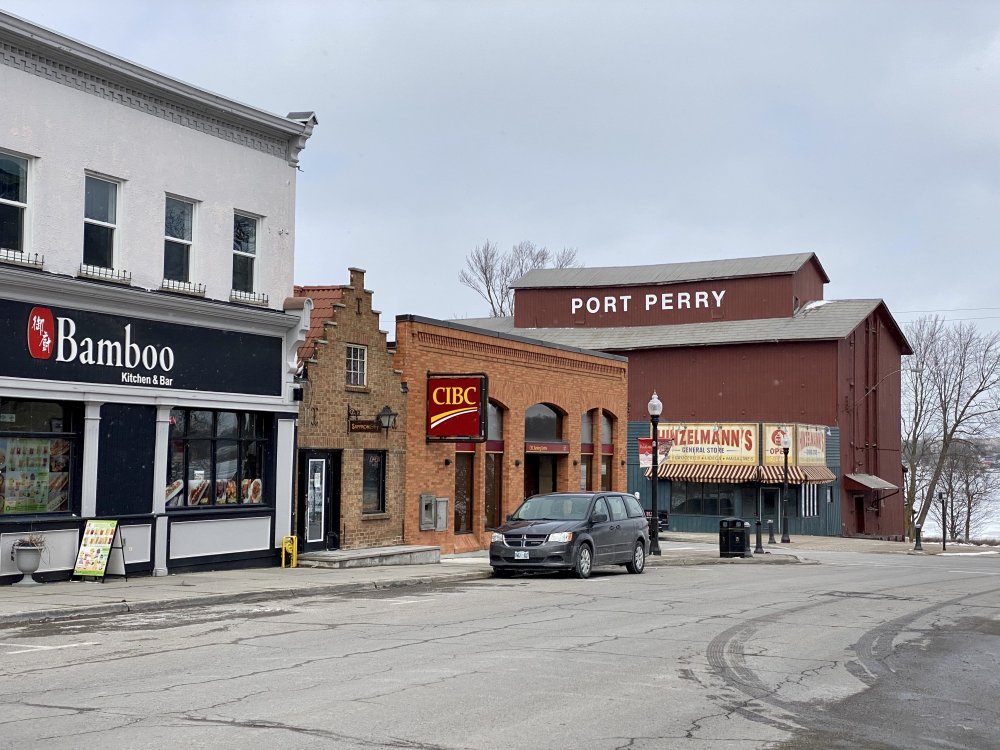 Yes, you read that correctly! It was built all the way back in 1874, and that makes it at least 20 years older than any other grain elevator still standing in Canada.
If you're unfamiliar with what a grain elevator actually looks like, it's the large red building at the bottom of Queen Street that has "Port Perry" written across the top of it. It's become almost synonymous with the town, really.
In the town, it's colloquially called "Old Mill" as well. If you're looking for a full history on the grain elevator, they've covered it in depth over here at Scugog Heritage.
Grab a Bite to Eat at One of Port Perry's Restaurants
Whether you're looking for breakfast, lunch, or dinner, you're covered in this town. There's a shocking amount of great food on offer in and around Port Perry.
We're particularly big fans of Marwan's Global Bistro, which is situated in the heart of historic Port Perry. It's a travel themed restaurant that has some excellent internationally inspired dishes, particularly when it comes to Indian cuisine. In fact, in our humble opinion, they serve up one of the best Butter Chicken offerings in the province. Their Old Flame and Cheddar Cheese Soup is also to die for.
Beyond Marwan's we're also would definitely recommend Foundry Kitchen & Bar as well as The Piano Inn and Cafe.
Get Out on Lake Scugog
How you choose to appreciate Lake Scugog will depend largely on the season. Not so long ago, we actually did some epic ice fishing out on Lake Scugog, but of course, that can only be done in the heart of winter. It was a fun experience, by the way.
If you can ice fish, you can also snowmobile, snowshoe, or cross-country ski, of course.
In the summer, it's well known for fishing, but also for sailing and paddle boarding. We also did some kayaking on the Nonquon River, which is one of the rivers that feeds into Lake Scugog.
It's also worth noting, for those that like to be active in general, that in the Township of Scugog there are a number of solid golf courses including Golfer's Dream, Oakridge, Summerlea, and Sunnybrae.
Pop Into Old Flame Brewing Co.
Beer aside, this place is an incredible community hub. Keep track of their experiences and events here on their site, or you can follow their Instagram account for regular updates. Their live music is fantastic, by the way, and offers the perfect vibe to enjoy a pint or two.
Old Flame Brewing Co. is located at the corner of Perry Street and Mary Street. The building that the brewery is now housed in was actually built in 1874, when it was operating at the Ontario Carriage Works. Talk about history!
In terms of beer, they really don't specialize in any one beer type as much as they specialize in focusing on utilizing quality ingredients. Their staples are the Blonde (Helles Lager), Red (Vienna Lager), Brunette (Munich Dunkel Lager), Raven (Black Lager), Hazy Blonde (Kellerbier Lager), and No Regrets (Super Light Lager).
They've always got some excellent seasonal offerings as well, typically.
Again though, if you can, go check out some live music, and get to know some local music and local beer at the same time.
Do a Little Shopping
There are all kinds of stores and shops in Port Perry that keep the Ontario shopper a happy camper. If you like to do a bit of planning before you do some shopping, Discover Port Perry has you covered with their shopping directory.
You should let your interests guide you, but we did want to mention that we had a chance to do a woodworking shop at META4 Gallery, and we thought it was an incredible spot. Not to mention, they're big supporters of local Ontario artists, so we're all about that.
Tribal Voices, The Wee Tartan Shop, Luke's, Books Galore, The Nutty Chocolatier – you're really not going to go wrong wherever you're headed.
The last thing we'll note here is Port Perry's Vintage Market. You've got 30+ vendors in a 5000+ square foot facility. They've got a very active Facebook Page where they post "picks of the week", and share key info.
Go Back in Time at the Scugog Shores Museum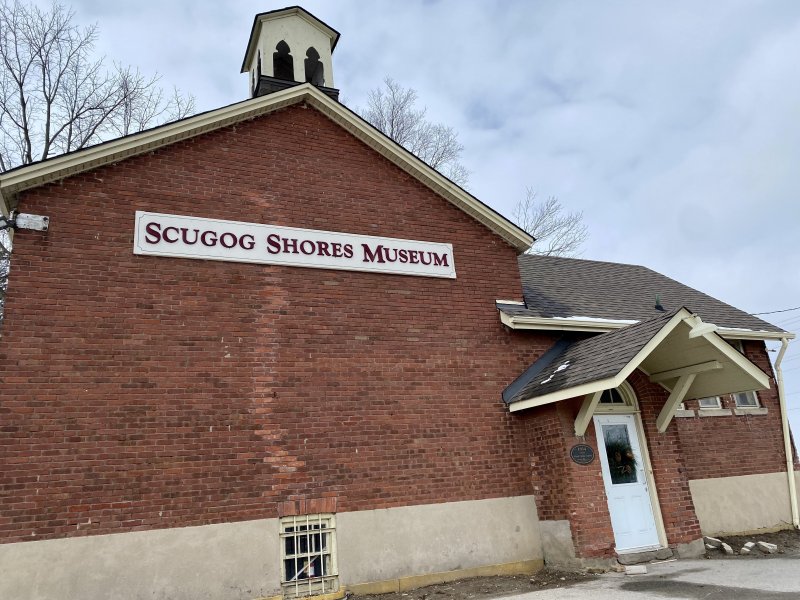 For those interested in visiting, the Scugog Shores Musem (also sometimes called the Scugog Shore Historical Museum), typically opens for the season in late May.
The Scugog Shores Museum shows what daily life would have been like in Scugog in the mid to late 1800s. There are 11 restored buildings on site, as well as heritage, herb and vegetable gardens befitting the time. Importantly, there's are also Ojibway Heritage Interpretative Lands (established in partnership with the Mississaugas of Scugog Island First Nation).
You'll find your log cabins, blacksmith shops, churches, barns, print shops and on and on. It's a fun experience for the whole family.
It's worth taking note of their events list, as they have a good amount planned moving forward, particularly for families.
Take Note of Upcoming Festivals and Events
There really is always something going on in Port Perry and the surrounding area. The Port Perry BIA has a nice calendar for upcoming events, and a lot of events tend to happen in the summer.
In the summer alone, you've got the Mississauga First Nation Pow Wow, the Highland Games, the Dragon Boat Races and StreetFest.
That doesn't even include their Annual Fair on Labour Day Weekend (which has been running for over 150 years, by the way!), and the Theatre on the Ridge summer theatre festival.
Check Out the Port Perry Lakefront Farmers' Market
Right along the shores of Lake Scugog, at the bottom of Queen Street is where you'll find the Port Perry Lakefront Farmers' Market. As you might know by now, here at Ultimate Ontario we're huge fans of Ontario Farmers' Markets.
This market typically runs from late may until Thanksgiving, from 8am – 2pm, each and every Saturday.
Their local vendors typically have local produce, artisanal meats, and hand crafted treasures on offer. For those with a sweet tooth, you'll also find some desserts, local honey, as well as maple syrup!
All vendors are supposed to be located within a 100km radius of the town to ensure that it's a local market for local folks.
Test Your Luck at the Great Blue Heron Casino
The Great Blue heron Casino is actually located on Scugog Island, which many will know is located just east of Port Perry. The casino and the land belongs to the Mississaugas of Scugog Island First Nation, and thus you'll find art on the grounds to showcase that heritage.
It originally opened in 1997 with a focus on gaming tables and a bingo hall (which isn't there anymore, we should note). Now, they've got it all, including a 100 room hotel thanks to a renovation completed in 2021. Beyond that, they've got all your favourite casino games (Poker, Blackjack, Baccarat, Roulette), two bars, a restaurant and over 500 slot machines.
Stay the Night in Port Perry
Perhaps you want to afford yourself the chance to go out for a nice dinner complete with wine, then head over to Old Flame for a few beverages, and to not have to drive home. Well, thankfully, there are a handful of places to rest your head!
Our favourite would have to be The Piano Inn and Cafe, located in the heart of Port Perry. Just know that they book up early, so it's worth booking at your earliest convenience.
Beyond that, we'd recommend the nearby Nestleton Waters Inn (about a 10-15 minute drive from Port Perry). It's an absolutely lovely spot to spend a night.
We haven't personally stayed in them, but know there's a few B&Bs in the town as well including Willow Pond Bed and Breakfast, Country Corner B&B, and Beechcroft B&B.
And Those Are Some of the Top Port Perry Attractions!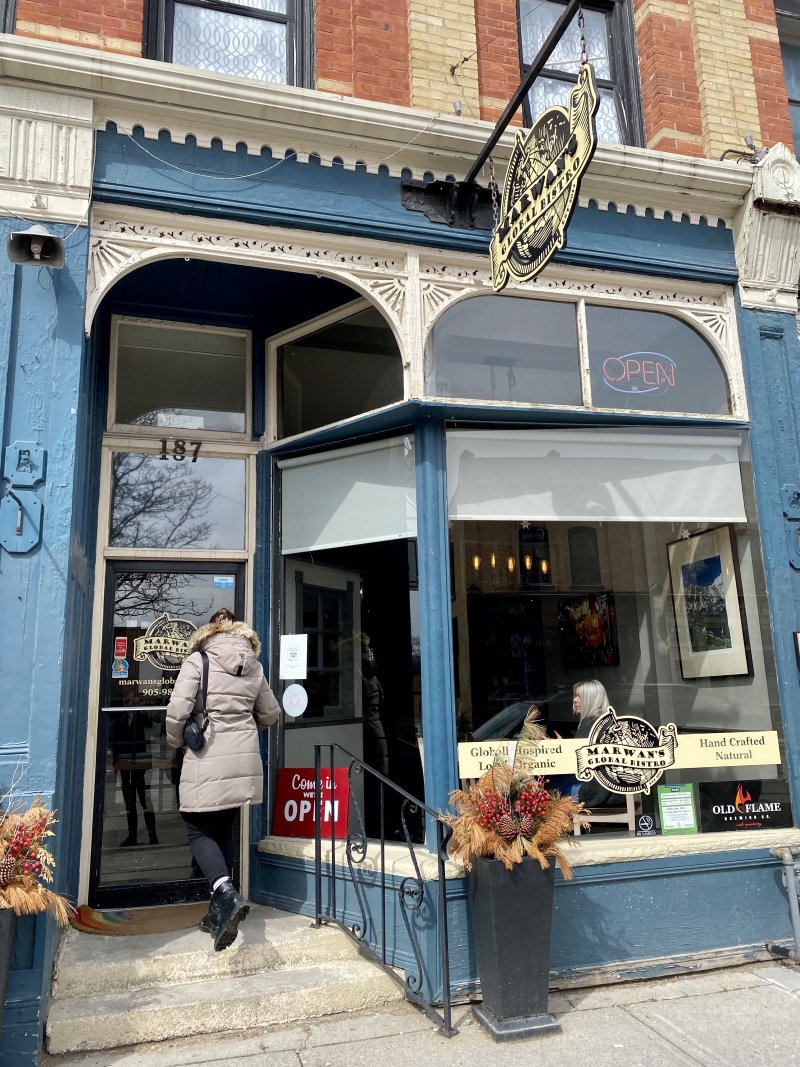 It's hard sometimes to write a full article on some towns in Ontario, but it was easy as can be with Port Perry because there's simply so much going on.
We hope you use this list to explore Port Perry, and then perhaps consider other spots nearby in York Durham Headwaters that you may not have explored just yet. In the end, that's what Ultimate Ontario is all about – helping you explore Ontario.
Safe travels, and we hope the things to do in Port Perry that we've listed above serve you well on your adventures.
---
We want to humbly thank York Durham Headwaters for hosting us as media. All opinions are completely our own.
If you appreciated this article, you'll love our newsletter, as well as our Facebook group! Feel free to join, all are welcome.
Christopher Mitchell is the Cofounder of Ultimate Ontario. He's visited over 80 countries, and has lived on 4 continents, but now has his eyes set squarely on exploring this incredible province, and helping others do the same.