Where are Toronto's best bookstores? All over! You can find great independent bookstores in Toronto in almost every part of the city. From general interest shops spanning multiple floors to specialty sellers—we even have a world-famous book vending machine.
---
Every good neighbourhood deserves a great bookstore.
When I'm travelling, I look out for those cozy independent shops where I can browse leisurely, discover more about the history and culture of the place, or just grab a cool postcard or gift from a local artist.
And I know that in the age of Amazon Toronto's bookstores are still keeping expert curation and one-on-one customer service alive. So I encourage visitors and residents alike to seek out Toronto's best bookstores for their next read.
Toronto is a city known for its live music, its museums, its bars and more, but the cities bookstores deserve more love.
Here are some of my favourites:
Which Toronto Bookstores Should Be On Your Radar?
For Everything Toronto: Spacing
The journalist and agitator for great cities Jane Jacobs once lived in Toronto, and her influence is felt in the Spacing Store – a place for all things about Canada's biggest city. Books on Toronto history, architecture, design, culture and more.
Want to learn about heavy metal in Toronto in the 80s? A guide to ravine nature walks? Indigenous history? It's all here plus so many fun Toronto-themed gifts, located in a historic building that's become a treasured arts and culture hub. (401 Richmond St W.)
Nearby café to read in: Le Gourmand. It's always bustling but if you can snag a seat feel free to act like the French and linger. Possibly Toronto's best chocolate chip cookies.
For Genre Geeks: Bakka-Phoenix
Open since 1972, Bakka-Phoenix is Canada's oldest bookstore dedicated to sci-fi, fantasy, horror and other genres. (The name Bakka comes from the classic novel Dune.)
After several moves around the city they're ensconced in a large space just steps from the University of Toronto and not far from the Annex or Royal Ontario Museum.
Their selection is extensive. Staff are friendly and happy to talk about your favourite authors, or help you find a new one. If you're on the hunt for that specific Star Trek paperback of your youth try the used section in the basement. A beloved part of Toronto's genre community, Bakka often hosts book readings. (84 Harbord St.)
Nearby café to read in: Desert Kitchen, an Asian desert shop with bubble tea and late-night hours.
For Award-Winning Novels: Ben McNally
Toronto bibliophiles know Ben McNally as the city's most beloved bookseller.
A new location on Queen East retains the top-shelf selections and personal customer service they've established over decades. Award-winning novels, biographies, science, cookbooks and more. If you like first editions and hardcovers, you'll be at home here. (108 Queen St. E.)
For New and Used on a Budget: BMV Books
For my money (and yours!) the best used bookstore in Toronto is BMV Books location on Bloor West in the heart of the Annex.
Three floors of quality second hand and remainder (new, marked down) books with a particularly great selection of comics and graphic novels, cookbooks, coffee table art books, and literary classics. The whole family could hang out in here, there's truly something for everyone. (471 Bloor St. W.)
Nearby café to read in: Future Bistro is a Toronto student landmark. Affordable drinks and baked goods, lively clientele, and spacious seating. Can't go wrong with their cabbage rolls or mashed potatoes.
---
For LGBTQ+ Voices: Glad Day Bookshop
In the heart of Toronto's gay and lesbian community at Church and Wellesley is the oldest queer bookstore in the world.
Glad Day is an intimate space packed with new release novels, memoirs, erotica, political history and genre books that express the full spectrum of the rainbow. It's a great place to pick up books for kids and young adults that portray diverse families. They also stock merchandise by local LQBTQ+ artists like pins, patches, greeting cards and art prints. Stop by on Sundays for their drag bunch! 499 Church St.
Nearby café to read in: Starbucks. You know the menu. This Church St. location has good vibes and seating upstairs for reading and people watching.
For Music and Pop Culture Fans: Sonic Boom
Technically, Sonic Boom is not a bookstore. But this giant record shop on Spadina between Chinatown and Queen West has an impressive selection of books by and about musicians, plus fun gifts for the pop culture lover.
Get your David Bowie biography, your Leonard Cohen poetry, rock and hip-hop criticism, or a Drake colouring book. (215 Spadina Avenue.)
Nearby café to read in: Dark Horse Espresso Bar encourages lingering with communal tables and quiet seats on the upper floor.
For the Black Community: A Different Booklist
A Different Booklist is more than a store, it's a cultural centre for Toronto's diverse Black community.
Novels and non-fiction from writers of African and Caribbean descent and throughout the diaspora are plentiful here, with quality curation of Indigenous authors and books on race and racial justice. It's a comfortable space to browse and relax, near Bathurst metro station between the Annex and Koreatown. (779 Bathurst St)
Nearby café to read in: Rustle & Still is a bright spot for Vietnamese coffee and excellent bahn mi sandwiches with views of Bloor St West.
For Seekers of the Obscure: Monkey's Paw
The Monkey's Paw got famous for their Biblio-Mat, a vending machine that dispenses small used books at random for the price of a coin, an attraction in itself. They specialize in unusual and esoteric books and printed matter from before 1980.
If you've got a weirdo in your life, this is a great place for a rare gift. Worth a trek to Bloor and Dufferin. (1067 Bloor St. W.)
Toronto's Bookstores Reflect the City
Ontario's capital is the most diverse city on the planet. Our bookstores need to reflect that diversity, and thankfully they do – but bookstores do require support to continue to have their doors open, and to be beacons for communities.
You can use this list to go deeper into what makes this city tick, and find an genuine appreciation for all the different people, stories, and ideas that make up Toronto.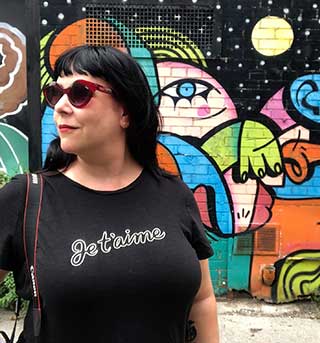 Liisa Ladouceur is a Toronto-based writer who believes adventure doesn't have to be far away – it's about curiosity and wonder. She runs the travel blog LiisaWanders where she shares lessons learned while seeing the world.