The list of best bars in Toronto includes everything from wine bars to cocktail driven establishments, and swanky spots to dimly lit bohemian masterpieces.
We've spent a lot (and perhaps some would say too much) time in Toronto's bars, and we've got opinions galore as to what should make a list of the best bars in Toronto.
In fact, that's an argument that could lead to some heated moments between the Ultimate Ontario team and, as such, we've decided that, in this case, it's better to recap the hard work of the folks over at Canada's 100 Best.
We may be exaggerating just a touch, but however you look at it, the list they put forth is a solid one, and it's one we'd love to recap for you in reverse order, while adding some of our own thoughts.
We hope that our readers will be able to safely visit, appreciate, and support these establishments before too long, because we think it's fair to say that we could all use a drink!
If you're a fan of this style of article, then be sure to check out our Ontario Food and Drink Guides, where we go in-depth on things like the best wineries in Ontario, the best Ontario breweries, the best cideries in Ontario and more.
The 15 Best Bars in Toronto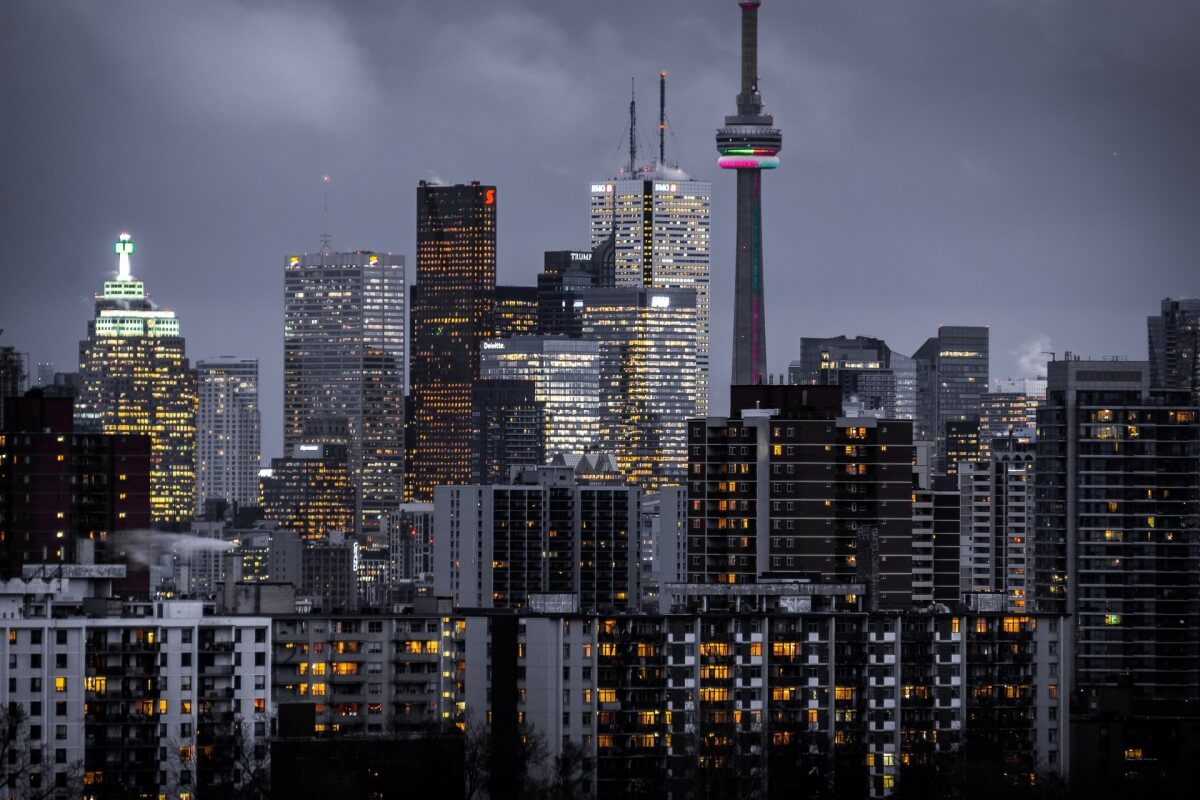 As any good list should do, we're going to start with the 15th best bar in Toronto, and then work our way down to number one. We'll give a brief description of each bar as well, of course, so you know which Toronto bar may suit you best when you get the chance to visit.
Generally speaking, the list of bars is based on their reputation for cocktails and drinks, sourcing fresh and somewhat different ingredients, unique cuisine, visible creativity, and atmosphere.
15. Bar Volo
Bar Volo has been an institution for the past 30 years so, and they've carried their reputation to the new location on Nicholas Street. The biggest attraction here is probably the 26 rotating taps that they have, often with some unique and unusual beers that aren't widely available at other Toronto bars.
It makes them a favourite for die-hard Untappd users who are looking to pad their check-ins.
They've also got cask ale available, and the food, Italian in style, is absolutely delicious.
14. The Shameful Tiki Room
If there's a better name for a Toronto bar, then we're unaware of it.
Simply put, it's one of those fun bars in Toronto when you get to order the most outlandish cocktail you can think of and, ironically, feel precisely zero shame about.
Located on Queen West, what makes this spot special is not only the atmosphere, but their emphasis on making things in-house that others wouldn't, such as blueberry kefir.
Also, as you might imagine, they've got a heck of a lot of rum to choose from.
13. El Rey
Here's a fun fact about Toronto – Kensington Market absolutely rocks, and it doesn't hurt that El Rey calls Kensington home. In fact, strolling around Kensington made it to our list of the most fun activities in Toronto, and while you're there, you might as well sip on some mezcal.
If you're looking for mezcal in Toronto, then look no further than El Rey. They've got quite a selection, ranging from affordable to "wait one ounce is how much?"
Joking aside, it's their cocktails you're after, particularly their selection of margaritas.
They bring Oaxaca all the way to Canada's largest city, and we should all be thanking them.
12. Burdock Brewery
Burdock Brewery is far from your conventional brewery, which is why it lands on a list of the best bars in Toronto. The owners aren't just interested in beer, but also in wine, cider and the whole works.
In fact, if you've visited, you'll know that they're often blending their passions, quite literally (apparently beerwine and beercider are things). A fair bit west on Bloor West is where you'll find this gem, and it's safe to say that it's like nowhere else in the city.
And if it's only beer you're after, don't worry, you're still in great hands.
11. Black Dice Cafe
A somewhat conventional "bar-esque" sounding name for a totally unconventional bar in Toronto.
They apparently bill themselves as a "Japanese rockabilly bar," and it's not that far off to be honest. Most people that are coming from far and wide are coming to appreciate their hefty selection of Japanese whisky which, for those who have not tried it, is exceptional.
If you're a fan of sake, then you can of course also find it here as well. If you're sold, then Dundas St. West is where you're headed.
---
---
10. Coffee Oysters Champage / À Toi
The first thing that we have to acknowledge this spot for is their website URL, sipshucksip.com. I mean, that's pretty fantastic for a spot that serves champagne and oysters, right?
If you're looking for a fancy spot that will make you feel like you're in The Great Gatsby, then this King Street West institution has you covered. Wandering around this establishment is an adventure unto itself, and one filled with surprises.
It's not cheap, but neither are the lavish surroundings. Coffee, oysters, champagne – I mean, what more could you want?
9. BarChef
BarChef is where cocktail enthusiasts in this province have been heading for quite sometime. The cocktails are all-encompassing experience in that it's never just about the flavour, but also the remarkable presentation.
The very intentional ambiance that they aim to create is both duly noted and pulled off effortlessly.
This isn't where you go if you're looking for the classic cocktail, it's where you go if you're looking for a cocktail in Toronto that is going to change your opinion on what cocktails are all about.
8. Clockwork
On Front Street, right across from Union, Toronto finally has the bar they've been looking for in this area. The Fairmont Royal York spared no expense in revitalizing their lobby bar, and the efforts have paid off in spades.
They've got a little something for everyone, including an impressive array of champagne.
To us, what makes Clockwork such a treasure is the idea that you've finally got a spot in Toronto that's just steps away from the train station to get a great cocktail in a special atmosphere. If you're just visiting Toronto, and you're looking for a nice place to end your trip, then you could certainly do a heck of lot worse than Clockwork.
Hey, and perhaps you can even put it on the company card.
7. Mother Cocktail Bar
Not far from Trinity Bellwoods is where this Toronto cocktail icon can be found. They're known for their original approach to fermentations, and creating cocktails with a remarkable amount of ingenuity.
They openly admit that they're trying to push the boundaries of what a cocktail bar in Toronto can be. In fact, they mention on their website that they want to "elevate the Canadian cocktail scene" at large.
Mother is all about sourcing natural ingredients and turning them into unforgettable cocktails.
6. Alo
More than many other Toronto bars on this list, Alo (on Spadina) is as well known for its menu and food as much as anything else. They offer a French tasting menu, which someone goes perfectly with the atmosphere of a Victorian building.
They make excellent cocktails, but they're just as well known for their wine list, which often includes a few bottles that aren't all that easy to find.
It's an opportunity to dress up a touch, but, when things get moving again, we'd advise you book reservations if you're going to visit, as Alo gets busy.
---
---
5. Bar Piquette
Bar Piquette fits in perfectly on Queen West. For one, unlike some of the other additions on this list of the best bars in Toronto, Bar Piquette is actually quite affordable. You won't have to mortgage your home to get a drink here, which is always nice.
In its heyday, this place was packed to the brim, but in a way that was befitting of what they're going for. They've got natural wine, which goes well with just about any of their food, and they always seem to have something new on the menu that sounds beyond appealing.
It's the kind of bar that you wish was in your neighbourhood – It's just a really cool spot.
4. Paris Paris
Is anybody shocked that "Paris Paris" is known for their wine?
We honestly just love that they serve it by the magnum, so you can ensure that your day will go from average to excellent in one fell swoop. They also have a wine shop as well, it should be noted.
Picture exposed brick, tons of natural light, repurposed wood, and an intimate atmosphere.
They sum themselves up well on their site, "mostly food, bread and wine. Lunch and dinner. Day and night." If that sounds like your jam, then head on down to Dundas West when the time is right.
3. Gift Shop
Visiting Gift Shop is an experience, and one which is well worth heading down to Ossington to appreciate.
It's got it all – a hidden entrance, vintage glasses, and a charming, quirky atmosphere rivalled by very few Toronto bars. You can get a reasonably priced drink here, or you can ball out with all the fineries.
Despite the laid back vibe, expect sincere detail when it comes to your cocktail. They play with all sorts of things, including temperature (they offer a martini that chilled to precisely -4.5 degrees, for example).
Gift Shop is inventive to the core, and it's just a pleasure to go and soak that in.
2. Civil Liberties
An absolute icon on Bloor West, Civil Liberties does not at first looks like it would be in the conversation for one of the best bars in Canada, but it is.
You shouldn't be fooled by somewhat rundown and run-of-the-mill feel of the place because behind closed doors they've got some of the most high tech lab equipment around, largely so they can do some next level stuff behind the bar.
Civil Liberties is perhaps known best for their freewheeling style which relies on the skill of their bartenders. It's a place where you may never get the same drink twice, and that's largely because they don't have a conventional menu in that sense. It's a customizable adventure at Civil Liberties, every time.
It's a place that welcomes all, but that people who know how special this spot is will particularly enjoy. It sounds too cliche to use this sentence, but in this case it really is worth noting that this is like no other bar around.
1. Bar Raval
If you really know your bars in Toronto, and you're something of a Toronto bar enthusiast, then you're not going to be surprised (nor upset) that Bar Raval takes the cake.
Going to Bar Raval sometimes feels like visiting another city or country altogether, and one that you only leave reluctantly. It's an immersive experience – a warm embrace that just feels right.
In fact, almost any list that we've come across of best bars in Toronto has Bar Raval in contention for the top, and that's just simply not by accident. They've worked hard to build an unforgettable interior and one of the liveliest single rooms in the city when it's humming.
They've got a solid beer and wine list, all sorts of sherry and other booze, and then you add a mean cocktail offering (and tech that rivals Civil Liberties) and it can't be beat.
It's a must visit as far as the watering holes in this city are concerned, and you can literally try or taste anything, and you won't be disappointed.
---
We Hope Those Toronto Bars Hit the Spot
By now, you'll probably know that here at Ultimate Ontario, we're big on supporting small businesses. So, when you're able to do so, we'd encourage you do a Toronto bar crawl of sorts, and we hope this will help. If you wake up the next day a touch under the weather, we'd recommend breathing in some fresh air on a Toronto hike!
Thanks for tuning in. As always, you can feel free to join us in our Ultimate Ontario Facebook Group, or join thousands of others on our Ultimate Ontario newsletter!
Christopher Mitchell is the Cofounder of Ultimate Ontario. He's visited over 80 countries, and has lived on 4 continents, but now has his eyes set squarely on exploring this incredible province, and helping others do the same.