A secluded off-the-grid cabin that ensures you get a moment to rest and reflect, while simultaneously connecting you to the natural surroundings and local culture.
---
The cofounder of Ultimate Ontario, Kevin, actually grew up in Peterborough, and so as a site, we've always felt well connected to the Peterborough & the Kawarthas area. We've written about Peterborough's restaurant scene, escape mazes just outside the city, and a whole lot more.
The best part of an area like Peterborough & the Kawarthas, though, is that things are ever-changing from a tourism perspective. There's always something new on the horizon, or something new in the works that has us feeling excited as a team.
So much of the credit for there always being something to be excited about goes out to people like Nikki Nelson (Founder of Honey Cove), who care deeply about putting together experiences that showcase the best of what the region has to offer.
Bri and I had the chance to visit Honey Cove a few weeks back, and we instantly fell in love with the place. So much so that Bri put together a video on TikTok on the experience on the drive home! But, of course, there's only so much you can say in 15 seconds, so here I am to step in and share how Honey Cove came to be, and why I feel this place is a star that will only get brighter in the world of Ontario travel as time goes on.
It's the sort of place where you know that if you return every year, there are going to be so many new additions made or ideas at play. I can deeply identify with Nikki in that way. It's the notion that there's always a way to improve, and that striving to be the best you can is a worthy, worthy goal.
The Origin of Honey Cove in Peterborough & the Kawarthas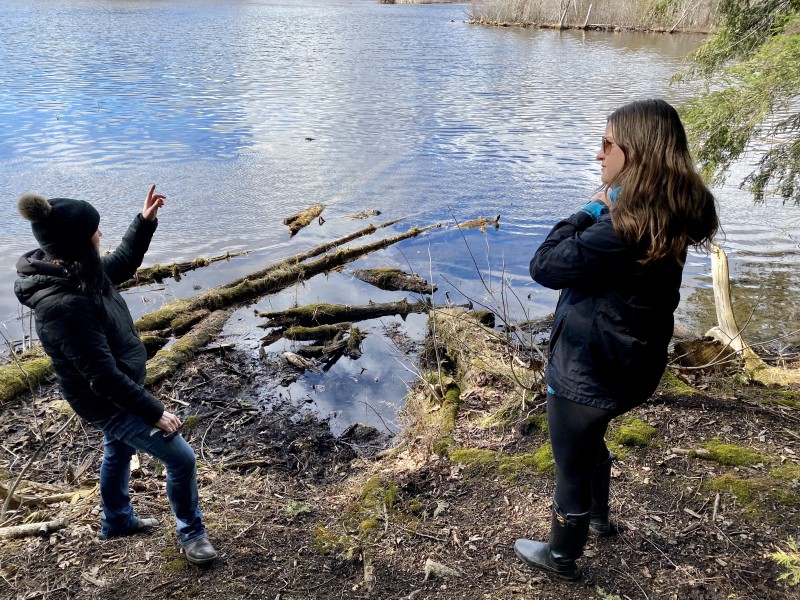 Firstly, animal lovers out there need to know that the cabin itself is named after the dog Nikki and her family rescued named Honey. As Nikki jokingly remarked to me, "she was an unsuspecting therapy dog throughout the pandemic and brought so much love and joy to the family. How could she not get naming rights?"
Nikki's background is in the culinary industry, but in keeping tabs on tourism needs, and what people were after, it became clear that on-farm accommodation was something she wanted to pursue.
She noted that it was a big learning curve to source and build the cabin they envisioned, but that it ultimately taught her a lot of patience.
Now that the building blocks are in place, Nikki has focused her attention on adding local food to the experience (delicious local food I might add), and allowing you to, in a sense, travel locally through cuisine. You can sit by your fire in the comfort of the forest, but try a fresh baguette from a local bakery, wine from just down the road, or home grown aquaponics from a village nearby.
They're focused on doing things the right way now, but also, as I noted, have some plans for the future that we applaud over hear at Ultimate Ontario.
"We are big supporters of local producers and feel through the creation of local/seasonal curated food baskets that guests can add to their experience, we can be ambassadors of our local food.

We are adding a smoker and wood fire pizza oven to create a unique slow cooking experience as well. We would love to create an outdoor cooking education spot and retreat space for groups, along with overnight guests having the opportunity to slow cook during their stay. Hopefully down the road we will add more overnight accommodation!
The Experience at Honey Cove Farm Retreat
This is a multifaceted experience that's worth breaking down into a few points to establish a clear picture, so let's get to it.
The Accommodation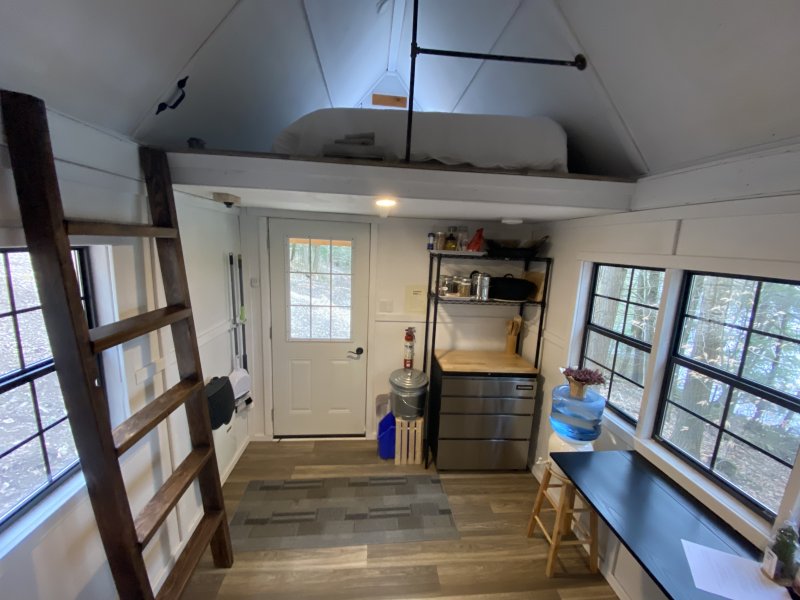 There may be plans for more cabins in the future, but for now, it's one lovely cabin that stands on its own. It can house 3 guests, and technically has one bed (queen) and a couch that can be slept on. It's a really unique and spacious design in that the bed in on a loft on the second floor.
It is indeed off-the-grid, so the washroom is an outhouse, but it's a very clean and comfortable little spot. It's a very easy price to pay for the refreshing seclusion offered by the natural surroundings.
Cooking is done outside the cabin, but you can do all the prepping inside on a small table. The loft cabin was stocked to the nines with everything you could think of. Bri and I would sometimes mutter, "I wish we had x," and then we'd search and find it within about 30 seconds.
There's no running water, but there's ample water provided for drinking, as well as hand and dish washing.
You've got a fire pit, a river view, and you do indeed feel like you're far away from it all. For us, it was a wonderfully welcome change of pace.
We spent time outside, then retreated into the comfort of our cabin, and happily played that back and forth dance throughout our stay.
The Access to Nature
Honey Cove is situated on a diverse little natural landscape. You've got nearby farmland, ample trails, river views and more.
As Nikki said, "We are so blessed to have varying terrain from agricultural land, forest, scrubland and a beautiful river that wraps around the west edge of the farm. We are located on the Indian River which is ideal for paddlers, snowmobilers, snowshoeing, cross country skiing and more. We are also located close to the Trans Canada trail for walking and cycling along with some fun restaurants, farm stands and shops nearby."
One thing that Nikki recommended to us that we'd highly recommend is catching the sunset down by the river while taking in the sounds of nature. It was breathtaking, and we snapped some photos there that quickly become instant favourites (one of which is shown just above).
When we arrived after our legs were a little stiff from the drive, Nikki showed us some of the trails on the property, and we could see how you could happily spend a morning or an afternoon walking along them. They also provide a picnic backpack for off-site lunches if that's something you want to explore.
The Food
The first thing that Nikki sent me along with a welcome note was a little map she created showcasing local cuisine that we could try before, during, or after our visit.
On it, she featured spots we've grown to love such as Rolling Grape Vineyard, Traynor Farms, Harley Farms, Doo Doo's Bakery and Muddy's Pit BBQ.
To me, it was the first sign on how much she cared about supporting local.
We ordered a food basket while we were there (which is typically put by your door in a cooler with cold packs etc.), and enjoyed a very memorable breakfast and dinner. She helped us build it by asking what we loved, and it ended up being right on the money.
For breakfast we made breakfast sandwiches with:
Eggs from Millers (in Keene)
Beef bacon from Traynor Farms (in Keene)
Cheddar cheese from Empire Cheese (in Campbellford)
For dinner we made a Greek style dinner with:
Beef kabobs from Mcintosh Farm Fresh Beed (in Otanabee)
Greens from Pure Home Grown Aquaponics (in Youngs Point)
Homemade tzatziki and a hot pepper & feta dip from SKH Catering (in Peterborough)
We also snacked on:
Goat cheese from Crosswood Farm (in Keene)
Baguette from Hard Winter Bread Company (in Peterborough)
And finally we were able to sip on:
Think about that – from the comfort of our own little cabin, we tried food and drink from ten different spots! That, to me, is the power of a place like Honey Cove.
Honey Cove Awaits!
If you're looking to inquire about bookings, we'd recommend heading to Airbnb, but you can also link up with Nikki's IG account to be in touch and see some pictures of the property!
We had a great time there, and I knew what my favourite parts of the experience were (I just noted them all for you, kind reader), but I was curious to know what Nikki's favourite part of all this was.
It had been a long journey to get where she is today, so I wanted to know what kept her going. She told me that her absolute favourite part was reading guest notes about their time in the cabin. "Their happiness brings me so much joy!," she noted.
Who knows, perhaps you'll be writing one of those notes yourself before too long. If you do head that way, we're comfortable in knowing you'll be in good hands, on a beautiful piece of land.
And if you can remember, don't forget to say hello from us.
---
We want to humbly thank Peterborough & the Kawarthas for hosting us as media. All opinions are completely our own.
If you appreciated this article, you'll love our newsletter, as well as our Facebook group! Feel free to join, all are welcome.
Christopher Mitchell is the Cofounder of Ultimate Ontario. He's visited over 80 countries, and has lived on 4 continents, but now has his eyes set squarely on exploring this incredible province, and helping others do the same.