Muddy's Pit BBQ offers authentic barbecue that you'd expect to find in the American south, right in Keene, Ontario, a community that's part of Peterborough & the Kawarthas. From hot links to cold beer, they've got Ontario BBQ enthusiasts covered.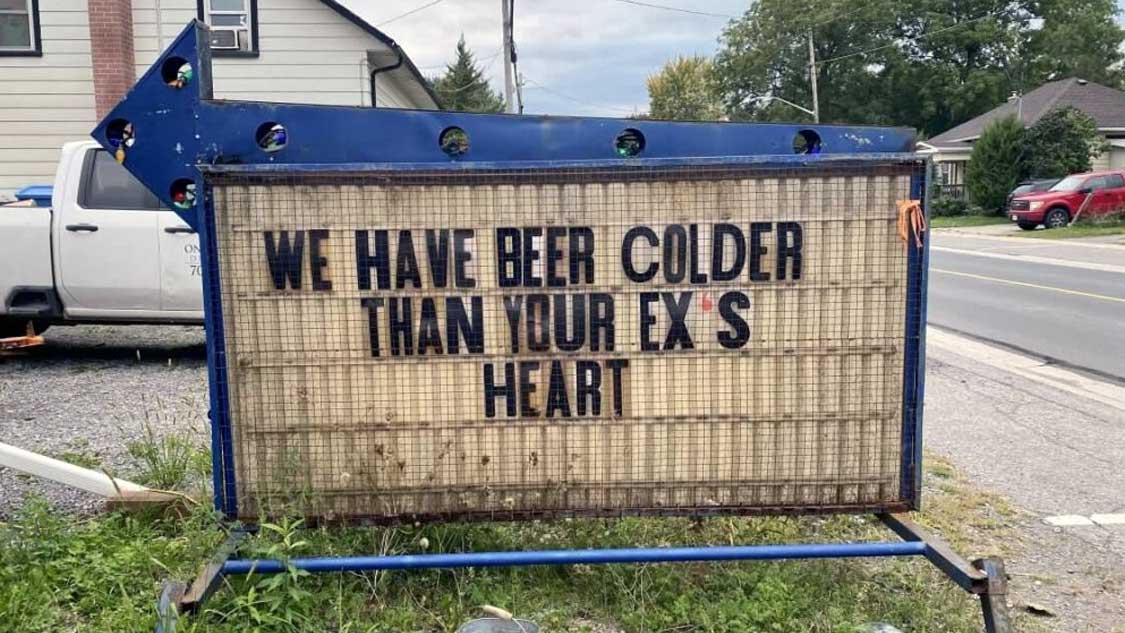 ---
However you slice it, it's not easy to survive in the Ontario food and drink scene. That's what makes the fact the rise of Muddy's Pit BBQ, situated firmly in small-town Ontario, so darn impressive.
They've taken the "Field of Dreams" approach – "if you build it, they will come." And come they do, in droves, from all across the region and the province.
When you first pull into the parking lot, it all looks fairly quiet and unsuspecting. Then you start to notice more and more things that point to this spot being an absolute gem. To us, it was noticing the custom outdoor smokers out back that is filled with hardwood logs and constantly at work smoking all of their meats to perfection.
Muddy's Pit BBQ is a well-oiled machine, and, if you're looking for your next Ontario craft barbecue joint, you needn't look any further.
A Bit More About Muddy's Pit BBQ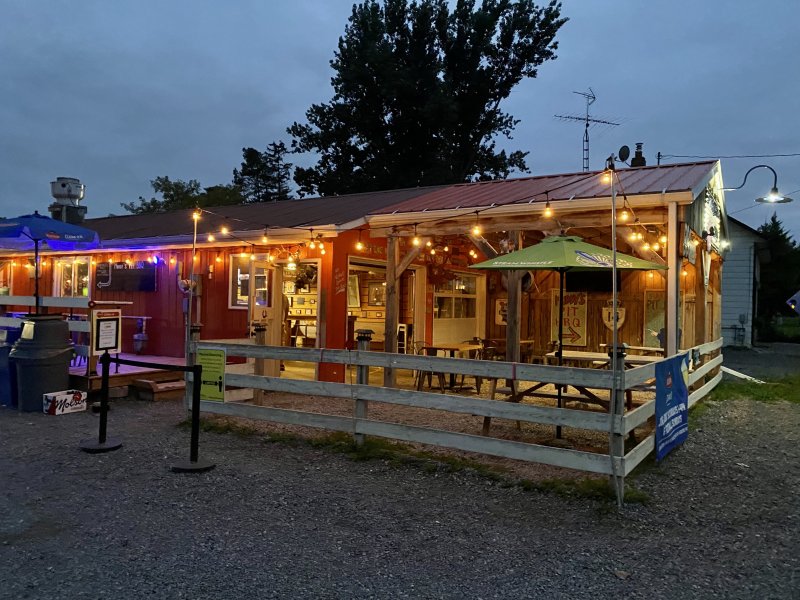 Muddy's Pit BBQ is technically based in Keene, Ontario, which is a community that's part of the Otonabee-South Monaghan Township in the region of Peterborough. For geographical reference, it's about a 20-minute drive southeast of Peterborough, Ontario, which makes it an easy visit if you're a resident or visitor of Peterborough.
They first opened in July 2010, so they've been around for quite some time. That also becomes evident when you take a peek at their Facebook page, which now has nearly 10,000 people following it to go along with nearly 400 reviews, most of them extremely positive.
You can come to the BBQ shack to dine in (as we did), or you can easily take your BBQ home since it packs up rather easily. We should also note that Muddy's has a strong reputation as a caterer since they're regularly cooking up large quantities of quality grub in their kitchen and with their smokers.
One important detail to note is that as of now at least, it's a seasonal Ontario business. They're open from April to the end of December typically, so, in short, it's not the spot you'll want on your bucket list for winter dining options.
We stopped at Muddy's as part of an Ontario weekend getaway at the nearby Elmhirst's Resort, so that's also an idea to play with if you're looking to make this part of a larger Ontario adventure.
What's on Offer at This Ontario Barbecue Institution?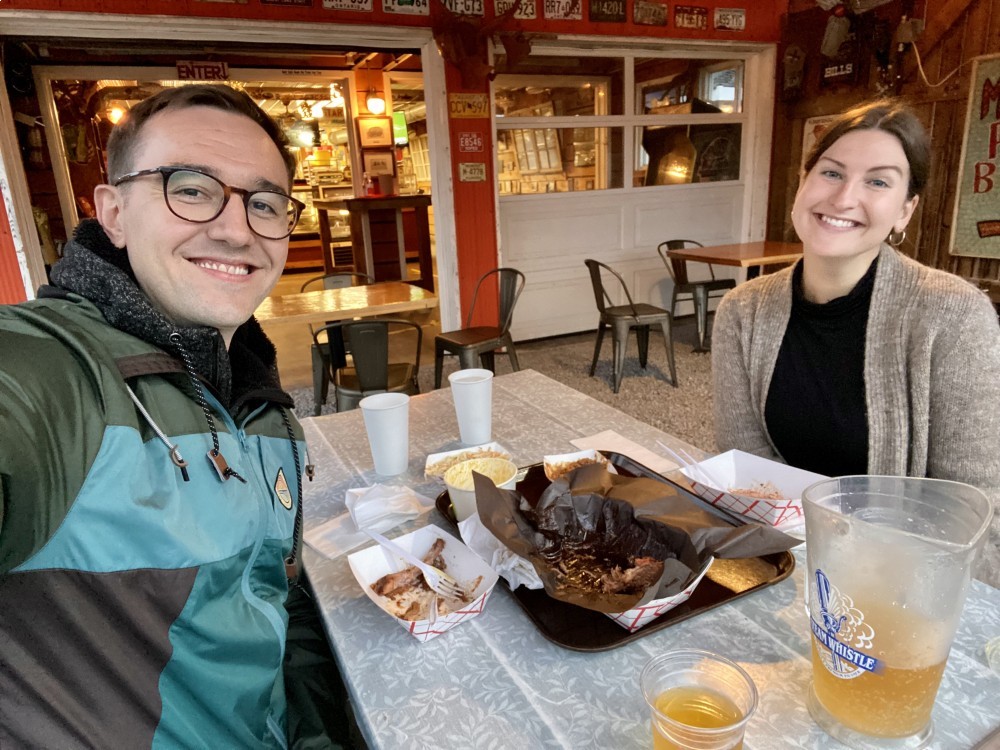 The fun part about answering this question is that the answer is going to depend on the day. They have some staples that are always going to be on the menu (namely their pork back ribs, pulled pork, and beef brisket), but they also have plenty of daily specials where they get creative.
This is also true about their sides or accompanying dishes where you're always going to find beans and coleslaw on offer, but you may also find that they've got a special variation of their chili nachos rolling that day, a unique take on pasta salad, or any other number of things. It encourages you to go back again and again.
We're not going to lie, just writing this article makes us desperate to head on back.
They've got everything from hot links to burnt ends, sweet tea to chili cheese dogs.
When we visited, we wanted to get a real sense of what made this place special, so we ordered the Carnivore Sampler, and then we added some sides (pictured below).
In all, we ended up with a pitcher of cold beer, pulled pork, brisket, hot links sausage, and pork back ribs to go along with their cold mac & cheese, coleslaw, and sweet beans.
To us, the stars of the show were the pulled pork, hot links, and mac & cheese, but let your preferences guide you – that's just our take!
We knew this place was going to be a ton of fun the moment that we pulled into the parking lot. We got out of the car, and then looked at the sign out front which simply said, "we have beer colder than your ex's heart." Muddy's doesn't take themselves too seriously and it's an easygoing atmosphere, but you can also tell that they treat their meat like it's art, and there's a clear craftsmanship to the whole process for them.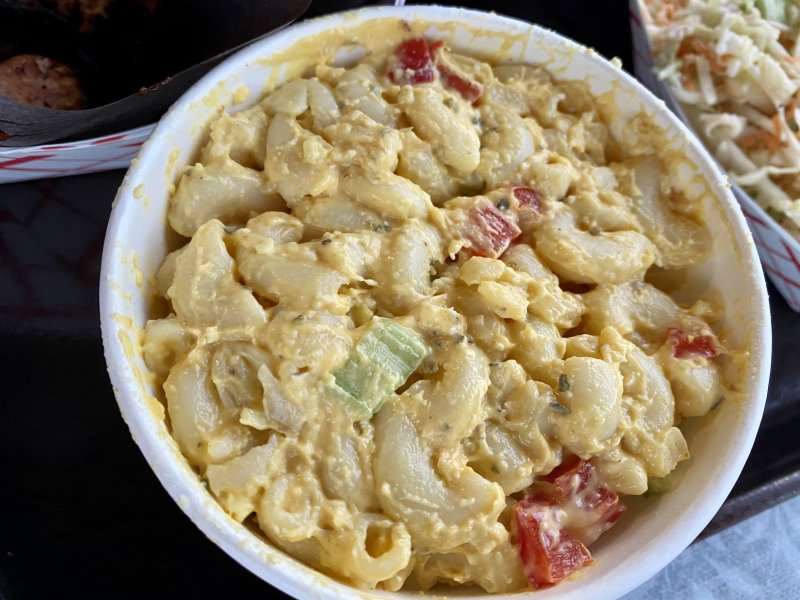 Support Local – Grab Your Buddies and Head to Muddy's
At this point, here at Ultimate Ontario, we don't even try to pretend that we're not massive cheerleaders for Ontario small businesses. We know how difficult it is in the Ontario restaurant scene in particular, so it's a genuine pleasure for us to feature a place like Muddy's, and it's the same reason we've featured spots like MJ's Roadhouse in Lucan, Ontario in the past.
They are restaurants that do things the right way and try to build a community around themselves. Recently on their FB page, we saw a post promoting football on Sunday, where you just nearly had to laugh out loud. And we quote, "Dolphins v Bills on the tube at 1 pm. Chicken wings in your mouth at 1 pm. Eat in, take out. Get it in ya."
If you lived nearby, how aren't you going to answer that call? That also is an allusion to their daily specials and cooking to fit the occasion. When we popped by, chicken wings weren't on the menu, but for football, there they are. We don't even have to taste them to know they were absolutely delicious.
If you do pop by, say hello from Ultimate Ontario, and bon appetite.
---
We want to humbly thank Peterborough & the Kawarthas for hosting us as media. All opinions are completely our own.
If you appreciated this article, you'll love our newsletter, as well as our Facebook group! Feel free to join, all are welcome.
Christopher Mitchell is the Cofounder of Ultimate Ontario. He's visited over 80 countries, and has lived on 4 continents, but now has his eyes set squarely on exploring this incredible province, and helping others do the same.