Winter light shows in Ontario are one of the best ways to shake off the blues. Check out these walk and drive-through Ontario light shows.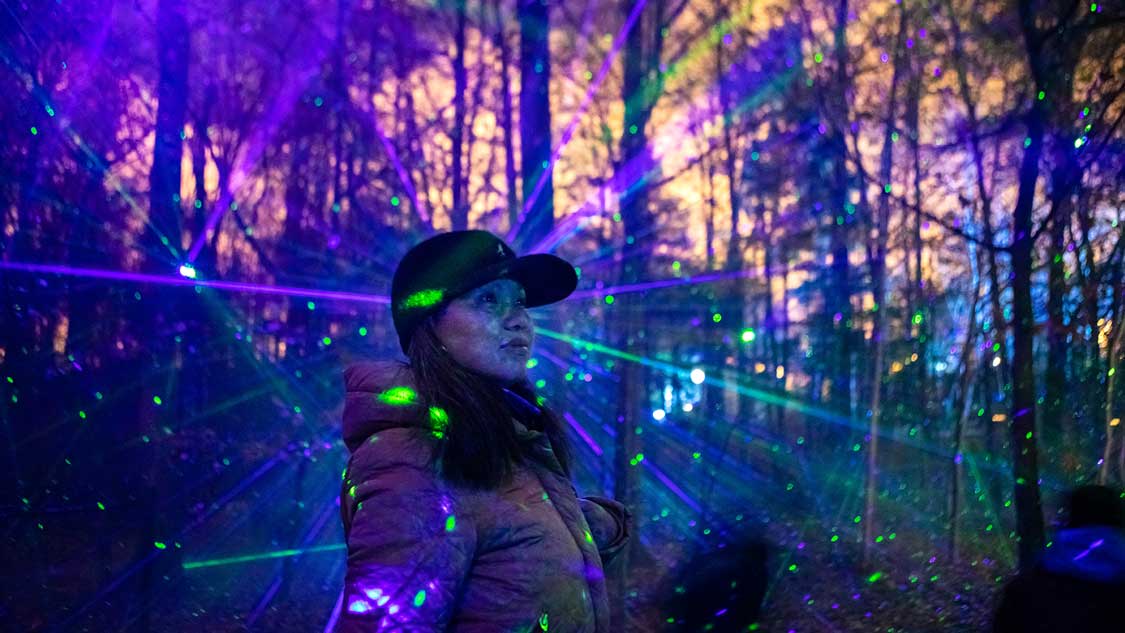 2020 has been a rough year. It's required the kind of perseverance, fortitude, and strength of character that locals in Ontario can be proud of. While there have been some amazing breakthroughs on vaccines that will eventually see us returning to a semblance of normality that we haven't seen in over a year, major changes aren't likely until at least the end of winter, 2021.
In Ontario, we love our winter getaways. From skating trails to northern lights, finding fun in the cold is what we do! You might say that Ultimate Ontario is becoming the de facto home for finding the best things to do during winter in Ontario.
But, adaptation has been the name of the game, and Ontario light festivals have been leading the charge at injecting hope and wonder into our lives. They've been employing thousands of artists during rough times, and brightening our world with fantastic, colourful, and wondrous creations.
Winter light shows in Ontario have adapted to the changing time. Many are offering drive-through light shows, while others are focused on outdoor winter light shows that keep people properly spaced apart.
Some of these winter light shows in Ontario are bringing fun, holiday, and Christmas cheer to parks, parking lots, or even malls. While other Ontario winter light shows are all about the art and the wonder.
No matter what your favourite type of light show is, you're bound to find one that you love here.
Drive-Through Winter-Light Shows in Ontario
Niagara Falls Winter Festival of Lights
The Niagara Falls Winter Festival of Lights is one of the best ways to experience Niagara Falls in winter. This massive show draws visitors from across the province as the city lights up in spectacular fashion.
Not only are the Falls lit up in a dramatic holiday display, but areas such as the old Generator Plant and the Dufferin Islands are completely lit up and feature music and performances.
The Niagara Festival of Lights is free to attend. But, expect long lineups, especially for the Dufferin Islands portion. It runs from mid-November until January 10, 2021.
Bluffs Winter Wonderland In Scarborough
Bluffs Winter Wonderland is a drive through experience that aims to bring holiday joy to Ontario. The one kilometre drive features a lit path decorated with holiday lights.
Along the Bluffs Winter Wonderland winter light festival you'll pass by Reindeer Way, Snowman Alley, the Enchanted Forest, and end with some Christmas fun at Santa's House for a chance to wave at the big man himself.
This Ontario Winter Light Festival starts at the Eglinton Go Station South Parking Lot. It costs $25 per vehicle and runs from November 27 through to December 20. A portion of the proceeds goes towards the Feed Toronto Mission.
Magic of Lights in Nepean
The Magic of Lights display in Nepean is a spectacular 2-kilometre drive through winter light festival near Ottawa. Along the way, visitors will experience over 300 unique displays featuring a combination of digital animation and light technology.
The Magic of Lights Ottawa sends part of its proceeds to the Ottawa Senator's Foundation, so rest assured, your entrance fee is going towards a good cause.
This Ontario Winter Light show is $22 per vehicle. IT runs from November 23th through to January 9th. Hours are Sun-Thurs 5PM-10PM and Fri-Sat 5PM-11PM.
Bingemans Gift Of Light in Kitchener
A fun, family-friendly holiday light display in Ontario is the Bingemeans Gift of Light in Kitchener, Ontario. This fun drive-through display features two tunnels and over 300 animated and static light displays.
Accompanying music can be accessed on your car stereo by tuning in to a radio station. This makes for a great way to help enhance this fun winter experience.
Gift of Lights donates a portion of all proceeds to the Grand River Hospital Foundation. The price for admission is between $20-$25 per car depending on the day. It runs from November 14 through to January 3.
Canadian Tire Christmas Trail in North York
Another fantastic Toronto-area drive through winter light display is the Canadian Tire Christmas Trail. This multi-sensory winter light experience is happening in North York next to Black Creek Pioneer Village near the York University campus.
The Christmas Trail is a 1.5-kilometre driving trail designed to put visitors at the centre of Christmas magic. Visitors will see elves playing in the snow, a massive advent calendar showing some of the seasons top toys, and thousands of Christmas lights to brighten up the season.
The Christmas Trail costs $25 per vehicle and runs from November 18-January 2. Hours are Sun-Thurs 5 PM-10 PM and Fri-Sat 5 PM-11 PM. All proceeds go to Canadian Tire Charities.
Glow Gardens Drive-Thru Light Festival in Stevensville
This winter, Safari Niagara in Stevensville, Ontario is being transformed into a 3-kilometre Christmas wonderland. This makes it one of the longest drive-through light festivals in Ontario.
The route is fashioned as a twinkling Christmas landscape, decorated with over a million lights. This car-based touchless journey makes for a fun experience for all ages.
See larger than life reindeer, teddy bears, ornaments and Christmas tree standing nearly 10 metres tall!
This light festival runs from November 18, 2020 – January 2, 2021 and costs $30 per vehicle.
Santa's Drive-Thru Village in Concorde
For those looking to inject some more Christmas-fun into their winter light festivals, Santa's Drive-Thru Village is a popular option. This winter drive-through festival is all about bringing the magic of Christmas safely.
Listen to the beautiful music and enjoy the incredible displays on this 45-minute drive in Concorde, Ontario. The entire experience is contact-free, but it's bound to touch your soul.
Santa's Drive-Thru Village runs from November 26 through January 1, 2021. Tickets range between $21.50 – $ 77.75 depending on the package that you choose.
Immersive Van Gogh Exhibit in Downtown Toronto
Not every winter light festival in Ontario is all about Christmas and the holidays. The Immersive Van Gogh Exhibit in Downtown Toronto is running until January 3, 2021 and features the magical artwork of famed painter Vincent Van Gogh transformed into a spectacular light display.
The Van Gogh exhibit in Toronto has both an in-person indoor aspect and a separate drive-in experience for complete social distancing. The show combines the fascinating story of Van Gogh's life with stunning, larger-than-life moving interpretations of his work.
The Van Gogh drive-through experience is $100 for one car and additional cars can be added for $40, so going with your friends can save a bundle.
Uxbridge Optimist Fantasy of Lights
For the past 13-years, the Uxbridge Optimist Club has been putting together one of the most popular winter light festivals in Ontario, the Fantasy of Lights.
Fantasy is normally a walk through-experience, but has been adapted to a drive-through winter festival for the 2020-2021 season. The display features over 75 different light displays to enjoy with the whole family.
The Fantasy of Lights cost is $30 per vehicle. It runs from December 5, 2020 till January 2, 2021.
Polar Multi-Level Drive-Through Holiday Experience at the Toronto Pearson Airport
Like so many businesses, Pearson airport was among many who needed to pivot during the 2020 shutdown. And they did it with gumption with Polar, a multi-level drive-through winter light festival that features six uniquely-themed environments. Each are stuffed full of holiday cheer.
Roll through immersive LED light tunnels and drive through a winter wonderland filled with holiday decor. Enjoy a crystal cave, and snap a photo of Santa as you make your way through one of Pearson airport's recently emptied parking garages.
Polar runs from November 27 till January 3, 2021. The cost for entry is between $55 and $65 per vehicle depending on the day. This makes it one of the most expensive Ontario winter light festivals.
Country Christmas Nighttime Drive-Through Experience in Richmond
The fun and exciting Country Country Christmas Drive-Through winter light show experience at the beautiful 180-year-old Saunders Family Farm and Forest is a fun winter light show near Ottawa. It follows the route of the Christmas Star through beautiful landscapes and light installations.
Country Christmas runs from November 28 to December 31 from 6 PM till 10 PM.
Simcoe Panorama in Simcoe
Simcoe Panorama is one of the longest-running Ontario winter light festivals. From December 5, 2020 to January 3, 2021, Simcoe Panorama will be running a hybrid drive-through and walk through light show featuring millions of glimmering lights and several iron light displays. This is part of the Norfolk County "Light Up the County" Tour.
This year you don't have to leave your vehicle to enjoy Panorama. Just roll up the windows, crank the radio, and enjoy the show from the warmth of your car.
The Simcoe Panorama light show is free to attend.
Walk-Through Winter-Light Shows in Ontario
Christmas at Kortright in Woodbridge
The magic of Christmas is alive and well at this Ontario winter light experience in Woodbridge. At Christmas at Kortright, the forest is brought to life with lights, elves, and all of your favourite Christmas characters. It's all happening at the Kortright Conservation Area.
Each experience is two-hours long and completely outdoors. If you're visiting this outdoor winter festival with kids, consider bringing a stroller or wagon in case the little ones get tired. And be sure to bundle up for the weather, so you can fully enjoy it.
Each time slot will include several guided groups/tours. Once assigned to your guide, you will spend the duration of the event with that guide. Groups will be no larger than 25 people and will be asked to maintain their social bubbles.
Tickets are all timed. They are between $24 and $29 depending on which days you book. Christmas in Kortright runs from November 27 to December 20, 2020.
Alight at Night At Upper Canada Village in Morrisburg
Enjoy the magic of one of Ontario's best recreation villages at Alight! in Upper Canada Village in Morrisburg. Bundle up for an evening stroll through the gorgeous 18th-Century village as your surroundings flicker beneath a million twinkling lights.
This one-of-a-kind magical Ontario light show is a pleasure for the whole family. The usual train rides and interactive exhibits have been put aside this year. But in their place you'll have the chance to wave a hearty hello to Saint Nick himself.
Admission is $14. Children 4 and under are free. Tickets must be ordered in advance. Alight! runs from November 27, 2020 to January 2, 2021.
Wonders of Winter in Waterloo
Featuring over 100 colourful and fun lighting displays and over 100,000 twinkling lights, the Wonders of Winter in Waterloo Park is a fun and free light show for the whole family.
The show normally features Horse-drawn trolleys, fireworks, family photos with Santa and hot beverages to enjoy along with festive songs and stories, but these have been shelved for the 2020-2021 season due to health concerns.
This outdoor winter light festival in Ontario runs from November 28, 2020 to January 1, 2021. It is free to attend.
Winter Wonderfest in Stratford
The city of Stratford isn't just one of the most charming towns in Ontario, it also hosts an awesome Ontario winter light festival. On December 5-6, 2020, explore both indoor and outdoor spaces that are magically transformed into a winter wonderland.
Wander down snowy, wooded paths by foot or snowshoe, experience live carolling and storytelling, and grab a drink at the beer garden. This show has a very limited supply of tickets due to social distancing measures, so grab your ticket early. Tickets are $25 for adults and $15 for children.
Seasky International Light Show in Niagara Falls
Another amazing winter light festival in Niagara Falls is the Seasky International Light Show. This outdoor walking show wanders through over 30 magical light displays over a one and a half our stroll.
The trail is 1.2 kilometres long, so make sure to dress for the weather. And bring a camera to snap some photos along the way.
Tickets are $35 for Adults, $25 for Seniors and children. Kids under 4 are free. This is one of the longest running Ontario winter light festivals. It runs from December 9-February 28, 2021.
Holiday Magic At Blue Mountain Village
With a one kilometre winter trail lit up with all the holiday trimmings, Holiday Magic a Blue Mountain is a spectacular winter light show in Ontario.
This fun experience runs from November 14, 2020 till January 3, 2021. You can find Santa strolling around on Saturday afternoon. And the Village express train runs on Thursdays, Fridays, and Saturdays from 1 PM till 4 PM.
Toronto Light Festival in the Distillery District
Running from January 18 through to March 3, Toronto's Distillery District explodes with light and colour. This visually stunning adventures winds through Toronto's most historic streets.
Grab a bite at some of the amazing Distillery District restaurants or pick up a steaming hot chocolate and wander the shops under a curtain of glittering lights.
The Toronto Light Festival is free to attend for the 2021 season.
Do you know of more fantastic winter light shows in Ontario that we haven't listed here? Drop a comment below, reach out to our Contact US page, or swing over to our amazing Ultimate Ontario Facebook Community to share it with us.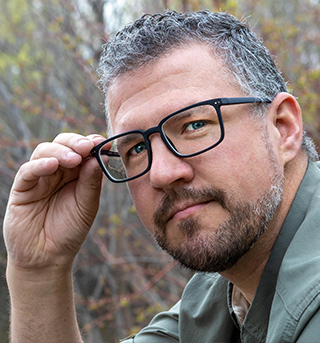 Kevin Wagar is a founder and editor of Ultimate Ontario. He has been working in the travel media industry since 2015 when he founded his family travel website Wandering Wagars – Adventure Family Travel.
Over the years Kevin has developed a deep love for his home province of Ontario and aims to showcase the incredible experiences and amazing small businesses found within it.