Sheldon Creek Dairy is a family farm in Loretto, Ontario. A dairy farm tour here allows visitors to understand the history, dairy-making process and large selection of products that they can try and take home for themselves.
If you're looking for great ways to support local farms in Ontario this summer, hopping on a dairy farm tour is a great way to do it. It's an educational and memorable way for people of all ages to learn about dairy farming, and also a bit of Ontario's history.
Sheldon Creek Dairy in Loretto, Ontario is a good place to start since it's family farm that has been running since the 1950's. That means you've got multiple generations working the farm, and as Chris and I were only too happy to find out, it looks like it will continue to be passed down through the family. Who doesn't love a good Ontario family business story, right?
A dairy farm tour is fun because not only do you get to learn the process of creating dairy products, but you also get to enjoy some tasty treats from the farm at the end of your visit! And you'll want to make sure you pack a cooler bag and ice, so you can take some tasty goods home, too. If you're keen to do a tour yourself, please do check their website to see if they're currently running tours. We know from our visit that they're excited to get them rolling again after so long, so do check in on that site if this is up your alley.
If you love ice cream, yogurt, smoothies or chocolate milk (after all, who doesn't love these things?!), then this is the ideal type of tour for you. As you also might imagine, dairy farm tours are also a perfect family-friendly activity, as the kids love the hands on nature of it all, plus the cow hats!
The History of Dairy Farms in Ontario
Dairy farming is an important part of Ontario's history. Major milk distribution began in the early 1900's, and, not surprisingly, it was spearheaded in major Ontario cities like Toronto and Ottawa. By the mid-1950's, glass bottles of milk were being delivered to homes across the province.
Several mid-century homes in the province still even have a "milk door" near the side entrance of their home. It functions a lot like a mail slot, and is a neat historic feature. The milk man, like the mail man, was a major staple in many neighbourhoods across the province, from big cities to small towns.
Many Dutch dairy farming families like the Den Haan family at Sheldon Creek Dairy share a similar history. In the 1950's, Adrianus and Maartje den Haan immigrated to Simcoe County from Holland. They arrived with their five children and worked dedicatedly for a few years before they were able to buy a farm for themselves in Loretto, Ontario.
Today, Sheldon Creek Dairy operates on the same land purchased many years ago. The farm sits on five hundred acres of land, and, as we noted above, it is still in the family. It's owned and run by John den Haan (one of Adrianus and Maartje's sons) and his wife, Bonnie, along with their adult children who are heavily involved in the farm, too.
In fact, their youngest daughter, Emily, grew up knowing all of the cows' names, as well as their ins and outs. If you're lucky enough to have Emily take you on this dairy farm tour, I'm sure you won't be surprised by that fact in the slightest.
Experiencing a Dairy Farm Tour at Sheldon Creek Dairy
As you might have gathered by now, Sheldon Creek Dairy is one of the premier dairy farms in Ontario. They have won many awards for their milk products and their Holstein cows. In fact, there are less than 14 Canadian dairy farms that have won the Holsteins award, and the den Haans are very proud to say they they've won several over the years, and especially recently.
They are connected to their cows in the same way someone might be connected to relatives, including knowing the family tree for all of their cows. Throughout the tour, both Chris and I found it very endearing to learn how closely connected the den Haan family is to their cows. They really did speak of their cows like friends or family.
At the start of a dairy farm tour, you'll learn about the history of the cows on the farm. The first cow that John and Bonnie started with was also their favourite cow, and she was named Maggie. Nowadays, Maggie's descendants make up a large percentage of the cows that live on the farm.
From Maggie onwards, each cow is cared for and supported in the way you'd hope. They've undergone a lot of changes and updates to the Sheldon Creek farm, and it goes to show just how much farther dairy farming has come from the early days.
These cows have it made in the shade–literally. Their high-tech barn is equipped with climate control fans, plenty of space and shade to relax, and ways to stay out of the hot summer heat. They even have a little machine that scratches their back/gives them a massage if they're keen for it.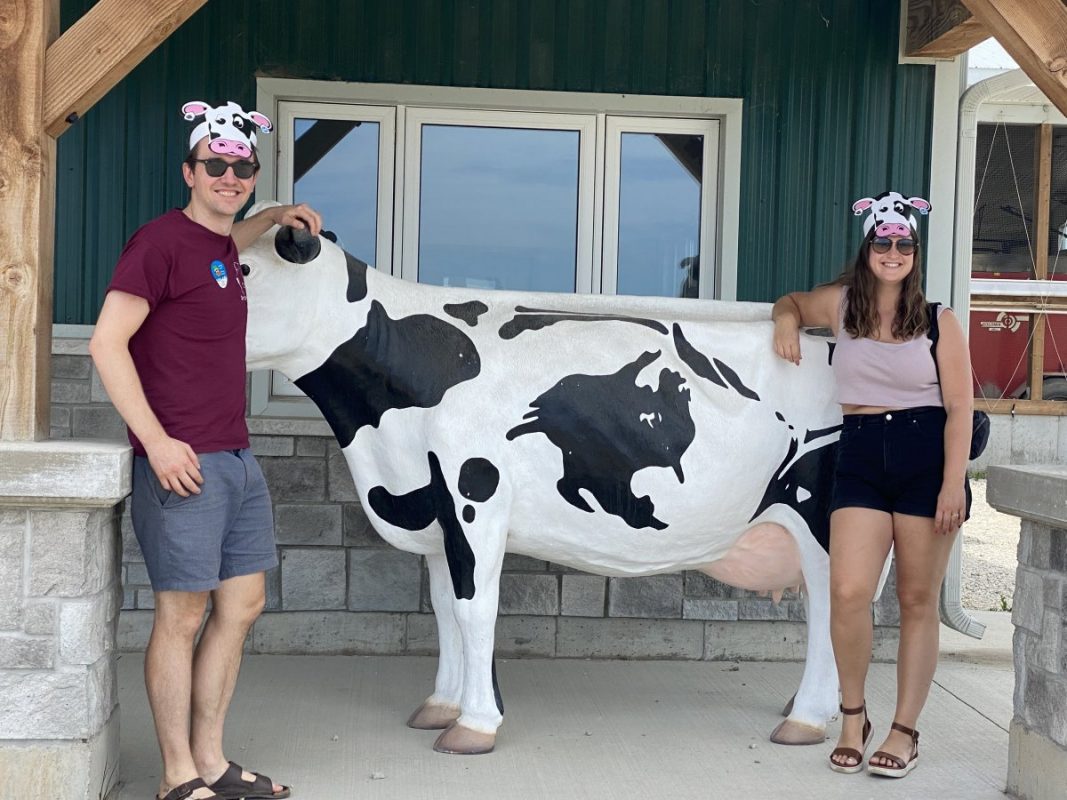 As you walk through their large, open-air barn and facilities, you'll learn all sorts of things about cows. This includes how to milk a cow, and the technology they use to ensure the cows are happy, healthy and producing the best milk for consumption.
Quality is their obsession, and rightfully so. As Bonnie said on our tour, "we pride ourselves in quality, and making milk the least processed we can"
In fact, they don't homogenize their milk. They also pasteurize it at the lowest temperature possible. This allows it to be as safe as possible, but also incredibly flavourful. You can even see the machines used to milk the cows, and the way the cows can select the time that they choose to be milked on their own schedule.
The den Haan family will also explain how to milk cows with a demonstration, and explain the different ways that they make this dairy products. They are known for their yogurt, kefir, clotted cream, fruit smoothies and flavoured milk products. Chris and I were a fan of their strawberry milk, in particular.
They are also known for their A2 milk products. A2 milk is milk with a protein that is more digestible, and better for people who have dairy sensitivities. It's seen as an all-around "clean" milk. It was popularized in Australia, and when Emily worked on a dairy farm there for a few years, she learned about the process for A2 and brought it to Sheldon Creek.
How You Can Enjoy this Loretto, Ontario Dairy in Your Own Home
At the end of your dairy farm tour, make sure you try Sheldon Creek's A2 chocolate milk as well. It's not to be missed! You can find the chocolate year-round. They also sell strawberry milk I mentioned above during Valentines Day and in the month of June, during strawberry season.
Thanks in large part to the pandemic, Sheldon Creek Dairy really had to pivot. They had to change up how they used their spaces on the farm, and they really put a lot of effort into perfecting their online store.
In fact, their online sales to people around the province are just as strong as their in-store sales! Not only can you learn about and purchase their milk products on your dairy farm tour, but you can also buy their products online. And, so you know, they offeroptions for home delivery across the province.
You can visit their farm store website to order what you'd like. You can arrange to have it delivered to your local farm store partner, or to your home. They have more than just their milk products available, too. You can even find baked goods, meats, cheeses and beyond.
Sheldon Creek Dairy sells entirely local, farm-fresh products that you can count on being a tasty addition to your fridge, and it's a fun spot to visit if you're keen to dive into Ontario's proud dairy history.
---
We want to humbly thank Sheldon Creek Dairy and Central Counties Tourism for hosting us as media. All opinions are completely my own.
If you appreciated this article, you'll love our newsletter, as well as our Facebook group! Feel free to join, all are welcome.
Bri is an Ontario native who has spent many years living abroad, but has been happily reconnected with Ontario for the past three years.
She loves writing about travel experiences in our beautiful province including all things nature, food and culture.
You can find her canoeing and swimming across Ontario with a craft brew in her hand in the summer, and snowshoeing or curling up with a good book and an Ontarian Pinot Noir in the winter.