Planning weekend getaways in Ontario is a great way to see all the beauty of our province bit by bit. We've put together a list of 30 different ideas for weekend getaways in the province. We've organized the list by region, but make sure you check out all the ideas to help plan the perfect weekend for you to hit the road and savour Ontario.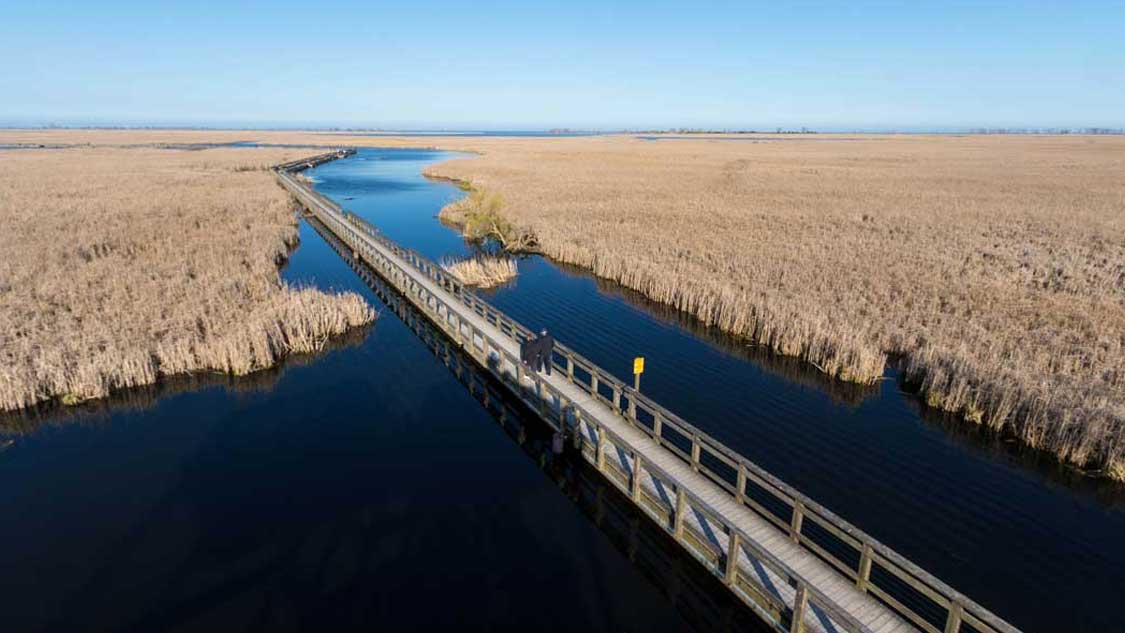 If you're looking for ways to mix up your day-to-day routine at home, then consider taking one of these exciting weekend getaways in Ontario.
Ontario is full of so many fantastic options for things to do. The main thing to keep in mind when you're planning weekend getaways in Ontario is to choose something that's close enough to justify going there for a weekend.
That's why we've organized this list of weekend getaways into regional areas in the province, so you can think about how far you're looking to go, and plan accordingly.
Putting together this list was a lot of fun, and there are so many different types of getaways on this list: quaint and quiet, zen and natural, unique and creative, or urban and entertaining.
Please note that this post may contain some affiliate links. This means we get a small commission for sharing our recommendations, at no cost to you.
Weekend Getaways in Ontario's Southwest
Go on a Bike Tour Around the Lake Erie North Shore Wine Region
On this weekend getaway, stay in Kingsville for the weekend. Jaunt out to the Lake Erie North Shore wine region for one of your two days.
There are over thirteen wineries and five restaurants in the region, along with some great shops in Kingsville and some of the surrounding hamlets. There are some breweries in the area, too.
If you're looking to add a little something extra, this weekend getaway in Ontario can also lead you over to Leamington for some great beer, food, and views of Lake Erie at the Point Pelee Observation Tower.
Head to the Southernmost Points in Mainland and Island Canada
Start your weekend in the region by heading to Point Pelee National Park. The scenic drive down to the southernmost tip of mainland Canada is a neat experience. There are hiking trails and boardwalk paths you can explore. If you're short on time, head to the Observation Tower.
Next, take the ferry from Leamington (make sure you book your ticket for the ferry well in advance!) to Pelee Island. The ferry ride is about 90 minutes, depending on weather conditions. Make sure you bring a book. We are big fans of The Wandering Dog Inn on Pelee Island, and there are plenty of great places to check out once you're there.
Carve out some time to rent a bike, explore the island, go swimming, head to some restaurants, and enjoy living the island life. A Point Pelee winter getaway is another great way to experience this incredible park.
Dip Your Toes into Exciting Outdoor Experiences and Delectable Wineries in Norfolk County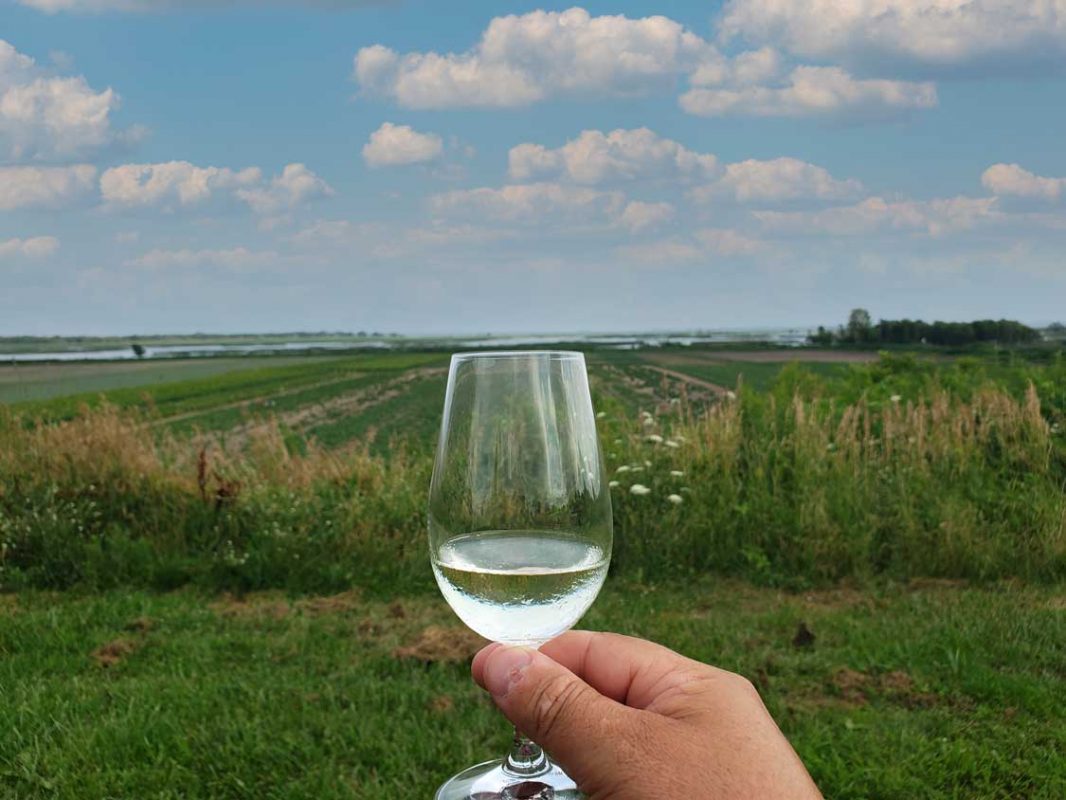 Welcome to "Ontario's Garden." Stay at Long Point Eco-Adventures or the Port Rowan Inn* as your base for a weekend in the region.
To book your stay at Long Point Eco-Adventures, click here.
While you're in Norfolk, head to different wineries and breweries, check out some lavender fields if you visit in the summer months, or enjoy many of the farm-fresh markets and roadside farm stands. This is, after all, a great growing region, so whether you visit in the summer or fall, the heaps of farm-fresh foods are a delight.
Make sure you plan to stop at Burning Kiln Winery during your stay–their famous "Kiln Hanger" is award-winning and one of the top-rated wines in the province. Long Point Eco-Adventures also has some exciting outdoor activities like zip-lining and mountain biking, or educational experiences like apiary tours and mushroom foraging hikes.
*Note: The Port Rowan Inn is closed for renovations as of May 2023.
Go "Retro" in Chatham and Nearby Small Towns
Stay at the Retro Suites Hotel in Chatham. This neat hotel has over twenty suites, each with its own unique theme. It's a destination in and of itself. If you happen to visit in June, or if you love learning about and seeing vintage cars, then make sure you check out their annual Retro Fest.
To book a memorable stay at the Retro Suites Hotel, click here.
Head to their restaurant, the Chilled Cork, for breakfast or dinner, and head to Sons of Kent brewing before you walk around town.
After you've enjoyed some time in Chatham, there are some adorable towns in the region to check out, too. Dresden is one of our favourites!
Relax on the Shores of Lake Huron in Grand Bend
Head to Grand Bend for the weekend. This spot is one of the most charming towns in Ontario. Grand Bend is a great place to visit in the warmer months to enjoy the beaches and its access to Lake Huron.
We're also big fans of Pinery Provincial Park, which is just down the road. It's a great park for taking long, scenic walks and enjoying more of what the shores of Lake Huron have to offer.
A Weekend in London, And Then Some
A weekend getaway in London is a great option for those looking for an experience in the city. Stay at The Park Hotel; it's a really impressive property.
To book your stay at The Park Hotel, click here.
London is home to a ton of great restaurants. There are also a lot of unique and local things to do in the area.
If you're looking to explore a few fun nearby places, there are some great golf courses near London. The town of Strathroy is also beautiful. The Clocktower Inn is a great place to stay overnight or enjoy a meal. MJ's Roadhouse in Lucan is also a restaurant worth stopping at.
To book a stay at the historic Clocktower Inn, click here.
If you're keen to venture a little further, the town of Port Stanley is also very charming!
A Weekend in Windsor
Windsor is another great city in Ontario's Southwest. The range of different activities and things to do in Windsor is pretty exhaustive! If you're looking for a Las Vegas-style getaway without the flight, Caesar's Palace in Windsor is an excellent place to stay. They even have their own casino!
If you want to experience Caesar's Palace right here in Ontario for yourself, click here.
Aside from casinos, Windsor's Ford City is a neighbourhood well worth checking out.
A weekend in Windsor can also easily be combined with an extension to Pelee Island Wine Country if you have the time.
Weekend Getaways in Ontario's South Central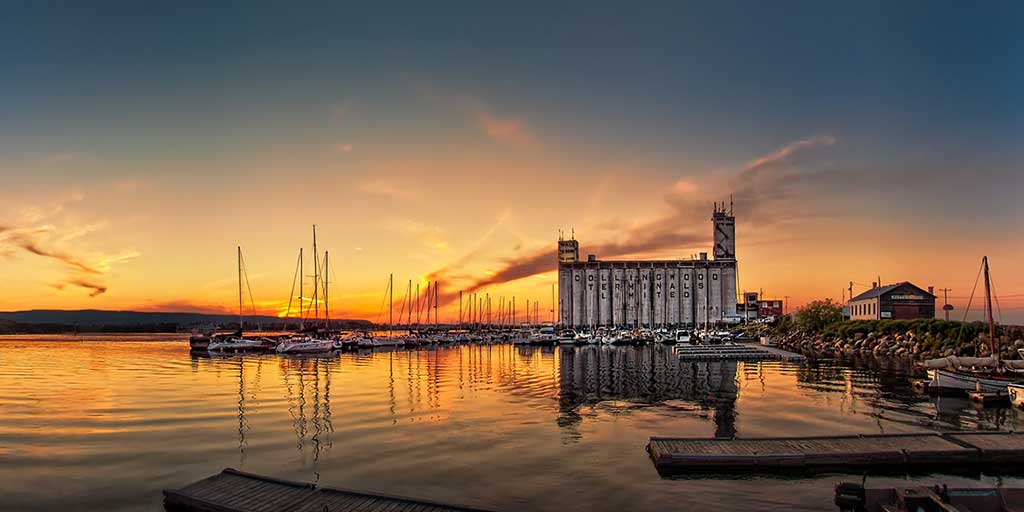 Take in the Scenic Rolling Hills and Hamlets of Mulmur
There are so many beautiful hamlets to be explored on this weekend getaway in Ontario. This is more of a relaxed pace for a weekend escape than others. Stay at Foxingham Farm B&B in Mansfield to enjoy the rolling hills in the spring and summer, brilliant fall colours in autumn, or downhill skiing in the winter.
To book your stay at the charming Foxingham Farm Bed & Breakfast, click here.
Head to Mrs. Mitchell's Restaurant for a delicious breakfast, dinner, or afternoon tea. Explore the Dufferin Museum and plenty of shopping and farms in the region. Don't forget to visit the Schitt's Creek Rosebud Motel and the region of Hockley Valley while you're here, too.
Head to Lake Scugog and its Surrounding Charming Towns
Regardless of what time of year you visit, this corner of Durham Region is a pretty place. In the warmer months, heading out kayaking off of Lake Scugog is the perfect way to get out on the water. During the winter, ice fishing on the same lake is a favourite local pastime.
Round out your visit by spending some time in Port Perry. Learn various crafts in art classes at Meta4. Sample some delicious local craft beer at Old Flame Brewery. Or enjoy lunch or stay overnight at the Piano Inn and Cafe, or head just outside town to the charming Nestleton Waters Inn.
On your way in our out of Port Perry, you can head to Uxbridge. Make sure you stop at a local favourite, Haugen's, on your way. Their rotisserie chickens have been spinning for over 60 years! Stop in Goodwood, too, before arriving in Uxbridge. Goodwood is the home of downtown Schitt's Creek–think Cafe Tropical and Rose Apothecary.
In Uxbridge, there are a lot of great restaurants, hiking and biking trails. You can catch your breath at The Second Wedge for a pint after your adventures.
Enjoy a Weekend of Neighbourhood Culture in Toronto
Of course, it's challenging to cram all the ideas for things to do in Toronto into a little blurb, but we'd recommend planning your weekend based on a region. We've outlined a few neighbourhoods and ideal hotels you can stay at in each one.
Maybe you'd like to book a stay on the waterfront at the Westin Harbour Castle and check out the surrounding areas. Or, perhaps you'd like to stay in the eastern neighbourhoods of the city and book yourself into the Broadview Hotel in Leslieville.
Or maybe you plan to stay more centrally, like booking a stay at The Chelsea Hotel. And if you head to the west, you might be happier booking a few nights at The Drake.
Regardless of which direction you choose on this weekend getaway, Toronto is chock-full of fun-filled activities, water sports, hiking trails, fun facts, and bars for you to check out on your visit.
It's always fun to see what's on at the Royal Ontario Museum or the Art Gallery of Ontario when you visit the town, too! There are even some ways to visit these Toronto museums for free.
If you're looking to take a tour while you're in Toronto, we'd highly recommend taking an evening helicopter tour of the city. You can book your ticket here.
Head to one of the Most Charming Towns Near the Grand River
This is a bit of a stretch, since not all of these towns connect to the Grand River, but take your pick between a charming weekend in either Stratford, Elora, or Paris.
Both Elora and Paris, while distanced, are situated on different spots along the Grand River. Both are scenic and charming. Stratford is a little further west along Lake Victoria.
Take in the History and Nature of Niagara
This weekend getaway combines the historic charm of Niagara-on-the-Lake with family fun and excitement in Niagara Falls. Depending on the type of weekend getaways in Ontario you're looking for, you can easily pick one or the other, or do a combination of both.
Begin with all the excitement that Niagara Falls' attractions offer. You can do exhilarating things like:
To round out the exciting portion of the weekend, take a breath in charming Niagara-on-the-Lake. Rent a bike and visit local wineries or nature paths along the Niagara River, or simply stroll around town, stopping to shop, have a bite to eat, or just admire the beautiful buildings in the area. Either Niagara Falls or Niagara-on-the-Lake can be its own weekend getaway, but if you're interested in both areas, it's definitely worth it to find time to work them both in.
Relax and Enjoy the Outdoors in Collingwood and The Blue Mountains
This is one of the weekend getaways in Ontario that takes you to the scenic mountains of southern Ontario. Collingwood is a wonderful jumping-off point to see the region. They have a lot of great breweries and restaurants, and plenty of fun things to do.
Just a stone's throw away, The Blue Mountains also offer a ton of fun things to do in the region. If you're keen on outdoor activities, it is a great place to be. If you prefer more of a relaxing weekend getaway in the surrounds of nature, then this is also the right spot. This is especially true since there are plenty of relaxing spas in the area for you to enjoy during your stay.
To book your stay at Blue Mountain Resort while you're in town, click here.
Relaxation and Neighbourhood Walks at Langdon Hall and Cambridge
For those who have visited this corner of Waterloo Region, it is certainly a very special place. Langdon Hall is a well-known and renowned place to stay. This historic and impressive estate will certainly leave a lasting and memorable impression on you well after you leave. They offer packages that include spa credits and multi-course meals on the property.
Book your unforgettable stay at Langdon Hall by clicking here.
When you're ready to explore beyond the relaxing environment and grounds at Langdon Hall, the city of Cambridge, most specifically in the town of Galt, makes for a great place to walk around and explore. Galt has beautiful views of the Grand River, and a lot of great coffee shops, pubs, and restaurants in the area.
For TV and film enthusiasts, its historic homes and charming streets are the places of numerous filming locations, namely for Hulu's The Handmaid's Tale and Netflix's The Queen's Gambit. Keep an eye out for these locations as you walk around town. And don't forget to stop at Foundry Brewing before heading back to Langdon Hall.
Take in the Food, Culture and History of St. Jacobs and Kitchener
Plan to stay in or near the quaint town of St. Jacobs over the weekend. The brand new Hampton Inn & Suites is an impressive building with great design and functionality, and it's right across from the St. Jacobs Country Playhouse.
If you'd like to book a stay at the Hampton Inn & Suites in St. Jacobs, click here.
Enjoy a walking tour of the town of St. Jacobs and check out street art, shops, and great public spaces along the way. Plan to head to the famous St. Jacobs market on a Saturday for plenty of farm-market goods and freshly baked and cooked foods from different corners of the world. The market is famous for its apple fritters, but be prepared for long lines on Saturdays the longer you wait. Aim to go early, if it's possible! Head to their Antique Stores, too. You'll be sure to find something unique.
Finish the weekend with a guided Stroll Walking Tour around an area of your choice. Their Downtown Kitchener Mural Arts walk is a great way to learn about local artists in the region. Downtown Kitchener is also home to several wonderful places to grab a coffee or a drink, and restaurants for after you've finished your walk.
Weekend Getaways in Ontario's Highlands, Kawarthas & Northumberland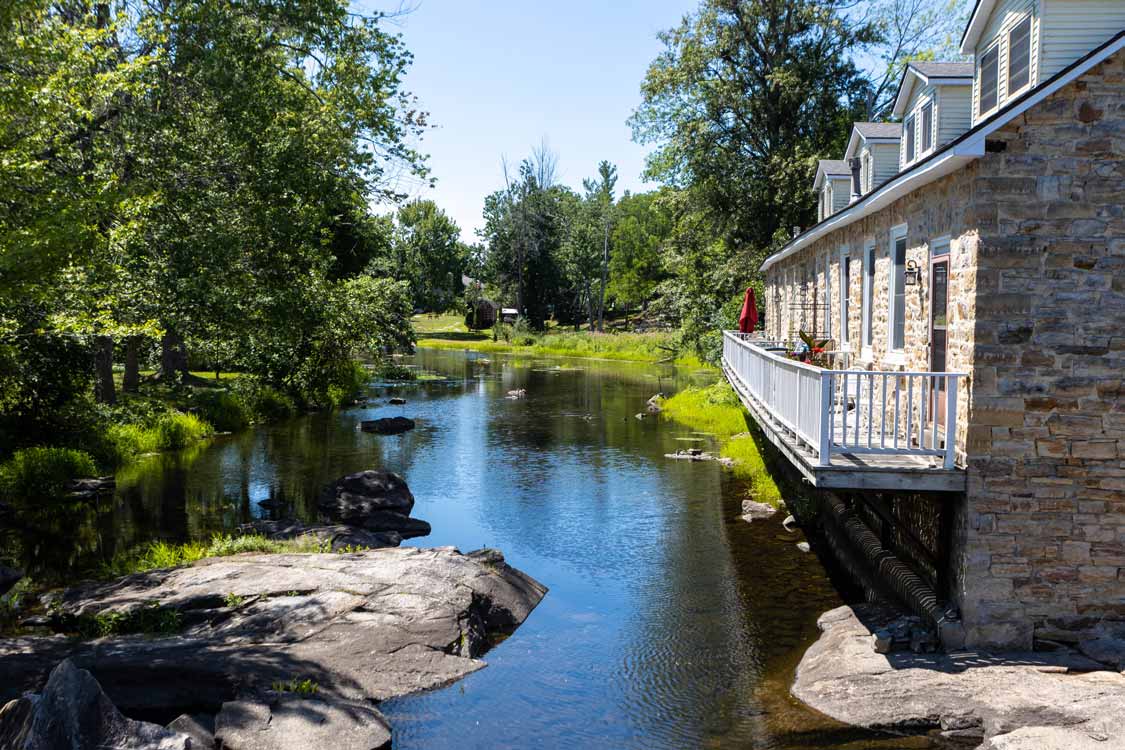 Relax at St. Anne's Spa and Visit Charming Local Towns
Plan an Ontario weekend getaway at the spa! St. Anne's Spa in Grafton is a renowned and relaxing place to get away. While you'll likely want to spend most of the weekend soaking in the relaxing delights of the spa, make sure you carve out some time to explore one of the local charming towns.
To book your relaxing stay at St. Anne's Spa, click here.
Port Hope and Cobourg both made our list of the most charming small towns in Ontario! Each is set on the shores of Lake Ontario and is worth exploring in its own right. Depending on the time of year, each town also has its own theatre with local shows, which would well be worth checking out during your visit.
Meander Through the Charming Small Towns of Lanark County
This region of Ontario is chock-full of charming small towns. We are big fans of Perth, Westport, and Almonte in Lanark County. Each of these towns has historic charm, great restaurants, and local businesses to support, and they are excellent for walking around.
Consider staying locally at a charming bed and breakfast. Clyde Hall B&B is a great place to stay, and its owners are talented pastry chefs.
To book your stay at Clyde Hall B&B, click here.
On top of being home to beautiful small towns, Lanark County is home to both the Lanark County Chocolate Trail, in addition to being the maple syrup capital of Ontario!
Wheeler's Pancake House is a local favourite sugar shack to visit, with great walking trails through their sugar bush on the property. If the historic charm of the region isn't enough to convince you, then we hope these sweet culinary delights will be.
Weekend Getaways in Ontario's Southeast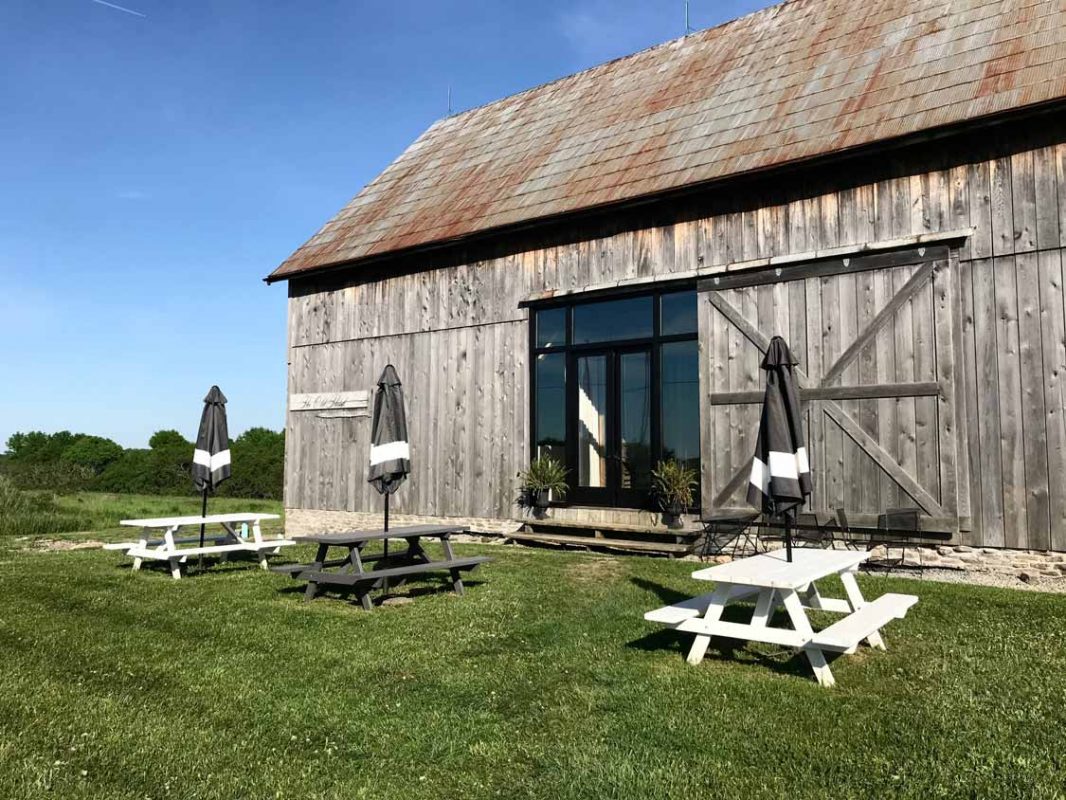 Take Your Own Personal Food Tour in Belleville and the Bay of Quinte
Belleville is a great place for a weekend getaway in Ontario. Their downtown district is full of great places to eat, with everything from authentic Mexican food to gourmet restaurants. A bonus is that it's very walking and bike-friendly, so there are plenty of ways to enjoy the fresh air as you wander.
Take some time to head out of the downtown core to Zwick's Park or north to Signal Brewery on the Moira River. South to the harbour area is also great for beautiful views over the Bay of Quinte. We're big fans of grabbing a sunset bite to eat or a drink at The Pier Patio Bar and Grill. This weekend could also easily be combined with…
A Weekend in Prince Edward County
Start your weekend by staying overnight in the charming small town of Picton, or at one of the cute bed and breakfasts across the region.
Merrill House is an incredible historic bed and breakfast in Picton, and makes for an excellent place to stay. Click here to book your room.
You can plan your days around spending time in nature, like at Sandbanks Provincial Park or Lake-on-the-Mountain. Aside from that, the adorable hamlets in the area are great to explore while you're sipping your way through some of the most amazing wineries and breweries in this region.
Enjoy Quiet Island Life on Amherst Island and Mainland Bath
This is a special little corner of Lennox and Addington County. Amherst Island is a relaxing island, just off the coast of mainland Bath, Ontario.
Stay at The Lodge on Amherst Island in Stella. Make sure you check out all the things to do on Amherst Island. Either on your way there or on your way back from the island, be sure to stop in Bath for a coffee and a snack or lunch at The Lodge Coffee House. The owner is wonderful, and the food and coffee are worth the stop. It's a great excuse to check out the small and charming historic town of Bath, too, and patronize their local businesses in the region.
Spend a Weekend in Canada's Intended Capital City
Kingston is a great place to get away for the weekend in Ontario. Its history is one of great importance to our province and country, and the views from downtown out to Wolfe Island and Lake Ontario are beautiful. There are plenty of historic places to check out, and beautiful neighbourhoods to walk around.
Queens University campus also makes for a great place to explore and wander. There are plenty of other awesome things to do in Kingston that you can choose from on your weekend away.
We'd recommend booking your stay at The Smith Hotel, or booking a few nights at The Secret Garden Inn.
Boat and Wander Through the Thousand Islands and Gananoque
Gananoque is the perfect access point to the famous Thousand Islands region. Stay at the Comfort Inn and Suites in downtown Gananoque (we know, this sounds like an odd choice, but it's honestly the best location to visit the area!) or a local inn or bed and breakfast downtown.
To book your stay at The Comfort Inn and Suites Gananoque, click here.
From central Gananoque, you can head on a boat or kayaking tour of the islands. There are long and short boat tours, some of which go all the way across to the mansions on the American side of the islands.
For a complete list of all the different types of tours your can take to see the Thousand Islands, click here.
You can also rent bikes and bike along the Thousand Islands Parkway, which is a beautifully paved and preserved road along the Canadian shore of the St. Lawrence River.
Gananoque also has a wonderful restaurant scene and a great brewery. While you're in town, check out what's on at the Thousand Islands Playhouse.
On your way out of town, be sure to stop at BUSL Cider in Mallorytown for some scenic rural views and tasty samplings at this modern cidery.
Weekend Getaways in Ontario's East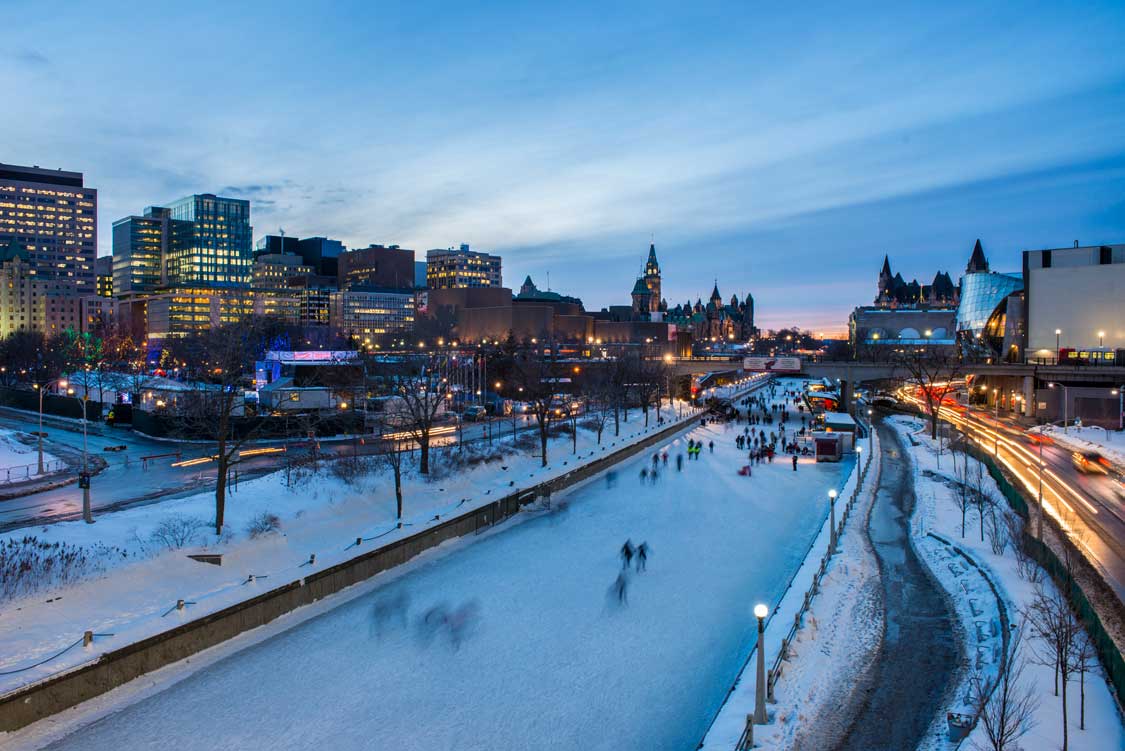 Explore Canada's Capital
Ottawa is a fantastic city to visit on a weekend. There are so many fun things to do and see that would easily fill up more than a weekend. We'd recommend pinpointing what makes you tick when you plan one of your weekend getaways in Ontario based in Ottawa.
Plan to stay at a central hotel. The Andaz Hotel in the Byward Market is a great option, with beautiful views of Parliament from the top floor. If you're looking to splurge a little, staying at the Fairmont Chateau Laurier is a very special experience.
To book your stay at the Andaz Hotel, click here.
To book your stay at the Chateau Laurier, click here.
You can use this list of fun facts about Ottawa to help you plan. Ottawa is home to many informative tours, walks, experiences, markets, and finer things. If you plan to visit in the spring, that's the perfect time to experience Ottawa's famous tulip festival while they're in bloom. You're sure to find something that's just right for you when you visit Ottawa.
If you are a fan of guided tours, there are also so many exciting ways to see Ottawa by tour. You can take biking tours, river cruises or walking tours, and far more. To discover all the great tours in Ottawa, click here.
Hire a Houseboat to Cruise the Rideau Canal
This is a very neat experience that would lend itself well to a weekend getaway. If you weren't aware that you could rent a houseboat in Ontario, then you should definitely check out Le Boat Vacations. Le Boat offers experiences all over the world, but their boat trips along the Rideau Canal between Ottawa and Kingston are not to be missed.
You are essentially given a boat, instructed on how to use it, and you're off! You'll need to bring your own food and supplies, so it's kind of like an elevated camping experience on the water. Plus, you'll take in the sights of the UNESCO World Heritage site of the Rideau Canal the way it was intended: from the water.
Weekend Getaways in Ontario's North (Sudbury and Beyond)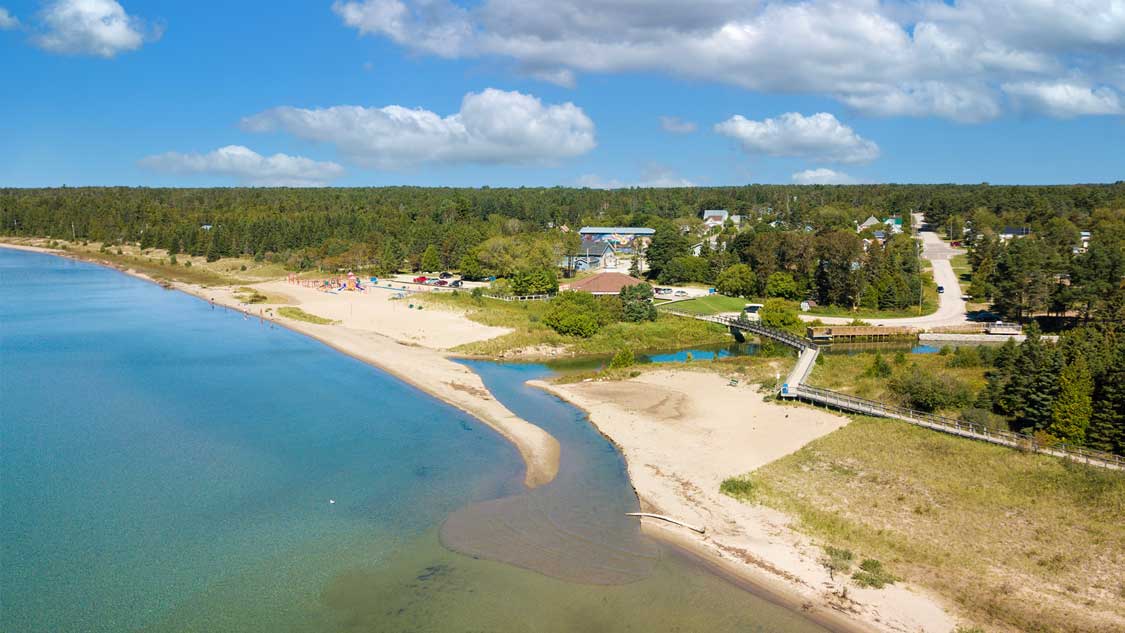 Spend a Weekend in "The Soo"
Sault Ste. Marie is a great place for a weekend getaway, especially for nature lovers and outdoor enthusiasts. There are so many awesome things to do in "The Soo". Make sure you save some time to check out the many great restaurants in town while you're there, too!
Enjoy the Urban and Natural Attractions in Thunder Bay
Thunder Bay is home to some really fun activities and outings. You can go sailing in the summer months, or hiking and downhill skiing in the winter.
It has some pretty phenomenal historical sites to check out in the region, too. And their food scene and culinary delights aren't to be missed.
Plan to Take in Some Stars in the Dark Sky
We are so lucky to have some incredible places for stargazing in Ontario. Not only can we enjoy the stars from so many different parts of the province, but we have several designated dark-sky preserves right here in the province of Ontario.
One of the newest official dedicated preserves is in Quetico Provincial Park. It's a rugged park, located north of Lake Superior and bordering Minnesota. It's one of several excellent places to see the Northern Lights in Ontario.
Head to Enchanting Manitoulin Island on Lake Huron
Manitoulin Island is another excellent island worth checking out on an Ontario weekend getaway. You'll likely want to make a long weekend out of it if time permits, but it will certainly be worth it.
There are plenty of cruises and hikes that you can take to fully immerse yourself in the nature of the island. There are also several ways for you to learn about the Indigenous peoples of the island, and better understand the history of the place you're visiting. The North Channel Cruise is especially one of our favourites to take in on this weekend getaway in Ontario.
Enjoy Science and Nature in Sudbury
There are so many exciting things to do in Sudbury. With everything from "sciencey" sites like The Big Nickel and Science North, to the Bell Park Walkway and the Lake Laurentian Conservation Area, it's perfect for a family weekend getaway.
Sudbury is also an excellent destination for restaurants and delicious food. You'll be sure to leave happy and satisfied after a visit to some of their amazing restaurants.
The Importance of Taking Weekend Getaways in Ontario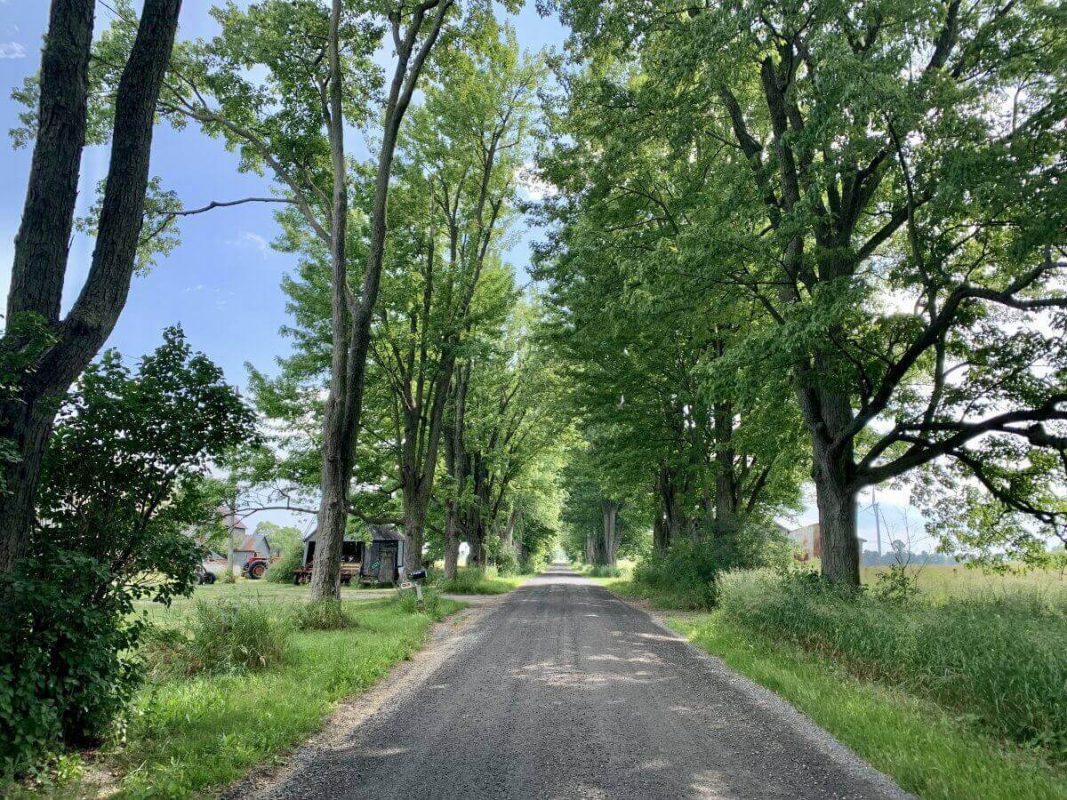 We are so thrilled that you've taken the time to read through our list of weekend getaways in Ontario.
The options are truly endless for exploring this province, and with each trip, you'll encounter small business owners, passionate hosts in hotels, inns, bed and breakfasts, and places perfect for reflection.
Our emphasis on "slow travel", and taking in local delights is a philosophy we truly hope will stick at Ultimate Ontario. We see it as the future of travel here, and we hope you do, too.
There's a lot worth exploring in this province. We hope you find that by the end of your weekend getaways in Ontario, you'll come back happy for what you've seen, but also yearning for your next opportunity to get back on the road.
We'll see you there.
Bri was born and raised in Ontario. She spent many years living abroad, but returned to Ontario a few years ago, and is very happy to be back exploring.
She loves writing about travel experiences in our beautiful province, including unique accommodations, memorable meals and adventurous activities.
You can find her canoeing and swimming across Ontario with a craft brew in her hand in the summer, and snowshoeing or curling up with a good book and an Ontarian Pinot Noir in the winter.