Stroll Walking Tours aims to offer thought-provoking and engaging tours for private groups that are hoping to do something a little different and, ultimately, to see this province a little differently.
---
There are so many stories worth telling in the province that too few of us get to hear. As it turns out, when we do finally hear these stories, they add a multitude of context and meaning to the places around us. I'm from Toronto, and I've still found that every walking tour I've done here has meaningfully added to my appreciation and understanding of the city.
Briana and I also met as tour guides in Ottawa, so I do admittedly carry a certain bias but, objectively, I do think good quality walking tours have the legitimate potential to change how you see a neighbourhood, site, or city – and that's quite powerful.
Recently, Bri and I headed up to Waterloo Region. We ate at some excellent restaurants, we had some beverages at notable Waterloo breweries, we checked out some notable lookouts and snapped some great photos, and we also were fortunate enough to be on a tour led by Juanita Metzger, the Founder of Stroll Walking Tours.
As I said before, Bri and I met as tour guides, so it was rather fitting that we, by coincidence, ended up taking this tour on our wedding anniversary! But, enough about us, let me tell you more about Stroll, and what they offer that can enable you to better acquaint yourself with this province of ours!
About Stroll Walking Tours
Stroll was founded by Juanita Metzger in the summer of 2020. She found herself trying to better connect with her immediate surroundings (especially since we were all limited by just how far we could go), and realized that many others might be craving the same. Of course, that's exactly what we've seen here at Ultimate Ontario as well. Considering her strong background in neighbourhood community development and "placemaking," this was a leap that made a lot of sense for her.
Juanita dove into this project with her heart and soul, and she completed over 30 walks before she put things on a hiatus for the winter, and until it became clear that it was safe to operate once again.
Stroll Walking Tours is comprised of Juanita and five other guides, and each guide has researched and designed their own tours. The tour is, naturally, led by that person, as the idea is that they'll be the foremost expert and best be able to deliver the content to you.
You can read more about Stroll's guides here.
What Walking Tours Does Stroll Currently Offer?
Below, I'll do a quick overview of the tours that are currently available. I should note that the tours are 100% private for you and your group. As Stroll themselves notes:
"We've curated walking tours with the most interesting stories and curious characters that come alive when walking and talking – and it just might enlighten your perspective on our cities!"
Stroll's Walking Tours
You can find an in-depth list on their website, but for I'll give a brief overview below so that you can see what sort of walking tours they provide.
Murals & the Outdoor Gallery: This is a mural walking tour that highlights both local and international artists. It takes place in Downtown Kitchener, and typically is about 90 minutes in length. The total walk is around 2 kilometres and it's quite an accessible route since the walk largely follows city sidewalks. The Murals tour runs year round. This is the tour that Bri and I took, so I'll talk in more depth about this below!

From "Busy Berlin" to Tech Corridor – Industry Clusters Then and Now: This tour looks at how the yellow-brick factories of yesterday transformed to meet the needs of today's tech sector. Not surprisingly, the location of this tour is the Innovation District in Kitchener. It's typically a 90 minute tour covering 2.1km, and it runs from July-September.

Historic Waterloo: The Story Buildings Tell: This Uptown Waterloo tour aims to showcase the history of the city through its built and natural heritage. This would be an ideal tour for the Ontario history buffs out there (though you could argue that all the tours fit that bill in some regard). It's about 1-2 kilometres in length and it runs for 90 minutes!

Berlin's Great War Stories: Learn about the history of Kitchener by examining what it was like when it was called something else entirely – Berlin, Ontario. In particular, this tour focuses on World War One in Kitchener, and highlights a range of stories and different people. It's a 75 minute tour that primarily operates in July and August, but apparently may be able to be scheduled in September-December as well.

Brewers, Taverns, Saloons & Hotels: Drinking in Berlin's History: This walk through Downtown Kitchener showcases the history of the earliest breweries and watering holes. I'm not going to lie – this is the tour I've got circled to do next on our next weekend getaway to Waterloo Region! The tour is 75 minutes, covers roughly 1.5 kilometres, and its schedule is the same as the tour above (operating primarily in summer).

A Community Affair: Berlin's Civic History: This tour runs 75-90 minutes and takes place in Downtown Kitchener. It follows the evolution of local government and of Berlin's evolution into Kitchener, which, of course, eventually became the largest city in Waterloo Region. This tour can also be thought of as a historic Kitchener tour, generally speaking. The entirety of the tour is 1.9 kilometres.

Pandemic! Kitchener in 'The Grip' of the 1918 Spanish Flu: Revisit what Kitchener's pandemic of 100 years ago was like. It was, in short, the city's worst health crisis, and there's ample stories of local leaders and medical workers who helped Kitchener come out of it. The tour takes place in Midtown Kitchener (and specifically the Mount Hope and Breithaupt neighbourhoords), and is a 90 minute tour that covers 2.7 kilometres.

Mount Hope Cemetery Walking Tour: Explore Kitchener's history by examining the names of people who made an impact on the city over the last 150 years, but are no longer with us. It's a 90 minute, 1.5 kilometre tour that runs on Friday and Saturday from September through to December.

On the Move! Transportation in Berlin History: Walk through Downtown Kitchener and get a sense of how people got around in the past, and how they're getting around today. Learn how the arrival of the railroad affected the city, and the car, and on and on. It's a 75 minute tour that is about 1.7 kilometres in length, and typically runs in the summer months (July & August).

Helping Hands: A History of Social Services in Kitchener: This Downtown Kitchener walking tour showcases Kitchener's history as it relates to social support, both on a personal and institutional level. It runs for 1.5 hours, covers 1.7 kilometres, and, like all of Stroll's tours, it runs rain or shine.

Berlin Ablaze!: Fires, as we all know, have the power to shape a city's history. Learn about Kitchener's most notable fires as you walk around Downtown Kitchener for roughly 75 minutes. You'll also hear the stories of those who courageously fought the fires and more!
If you have further questions about any of this, you can contact Stroll here. They're always developing more tours, and I know that Juanita spoke to Bri and I about a St. Jacobs tour, as well as a dedicated Cambridge tour on the horizon.
Our Experience on the Mural Arts and Outdoor Gallery Tour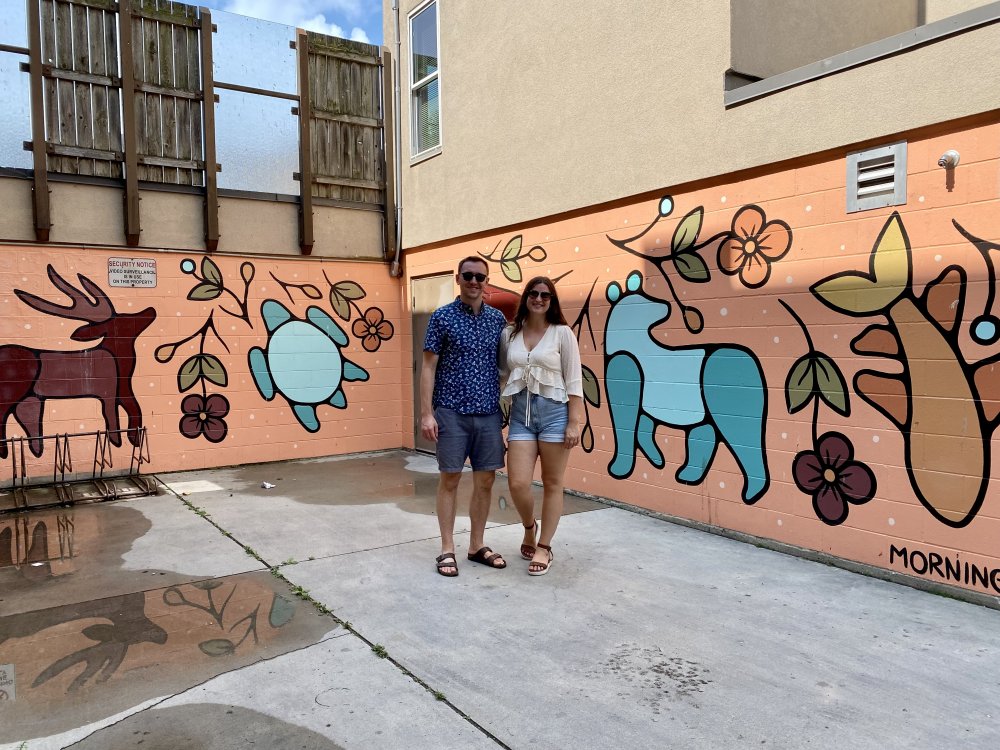 I've always been a fan of street art, largely because I've always understood that each piece of art is, in effect, a message to be interpreted. Sure, sometimes it can just be purely aesthetic or ornamental, but often there's a deeper message.
More than anything, this tour led by Juanita aims to showcase a diversity of perspectives and experiences. We examined the oldest and the newest, the largest and the most petite, and pieces that you couldn't miss if you forgot your glasses, and might miss even if you brought them.
From the beginning, I knew that Juanita and I were aligned on our appreciation of how art can change a city for the better. She regularly mentioned "The value of investing in art in the downtown core," and I think the word "investment" is precisely the right word, because an investment in art pays lasting dividends in a myriad of ways.
We saw impressive collaborations between Canadian and Chilean Indigenous Peoples (spearheaded by Neruda Arts), walked down Hall's Lane to get acquainted with the smorgasbord of art down there (and how that's redefined the area), took a moment to note the vibrant work of local artists like Stephanie Boutari, observed how artists like Pamela Rojas-Perez have used art to build community, and that's only scratching the surface.
The tour typically runs for 90 minutes, but Bri and I were asking questions aplenty, so I believe it ran about two hours for us. That's one thing that I liked about Stroll – Juanita made it clear that each tour was unique, and ultimately could be lengthened, shortened, or pivoted to focus on a specific element of the tour. It very much felt like our tour that was facilitated by Juanita, as opposed to lengthy lecture that we were dragged around on (and we've all been on those tours).
I learned a lot and finished the tour with new perspectives, and that's really all I can ask of a good walking tour!
Scheduling A Stroll
If this interests you, you can head to Stroll's site and "schedule a stroll." Feel free to let them know that you found out about them through Ultimate Ontario (we don't get a cut or anything, we just like friends of Ultimate Ontario to know if we might be making a different for them)! As many longtime readers know, we really try to do our part to support local communities and businesses, and we feel like Stroll is doing its part to highlight important stories around their community.
so, consider doing something a little different, and taking the time to see a familiar place with new eyes, while embracing the notion that you'll carry that knowledge with you forevermore.
---
We want to humbly thank Waterloo Region for hosting us as media. All opinions are completely our own.
If you appreciated this article, you'll love our newsletter, as well as our Facebook group! Feel free to join, all are welcome.
Christopher Mitchell is the Cofounder of Ultimate Ontario. He's visited over 80 countries, and has lived on 4 continents, but now has his eyes set squarely on exploring this incredible province, and helping others do the same.