Port Credit is only a short drive from Toronto, but it feels worlds away, in all the right ways. There's shopping aplenty and no shortage of great restaurants, bars, and shops – but there's also a big natural element to visiting here, with big, beautiful parks, and the waterfront just steps away. There are a lot of things to do in Port Credit!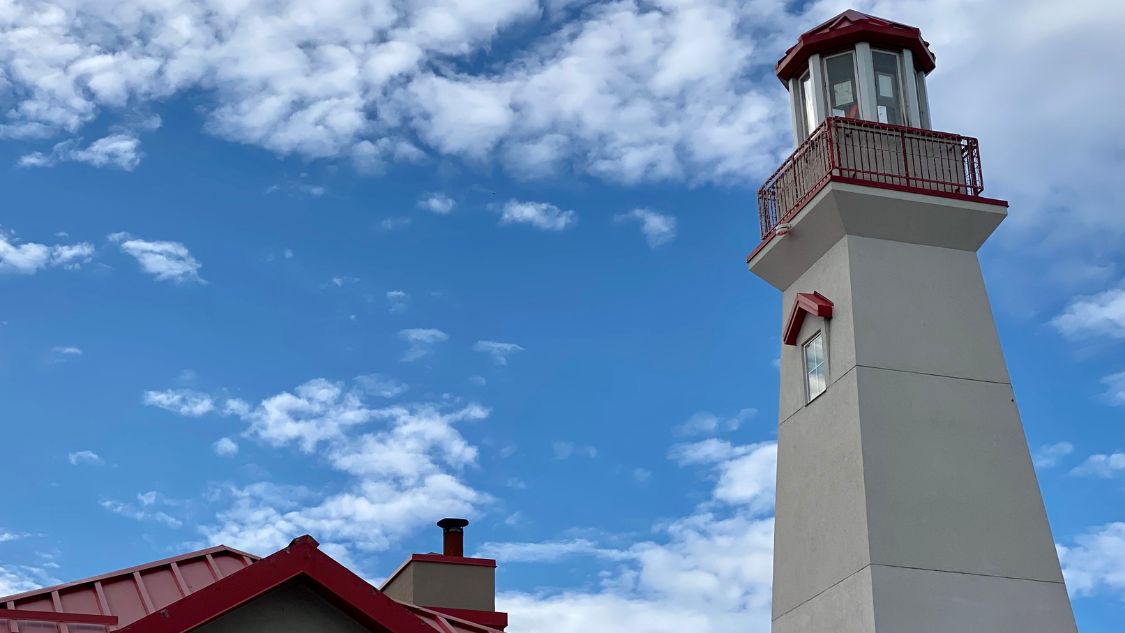 ---
Over the years, Port Credit has become a tourist hub, particularly for visitors from Toronto. And, that's for very good reason. You're right by the water, there's a main street filled with restaurants, bars, and shops, and there are opportunities to engage with the outdoors all around you.
Particularly on a warm, sunny day, there's a vibe in Port Credit that is delightfully palpable – a vibe that suggests that folks are enjoying their time here, and embracing the charm of Port Credit.
A Brief History of Port Credit, Ontario
Technically, Port Credit is actually neighbourhood of the city of Mississauga (home to the Riverwood Conservancy). It's located at the mouth of the Credit River on the north shore of Lake Ontario. It was originally a settlement of the Mississauga Ojibwe First Nations band, and a trading post was established here in 1720.
The village became an independent municipality in 1909 until it merged with Mississauga in 1974. Today, the original core village is a heritage conservation district, and the harbour (which you have to set eyes on when you visit) is mostly used for recreational boating, and as a central place for visitors to enjoy the sights and sounds.
In recent years, the population has increased significantly due to condo developments, and a massive condo complex named Brightwater has been planned. In the end, we can only hope Port Credit maintains its charm, as it's got no shortage of it.
What Are Some Fun Things to Do in Port Credit When You Visit?
Visit Port Credit Village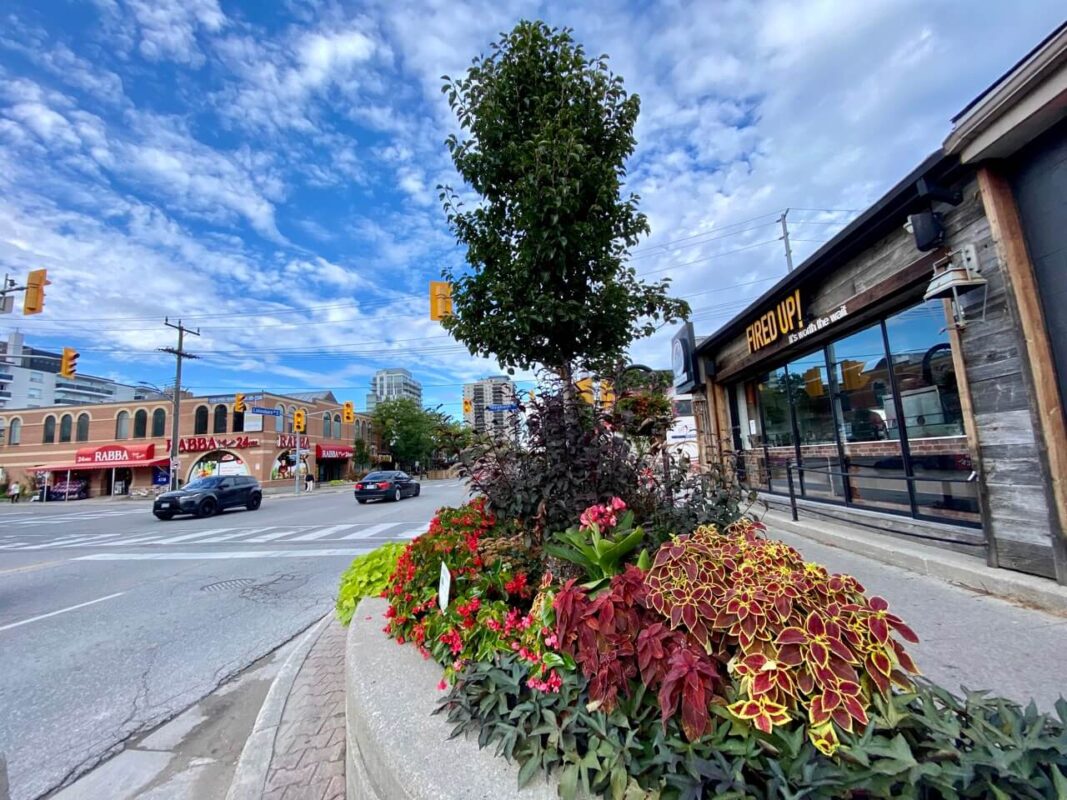 The first thing that we do when we're visiting Port Credit is walk up and down the main strip and see what's open, what's new, and what's busy. Walk in and out of shops, go to art galleries, and just generally get a feel for what is a unique spot in the landscape of Ontario tourism.
If you're looking for specific recommendations, Glassology is a neat glass shop to peek your head into, Inner Beach Co. is a hip little clothing store, and if you're looking for a touch of energy, consider grabbing a cup of java at the Archtop Cofee Bar.
Get Some Fresh Air at J.C. Saddington Park
J.C. Saddington is a nice place to go for a stroll because of its looped path system, ample picnic areas, and a playground for kids. The views of the water don't hurt either! The park is named after James Charles Saddington, a former Mayor of Mississauga who was instrumental in the development of the park.
Funny enough, this large green space was actually built on a former landfill, but you'd never guess that from a visit. You'll find the park on Mississauga's section of the Waterfront Trail. Personally, we regularly bike around here, and stop to find a park bench to take in the sights and sounds.
Stop By the Port Credit Farmers' Market
We love farmers' markets here at Ultimate Ontario. The Port Credit Farmers' Market runs every Saturday, from 8 am to 2 pm, starting on June 3rd through October 7th. It's located in the the Elm Wood Lot, which is part of the the LCBO parking lot.
You can find fresh produce, eggs, cheese, baked goods, and an array of artisanal items. One thing that's fun about this farmers market is that they also typically have live music!
Make Time for the Port Credit Harbour Marina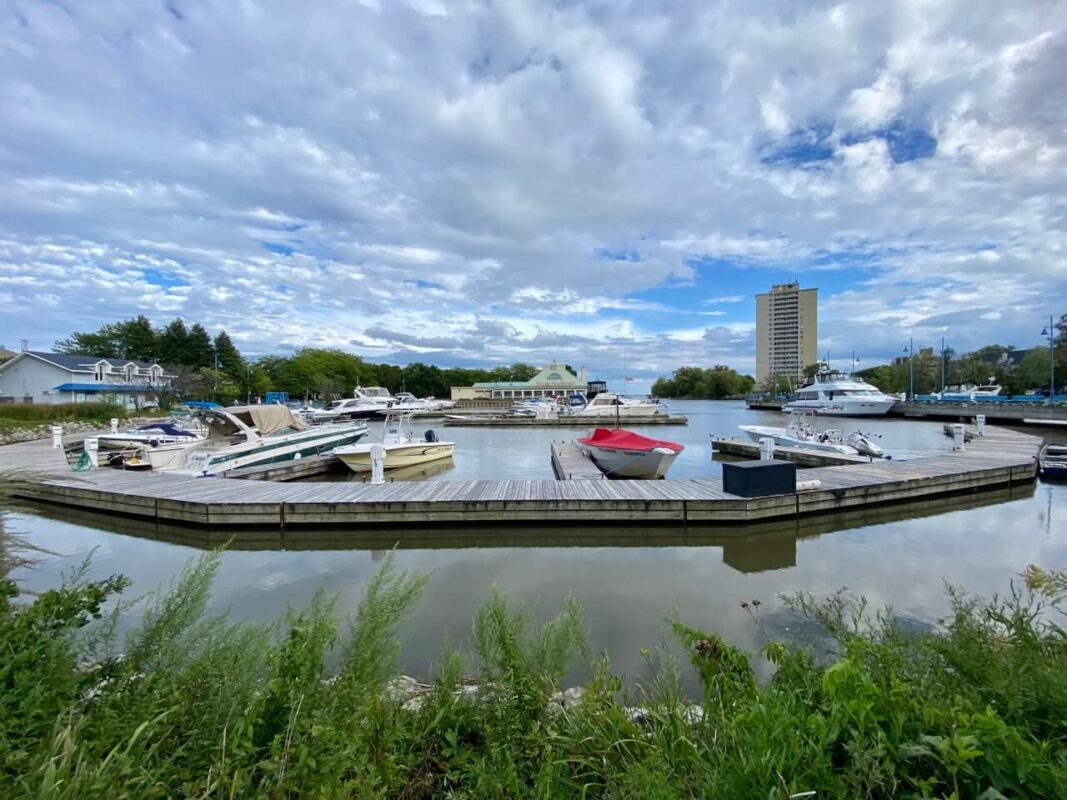 When thinking about the top things to do in Port Credit, it'd be impossible to have a list without including the Port Credit Harbour Marina. If you Google "Port Credit," many of the photos that will come up first will be from here.
There are over 400 boat slips, there's the lighthouse, and a waterfront promenade that offers scenic views of Lake Ontario and the surrounding area. There are restaurants and cafes near here (including the famous Snug Harbour, which we'll talk about below), but it's also a very functional harbour for fishing and operating fishing charters.
Step Foot in Port Credit Memorial Park
Port Credit Memorial Park is a popular park in Port Credit that serves as a place for outdoor recreation, but it's also a memorial to those who have lost their lives in service to Canada.
There are playgrounds and plenty of picnic tables and benches (and even a community centre), but the park's main attraction is probably its outdoor amphitheater, which hosts various events and concerts throughout the year, including the annual Southside Shuffle Blues and Jazz Festival. The amphitheater has a capacity of over 1,500 people and features a large stage and seating area!
Grab a Cold One at One of Port Credit's Breweries
It's not a big place, but we ought to be thankful that there are two breweries in Port Credit that are worth taking note of.
Old Credit Brewery was established in 1994 and is one of the oldest and most established breweries in the province. They offer a range of beers, including their signature Amber Ale, Pale Pilsner, and seasonal brews like their Pumpkin Ale and Winter Warmer. Old Credit Brewery also has a popular taproom where you can visit, have a brew, and perhaps a snack. We're told they also offer brewery tours.
Stonehooker Brewing Company, on the other hand, is a relatively new brewery that was established in 2019. They specialize in hop-forward beers and IPAs, but also offer a range of other styles, including stouts, lagers, and Belgian-style ales. Their beers are made using locally sourced ingredients and they are known for their bold and flavorful brews. They have a taproom as well, and also a patio!
If you've got the time (and stamina), we'd recommend popping into both!
Grab a Bit to Eat and Appreciate Port Credit's Restaurant Scene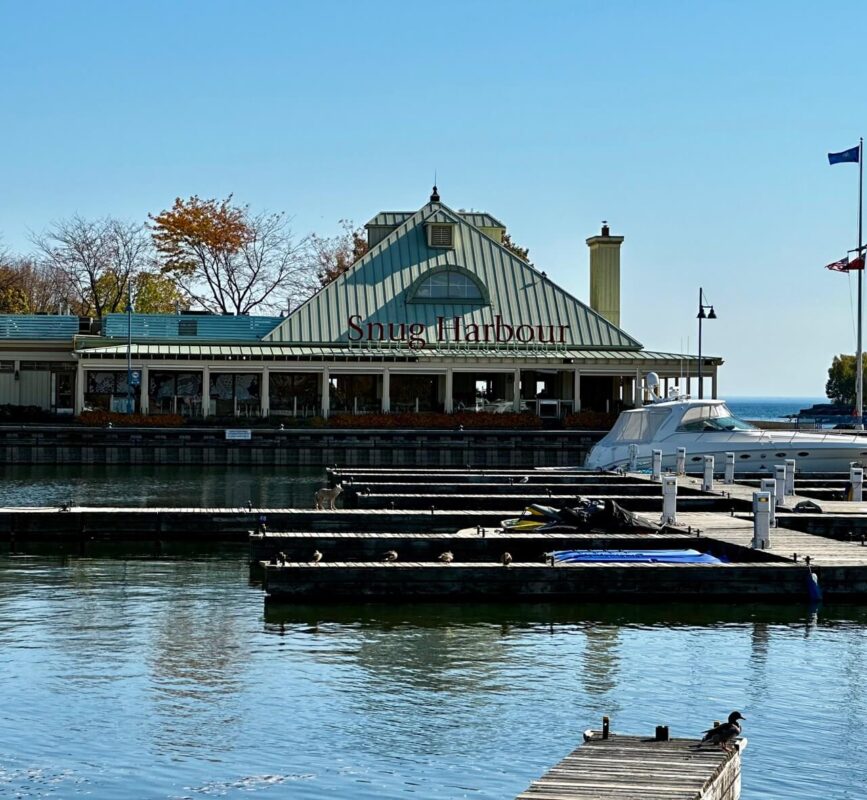 When we think of restaurants in Port Credit, our mind races first to Snug Harbour Seafood Bar and Grill. They're the local seafood specialist and their restaurant is in the heart of the action, overlooking the water, and has indoor and outdoor seating.
Papa Guiseppe's is good bet if you like Italian, Broque Irish Pub if you're looking for classic pub fare, and we also really like Raw Aura Organic Cuisine which features 100% raw and organic ingredients. If you're looking for loud – you can also grab a meal at Roc N' Doc's and time things so you arrive when they've got some live music ripping and roaring.
Bring Your Camera to the Brueckner Rhododendron Gardens
Welcome to one of Canada's largest rhododendron gardens! The gardens cover an area of approximately 2.5 acres and are home to over 300 varieties of rhododendrons.
In terms of timing, the plants are typically in bloom in the spring and early summer, and when things are in bloom, you can expect to be mesmerized by the array of colours! The gardens also feature a small pond, walking paths, and benches.
It's open to the public year-round (though it's worth coming in the spring or early summer to see things in full effect), and admission it totally free.
Enjoy Port Credit's Festivals and Events
There's always something going on in Port Credit it seems, especially in the warmer months. Here are a few to keep an eye on:
Paint the Town Red: This fall festival, held in late September, celebrates the changing leaves with live music, food, and a 5km fun run. If you can make it, this is a really underrated and fun Ontario event to be a part of.
Port Credit In-Water Boat Show: If you're a boating enthusiast in Ontario, this is where you want to be in late august. It features a wide selection of boats and watercraft, as well as seminars and workshops.
Port Credit Busker Fest: A few weeks before the In-Water Boat Show, you've got the Port Credit Busker Fest. It features street performers from around the world, including acrobats, magicians, musicians, and more.
Waterfront Festival – Held in mid-June, this festival celebrates Port Credit's waterfront with live music, food, and culture.
Southside Shuffle Blues and Jazz Festival – This music festival, held in mid-September, showcases local and international blues and jazz musicians across multiple stages in Port Credit Memorial Park.
Like many other Ontario communities, you can also expect some seasonal events. Port Credit is known for having a really fun set up for Canada Day Celebrations, and also a very entertaining Santa Claus Parade.
Port Credit Awaits!
While Port Credit is especially abuzz in the warmer months, there's pretty much always a good excuse to come and visit, especially if you live in the Greater Toronto Area. Their scenic waterfront and ample parks make coming here a nice escape into nature, but they've also got the shops, breweries, and restaurants to allow you to come out of nature, and into a bustling hub.
In Port Credit, you've truly got the best of both worlds.
Christopher Mitchell is the Cofounder of Ultimate Ontario. He's visited over 80 countries, and has lived on 4 continents, but now has his eyes set squarely on exploring this incredible province, and helping others do the same.