Quetico Provincial Park in Northwestern Ontario has been awarded a dark sky designation.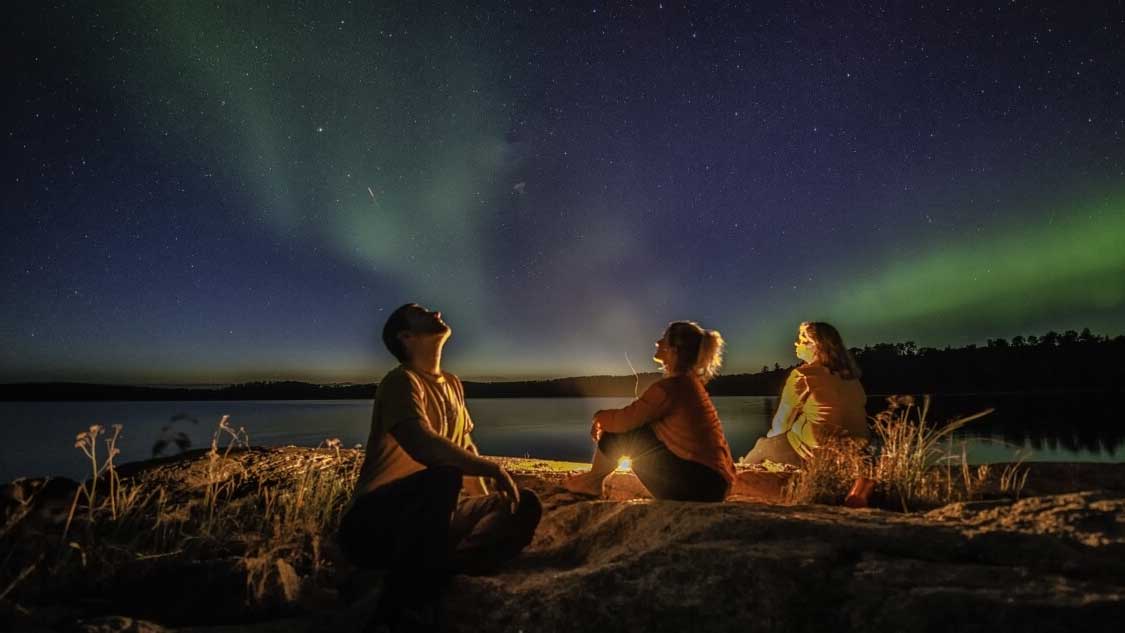 When it comes to the night sky here in Ontario, we're absolutely blessed. Sure, it may be tough to see the full wonder of it all from downtown Toronto, but if you venture out to some of the best places for stargazing in Ontario, the views are unforgettable.
And you can officially add Quetico Provincial Park to that list of places. Quetico joins Killarney Provincial Park and Lake Superior Provincial Park as the third park in our province to receive this designation.
You might be able to guess what a dark sky designation entails, but let's dive a little more deeply into it. It is, firstly, another nod to just how incredible this province truly is when it comes to stargazing. For example, many people don't even know that there are actually places to see the Northern Lights in Ontario!
What Exactly is a Dark Sky Park?
According to the International Dark-Sky Association (IDA), it's a "public or private land that has an exceptional or distinguished quality of starry nights and a nocturnal environment that is protected for its scientific, natural, or educational value, its cultural heritage and/or public enjoyment."
How Did Quetico Provincial Park Qualify?
This is has been an enormous undertaking by our friends over at Ontario Parks and their partners. Quetico has been working towards this moment for over two years.
To gain this distinction as a Dark Sky Park, this is a small sample of some of what they did:
Converted existing external lights to dark sky compliant light fixtures
Completed annual sky quality measurements to make sure that the requirements for being a dark sky were successfully met
Developed brand new and cutting-edge educational programming and signage to help educate visitors on the importance of protecting Ontario's night skies
What Does This Mean for Visitors to Quetico Provincial Park?
First and foremost, this means that you have the opportunity for some incredible Ontario stargazing. This is, however, something that we as visitors need to do our part with.
There are a few things that we can do as campers or visitors to Quetico to ensure we're respecting the efforts of the park to get this designation such as:
Using outdoor lights and lanterns only when necessary, and ensuring they are off at night.
Not installing any solar-powered garden lights that stay on all night. Furthermore, avoiding installing lighting such as string lights on your campsite.
This is an exciting time for visitors to Quetico Provincial Park, and for the park itself. As Trevor Gibb, the Park Superintendent at Quetico Provincial Park so eloquently noted:
"A starry sky free of light pollution is a source of wonder and inspiration for visitors to Quetico Provincial Park, and an important part of the park's natural environment. Receiving this designation from the IDA will help us to promote the preservation of night skies in our region and maintain the ecological integrity of the park.

When gazing skyward from one of Quetico's campsites today, you can see a night sky similar in quality to what someone would have seen 100 or 1000 years ago camped at that very same spot. I hope that 100 years in the future the same will hold true."
Why Should Ontarians Care About Dark Skies?
Many of the animals that we appreciate so dearly when we're hiking and camping rely on extended periods of darkness during the night. Believe it or not, there are actually a lot of health benefits for humans, too!
If you're someone who appreciates the Ontario outdoors, then it's safe to say that you want what's best for our provincial parks, and when a park receives a dark sky designation, it's one sign that we're making the appropriate effort to coexist with our beloved natural surroundings.
What Else Should You Know About Quetico Provincial Park?
For those unfamiliar with Quetico, it's renowned in the province for a number of reasons, but especially for excellent canoeing and fishing. Remember, at this time, you should check their website before visiting to see their latest guidelines for a safe visit.
Quetico is located in the northwestern portion of the province with the nearest city being Atitokan, Ontario.
What Will You Find at Quetico?
Over 2000 lakes, and 450,000 hectares of remote wilderness (ideal for backcountry canoeing).
Family camping opportunities at Dawson Trail Campground (plus year-round rustic cabin rentals)
Remarkable wildlife viewing
Winter cross-country ski trails that are maintained and groomed
The John B. Ridley Research Library inside the Dawson Trail Heritage Pavilion
Also, according to the Ontario Parks' website, "adjacent the southwest corner of Quetico is the Anishinabe community of Lac La Croix. The lac La Croix Park Entry Station, the gateway to many of the parks most beautiful lakes, is located here. This friendly small community is rich in culture. A traditional Pow Wow and other public events happen throughout the summer."
We want to again congratulate Quetico again, and we look forward to visiting the next chance we get. We hope we've convinced you to do the same!
Want more Ontario news and information to help you explore this province? We've got a growing newsletter you can subscribe to and a welcoming Facebook group that we run for Ontario travellers.
Christopher Mitchell is the Cofounder of Ultimate Ontario. He's visited over 80 countries, and has lived on 4 continents, but now has his eyes set squarely on exploring this incredible province, and helping others do the same.