These incredible things to do in Sault Ste Marie, Ontario include biking, hiking, museums, and the incredible food and craft beer scenes.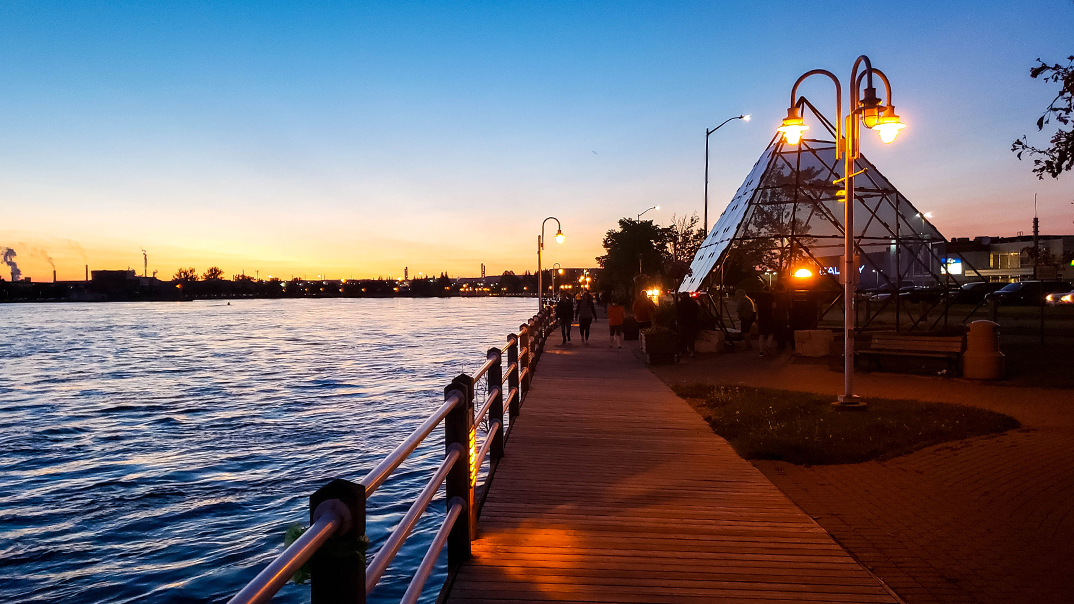 Whether you're rolling through town on business, doing a road trip along the Trans-Canada Highway, or just looking to explore the wonders of Northern Ontario, there are more than enough things to do in Sault Ste. Marie to excite even the most storied traveller.
Sault Ste. Marie, or "The Soo" as it's often referred to by locals and those who spend time in the city, offers a wealth of adventure, culture, and unprecedented access to Ontario's northern wilderness.
The Soo is bathed in natural beauty. From the sparkling waters of the St. Mary's River to the raw wilderness of Algoma Canyon. But it's also one of the richest places in Canada in terms of Indigenous culture. In fact, Sault Ste. Marie, which the Ojibwe call Baawitigong, or "Place of the Rapids", has been an important fishing station for Indigenous Peoples for more than 2,000 years.
A glance beyond that history, and you'll find that things to do in Sault Ste Marie, Ontario cover a plethora of avenues including hiking, biking, shopping, and one of the most magnificent food scenes in northern Ontario.
A Little About Sault Ste. Marie, Ontario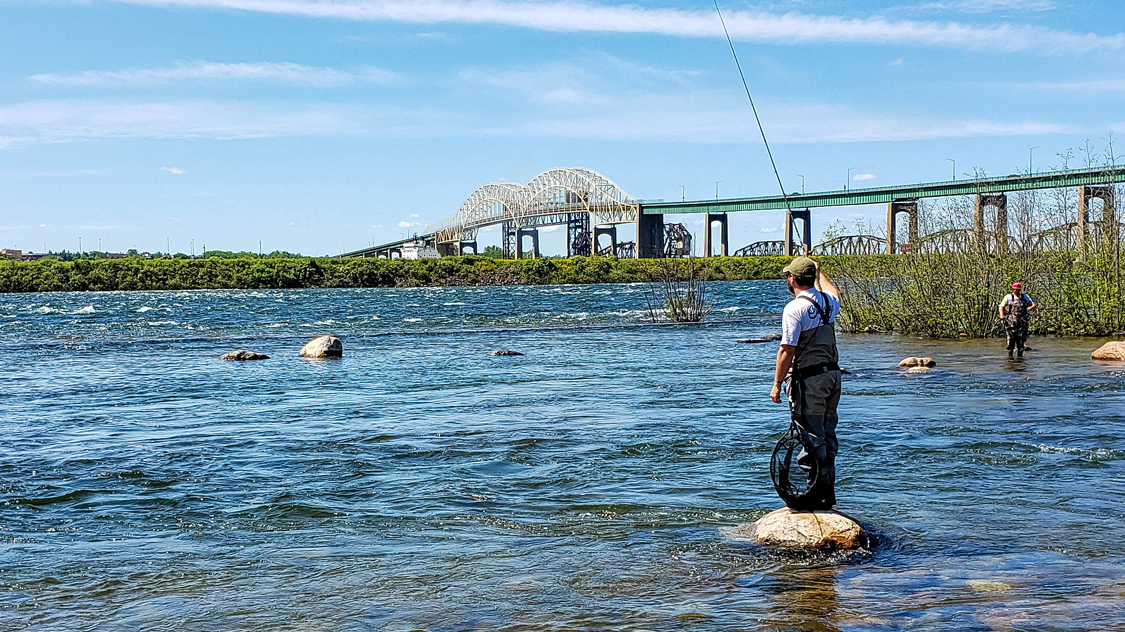 Sault Ste Marie, Ontario is a border town that sits on the shores of the St. Mary's River across from Sault Ste Marie, Michigan, which is in the United States. In fact, until a treaty that was signed after the war of 1812, these two cities were one-and-the-same.
It's the third-largest city in Northern Ontario, being nudged out by both Thunder Bay, which sits on the northern shores of Lake Superior, and Sudbury, which acts as the de-facto border from Central Ontario to Northern Ontario.
The city got its name from French settlers who named the area "Les Saults de Ste. Marie, or the rapids of St. Marie. And it was these treacherous rapids that led to the development of the Sault Canal and the series of locks that enabled ships to travel safely along the St. Mary's River from Lake Superior, past Manitoulin Island, and into Georgian Bay and the Collingwood shipping yards.
The Best Things To Do In Sault Ste Marie, Ontario
Sault Ste Marie, Ontario marks the point where the wilds of northern Ontario take over and the road trips between major cities abandon multi-lane highways for scenic views and roadside waterfalls.
The city offers the perfect balance between urban comfort and rural relaxation. In fact, in Sault Ste Marie, you're never too far from anything, but head 30 minutes in any direction and you'd be hard-pressed to know it.
So if you're looking for what to do in Sault Ste Marie, Ontario, get ready to be amazed, because there's more to this city than meets the eye.
Eat Your Way Through The Sault Ste Marie Food Scene
When I first explored Sault Ste Marie, I was astounded by the incredible selection of restaurants on offer. The city offered far more than the traditional diners and chains that I was expecting. In fact, the food scene in Sault Ste Marie is off-the-charts.
Grab an amuse-bouche at fine-dining locations such as Arturo Ristorante on Queen St. E where you can enjoy their "braised beef ravioli" or "Gamberoni al Vino". Or dig into something far more casual at a "badass eater" like the Breakfast Pig on Bruce St. where you can chow down on unique twists on the "Classic Benny" or their "Badass Chicken and Waffles".
Fly Through The Canadian Bushplane Heritage Centre
You don't need to be an aviation enthusiast to have a blast at the Canadian Bushplane Heritage Centre. Spend an hour (or more) wandering among this classic collection of airplanes that celebrate the fearless pilots and engineers that helped make Ontario's north accessible.
The exhibits are fun and informative, and let's face it, who doesn't enjoy climbing through classic planes to see all of those parts that you never usually get to check out. You can truly get up-close-and personal with amazing classic aircraft in ways you won't find in many other places.
You can even try your hand at their virtual bush plane flight simulators. Test your mettle and see if you can land in these crazy conditions. The Canadian Bushplane Heritage Centre is on Pim St. You can check out their website here.
Ride Through Agawa Canyon
Book ahead if you want to experience this incredible Sault Ste Marie attraction. Because the Agawa Canyon tour, which leaves from downtown Sault Ste Marie books up fast, especially when the fall colours start to show.
Billed as one of Canada's most scenic train rids, the Agawa Canyon train tour departs at 8 am for an awe-inspiring journey past inland lakes, beautiful waterfalls, and Ontario nature at its finest.
The Sault Ste Marie train excursion culminates in a stop in the canyon where you can hike up to an Instagram-worthy viewpoint that will leave you breathless.
Catch Some Fish In The St. Mary's Rapids
Anyone who visits Sault Ste Marie would be hard-pressed to walk the river-side boardwalk and not end up talking fishing with someone. Fishing in Sault Ste Marie is practically a religion, and the St. Mary's rapids is one of the most popular places to toss in a line.
These rapids take up a short stretch of the St. Mary's River, which connects Lake Superior to Lake Huron. And fishermen flock here to catch the annual runs of Steelhead, Atlantic, Chinook, and Pink Salmon along with year-round favourites, Rainbow Trout, Brown Trout, and Whitefish.
Hike, Bike, or Picnic in Kinsmen Park
Kinsmen Park is one of the most beautiful parks in Sault Ste Marie. The park is criss-crossed by gorgeous hiking trails and bike paths that will suit beginner cyclists and adrenaline junkies.
In the park you'll find pretty waterfalls, including the rushing Crystal Falls, which you can hike or bike to. Kinsmen Park is one of the most popular places to visit in Sault Ste Marie during the fall when the countless trees show their vibrant colours.
Drink Your Way Through the Sault Ste Marie Craft Beef Scene
The craft beer scene in Sault Ste Marie is poised to blow up in the next few years. Recently, a number of new breweries have opened up in the city, which you'll know, if you've followed our love of Ontario craft breweries on Ultimate Ontario, suits us just fine.
Led by Outspoken Brewing, a microbrewery located downtown, and Northern Superior Brewing on Pim St., Sault Ste Marie craft breweries are creating unique twists on Ontario classics, and taking chances on bold new flavors.
Hit The Hills at Searchmont Ski Resort
If you're making the trip to Sault Ste Marie in winter, you're in luck. One of the best things to do in Sault Ste Marie during the colder months is to hit one of our favorite Ontario downhill ski resorts.
Nestled in the picturesque surroundings just 48 km north of Sault Ste. Marie in northern Ontario, Searchmont Resort is one of Ontario's most unique and dramatic ski destinations. The resort features 121 runs, a terrain park, and 5 ski lifts. The 228 metre vertical and over 100-acres of terrain draw visitors from across the province. You can find out more here.
Go For a Swim At Pancake Bay Provincial Park
If you've caught a glimpse of the sparkling Lake Superior waters and can't help but jump in, there are a few places near Sault Ste Marie that are perfect for you. While Batchewana Bay Provincial Park, which is about an hour north of Sault Ste Marie offers amazing swimming, for a more full serviced park, head 10 minutes further to Pancake Bay Provincial Park and you'll have access to camping, hiking trails, amazing beaches, and much more.
Take the Lookout Point Trail, which starts on the far side of the highway, for one of the best viewpoints over Lake Superior. You'll be able to see Batchewana Bay, Pancake Bay, and even the spot where the storied Edmund Fitzgerald sank beneath the waves.
Find Yourself On Whitefish Island National Historic Site
There are few area's in Ontario more steeped in history than Whitefish Island. This tear-shaped island, which can be reached by crossing the locks over the St. Mary's Canal, was formed over 2,000 years ago and has been occupied by over eight Indigenous cultures since that time.
Whitefish Island was used as an important fishing and trading post for centuries, most recently by the Ojibwe Nation. While the cities surrounded it flourished, Whitefish Island has remained relatively untouched and makes for a wonderful spot to hike, fish, or watch the St. Mary's rapids.
Now It's Time to Experience These Things To Do In Sault Ste Marie, Ontario For Yourself
There are more things to do in Sault Ste Marie, Ontario than meets the eye. From hiking trails to amazing restaurants and everything in between, you can find something for everyone in this beautiful region of Ontario. Many of these businesses and restaurants are anxious for visitors after a tough year. So let's support local and make the most of your Blue Mountains adventure.
Do you have a favourite attraction or restaurant in Ontario? Head over to the Ultimate Ontario Facebook Community and join the conversation! You'll find an amazing group of people passionate about Ontario and who love to share their local secrets.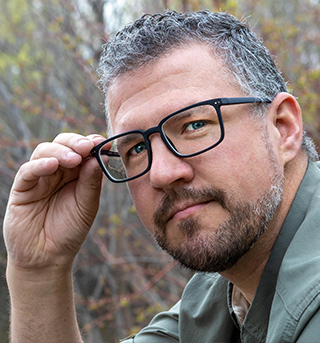 Kevin Wagar is a founder and editor of Ultimate Ontario. He has been working in the travel media industry since 2015 when he founded his family travel website Wandering Wagars – Adventure Family Travel.
Over the years Kevin has developed a deep love for his home province of Ontario and aims to showcase the incredible experiences and amazing small businesses found within it.