These magnificent things to do in Thunder Bay, Ontario will have you planning your trip to the north shores of Lake Superior before you know it!
Thunder Bay, Ontario has long been considered the wild west of Ontario cities. While the city itself was established as a fur trading outpost in the early 1800s, this northern Ontario gem has a history that dates back long before then.
Although it has a long history of mining, industry, and trade, the past decade has seen Thunder Bay begin to shake off it's industrial outerwear as it establishes itself as one of Ontario's most exciting travel destinations.
The breadth of things to do in Thunder Bay seems to grow exponentially year over year.
Bookmarked by some of Ontario's most iconic attractions including the majestic Sleeping Giant Provincial Park and the powerful Kakabeka Falls Provincial Park, Thunder Bay lies among some of the most scenic landscapes in Canada.
A Little About Thunder Bay, Ontario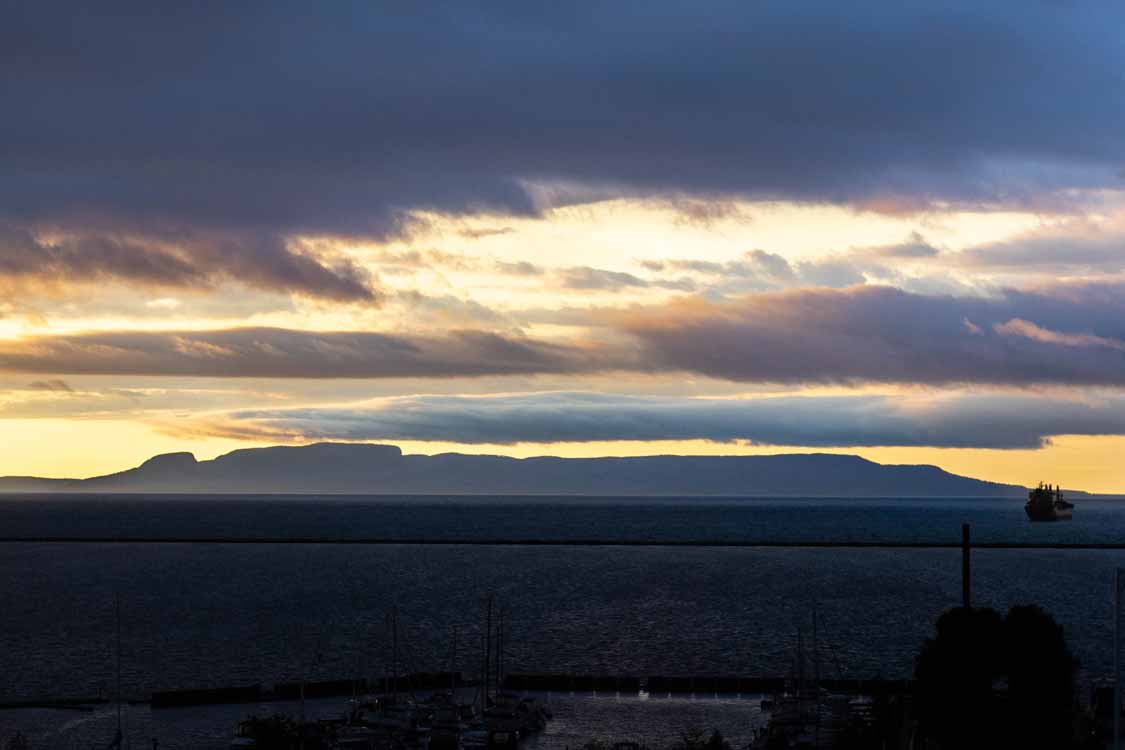 Thunder Bay, which has deep Indigenous roots dating back thousands of years, was established as Fort William back in 1816 as a trading post for the North West Company, which was eventually taken over by the Hudson Bay Company.
For a long time, Fort William and Thunder Bay were sister cities, controlling much of the trade and commerce in Ontario's northern region. In 1970, the two cities merged into what we now know as Thunder Bay, although there remains the Fort William Ojibway community, which lies just west of the Thunder Bay. They are a signatory to the Robinson-Superior Treaty of 1850.
Although Thunder Bay has embraced its roll as northern Ontario's modern hub, the downtown core has been well–preserved, reflecting it's turn-of-the-century renaissance and rise to power through the Prohibition-era.
While the buildings of downtown Thunder Bay reflect its heritage, they are now filled with a wide range of incredible Thunder Bay restaurants, art shops, museums, and historic hotels.
And exploring beyond the downtown, visitors will discover that there are many more things to do in Thunder Bay than they might have originally thought.
In fact, this city is the midst of a tourism boom. And the world is about to have its eyes opened to the wonders that Thunder Bay has on offer.
The Best Things To Do In Thunder Bay, Ontario
For those wondering what to do in Thunder Bay, the options might seem limitless. To some of Ontario's most amazing waterfalls, several of the most incredible hikes in the province, a booming and industrious food scene, and a waterfront with views that would put many places to shame, Thunder Bay is one of the most exciting places to visit in Ontario.
Explore The Thunder Bay Food Scene
We've talked about our favorite restaurants in Thunder Bay a lot in the past. That's because this northern city is drawing some of the best chefs from across the country.
The food scene in Thunder Bay offers an eclectic mix of down-home cooking with ethnic fusion. Think modern cuisine with a home-cooking twist. And it's this kind of creative cooking that has made Thunder Bay one of the most awesome cities in Ontario for foodies.
From Bight Restaurant, which sits in the beautiful Thunder Bay Marina with patio views overlooking Sleeping Giant, to the high-end fare of Caribou serving cuisine inspired by the city's frontier history, you'll find flavours here to suit any taste.
Take In Magnificent Kakabeka Falls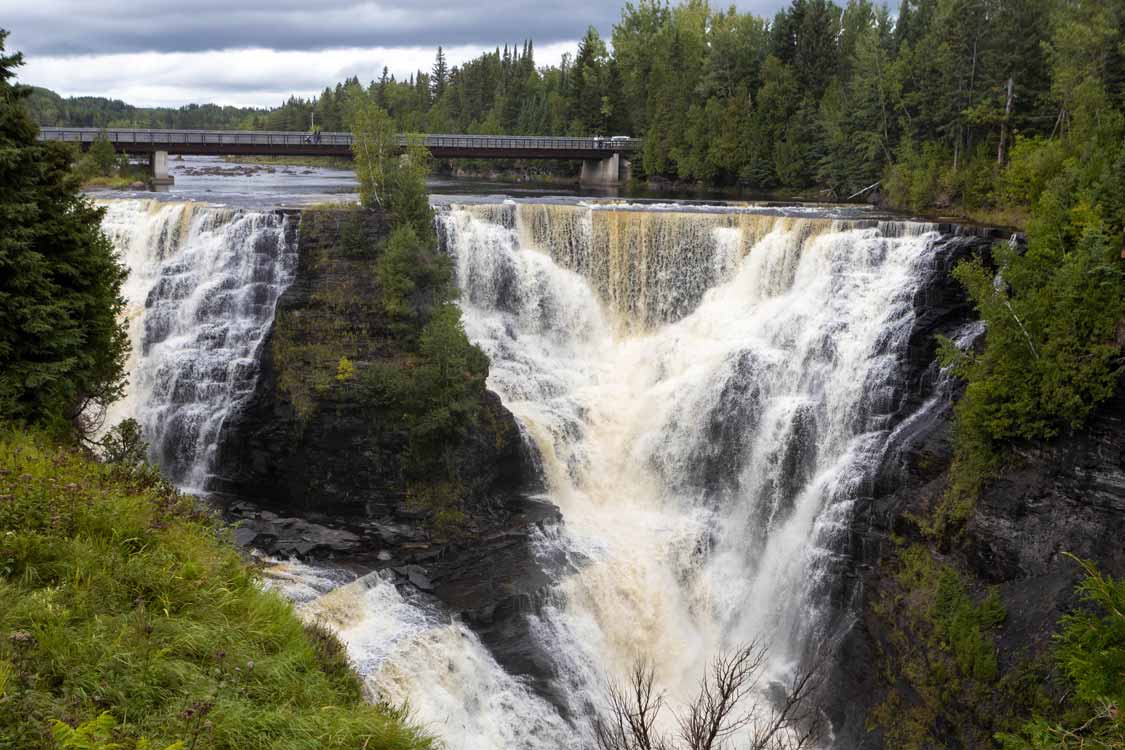 Sitting just 25-minutes west of Thunder Bay is the roaring Kakabeka Falls Provincial Park.
Towering 40-metres high, Kakabeka Falls are the second only to Niagara Falls when it comes to the tallest waterfalls in Ontario.
There are beautiful and relatively easy boardwalks and hiking trails around the falls that offer visitors jaw-dropping angles to capture that perfect photograph. The park also has wonderful picnic areas and campgrounds with RV hookups.
Walk Through History At Fort William Historical Park
Although it's located just a few minutes from downtown Thunder Bay, a visit to Fort William Historical Park feels like you're jumping back two centuries.
If you've ever wanted to know what life was like for those on Canada's frontier fur trade, this park will show you everything you have ever wanted to know along with other things that you never thought to ask.
This sprawling park extends across over 250-acres and includes authentic replicas of historical buildings. The entire town is populated by "locals" going about life just as they would 200-years-ago. And if you have a question, just pop the question to any of them and they'll be happy to answer.
You'll see everything from the fur traders, the local Indigenous communities, and the farmers, all the way up to the town's elite, who led a very different life from those on the front line.
A visit to Fort William Historical Site is one of the most fascinating things to do in Thunder Bay, it's easy to spend a few hours to an entire day exploring the whole park.
Set Sail On Lake Superior
One of the greatest ways to experience Lake Superior and the Thunder Bay cityscape is from the water. And there are few better ways to do that than with a boat outing with local adventure company Sail Superior.
Sail Superior has a range of boats from harbour cruisers and world-record-setting RIB boats to chartered sailboats and party boats.
Visitors can opt for harbour tours where you can take in views of Thunder Bay and the scenic landscape to fast boats that take adventurers to the base of Sleeping Giant where they can embark on one of Ontario's most epic hikes.
For those looking for something even more out there, Sail Superior also offers an epic RIB boat experience that bounces back and forth between Thunder Bay and Sault Ste. Marie where you can experience some of the rarely-visited gems along the way.
Take a Deeper Look at the Night Sky in Quetico Provincial Park
Now before you say that "two hours is hardly in Thunder Bay", I'll state that "time and distance take up a new perspective when you're up north."
From places like Toronto, just driving to Thunder Bay can take upwards of 16-hours of straight driving. It's also one of the most beautiful drives in Ontario.
And if you continue another one hour and 45-minutes past Thunder Bay, you'll find yourself in Quetico Provincial Park, Ontario's newest dark sky preserve.
Visitors have compared Quetico with Algonquin Park for both scale and beauty. You can hike to French Falls, fish the pristine lakes, and enjoy scenic camping and paddling opportunities.
Hike, Paddle, and Explore Sleeping Giant Provincial Park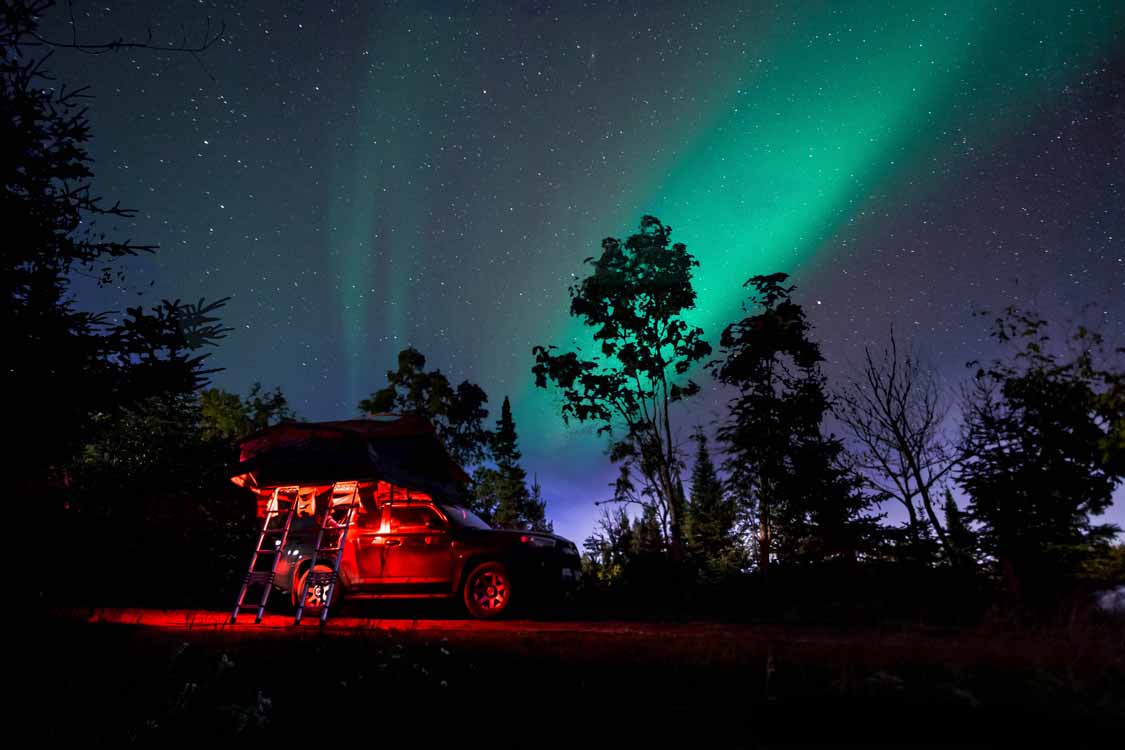 Of all of the provincial parks in Ontario, few reach the iconic status that Sleeping Giant Provincial Park does.
The Top of the Giant is a draw for hikers around the world, and for those with the stamina to complete the epic vertical climb that will bring you to this magnificent viewpoint, it's totally worth it.
But Sleeping Giant isn't just a one-trick pony. Throughout the park you'll find countless hiking trails that will suit every skill level. There are also hidden cemeteries and villages from the parks mining days as well as the remains of, what many consider to be, one of the richest silver deposits in the world.
Sleeping Giant Provincial Park is about a one-hour drive east of Thunder Bay.
Go Skiing At Loch Lomond
When most locals think of the best downhill skiing in Ontario, Thunder Bay doesn't usually jump to the top of the list. But the Loch Lomond Ski Area is much-loved by those on the northern edges of Lake Superior. And with good reason.
Loch Lomond features three ski lifts and an excellent section of trails that run the gamut of green to black diamond. You can find out their season hours here.
Get Cheesy At Thunder Oaks Cheese Farm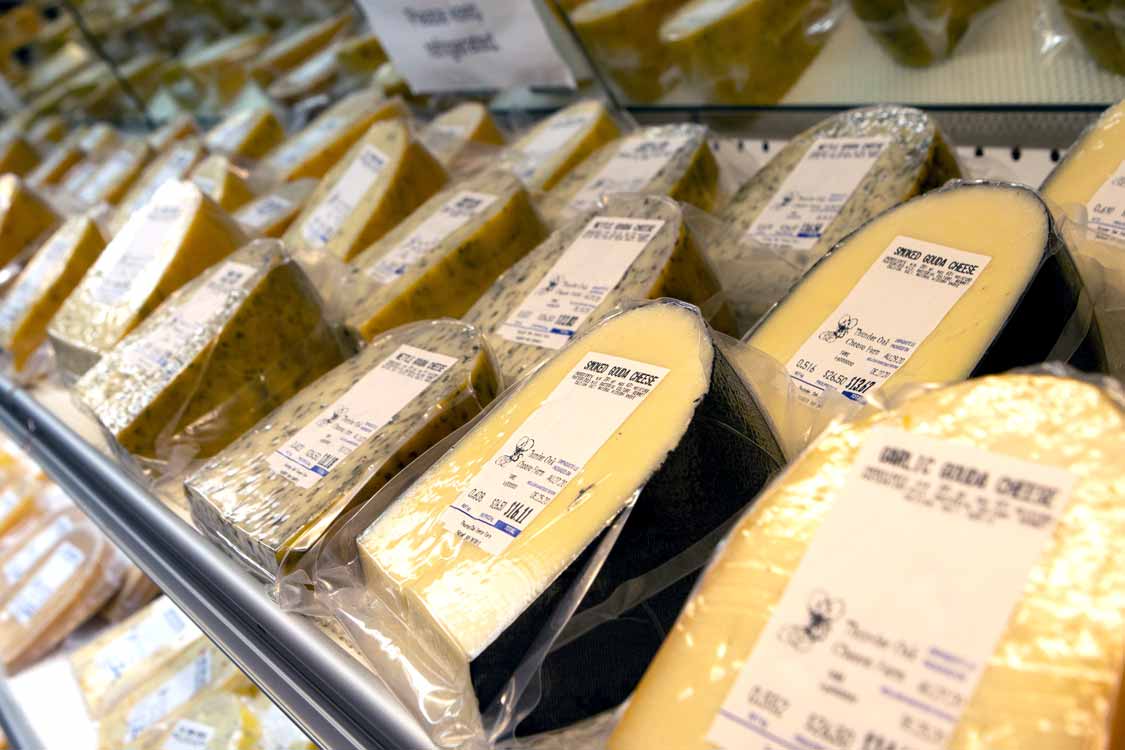 Located just a short drive from Thunder Bay in the Slate River Valley, a visit to the Thunder Oak Cheese Farm is one of the best things to do in Thunder Bay.
Driven by a Dutch heritage that can be found throughout much of Thunder Bay culture, this cheese farm has been craftings soft and delicious Gouda Cheese for over 25 years.
Stop into their store to sample some of their products and choose some delightful flavor to enjoy at home or on a picnic at one of the beautiful places to visit in Thunder Bay.
Gaze Across Massive Ouimet Canyon
The Top of the Giant might be the best hike in Thunder Bay for those who can handle the challenge, those who are looking for one of the best views in the city without the strain can visit nearby Ouimet Canyon Provincial Park
Ouimet Canyon Provincial Park features accessible boardwalk trails that take visitors through the boreal forest to jaw-dropping overlooks. The viewpoints sit at vertigo-inducing heights of over 100 metres.
The rocky base of the canyon holds ice and snow until July, and much of the ground beneath it lays frozen year-round.
Give Your Thanks To Terry Fox
It's hard to think of a Canadian who lived as selfless a life as Terry Fox. This teenager, who lost his leg to cancer, took it upon himself to embark on an epic run across one of the largest countries in the world. All in the name of supporting cancer research.
Ultimately, Terry's journey came to an end before he could finish his mission. The final steps of his mammoth journey were tread just east of Thunder Bay.
And here, perched upon a scenic cliff overlooking Lake Superior, countless visitors stop and give thanks to this hero whose efforts have, so far, raised over 800 million dollars for cancer research.
If you would like to donate to the Terry Fox Foundation yourself, you can find that here.
Search For Amethyst
Some of the coolest activities in Thunder Bay revolve around searching for semi-precious stones.
Amethyst mines in Thunder Bay can be found in many locations along the Highway 11 corridor. The area became laden with these stones thanks to the powerful tectonic and volcanic activity that helped shape the eye-popping landscapes.
You can find quite a few great amethyst mines in the area, including Diamond Willow, Blue Point, and Amethyst Mine Panorama.
Most have quarries of mined rock that visitors can come through and purchase found amethyst by weight.
Now It's Time to Experience These Things To Do In Thunder Bay, Ontario For Yourself
There are more things to do in Thunder Bay, Ontario than meets the eye. From some of Ontario's best provincial parks to the scrumptious Thunder Bay food scene and everything in between, you can find something for everyone in this beautiful region of Ontario.
Many of these businesses and restaurants are anxious for visitors after a tough year. So let's support local and make the most of your Thunder Bay adventure.
Do you have a favourite attraction or restaurant in Ontario? Head over to the Ultimate Ontario Facebook Community and join the conversation! You'll find an amazing group of people passionate about Ontario and who love to share their local secrets.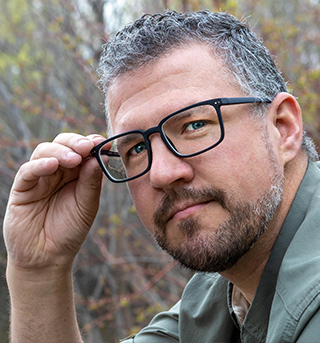 Kevin Wagar is a founder and editor of Ultimate Ontario. He has been working in the travel media industry since 2015 when he founded his family travel website Wandering Wagars – Adventure Family Travel.
Over the years Kevin has developed a deep love for his home province of Ontario and aims to showcase the incredible experiences and amazing small businesses found within it.