Across the province, Ontario cideries are popping up and making a name for themselves. As cider in Ontario continues to become more popular, people are recognizing that, all of a sudden, cideries in Ontario are making some of the best cider on the planet.
---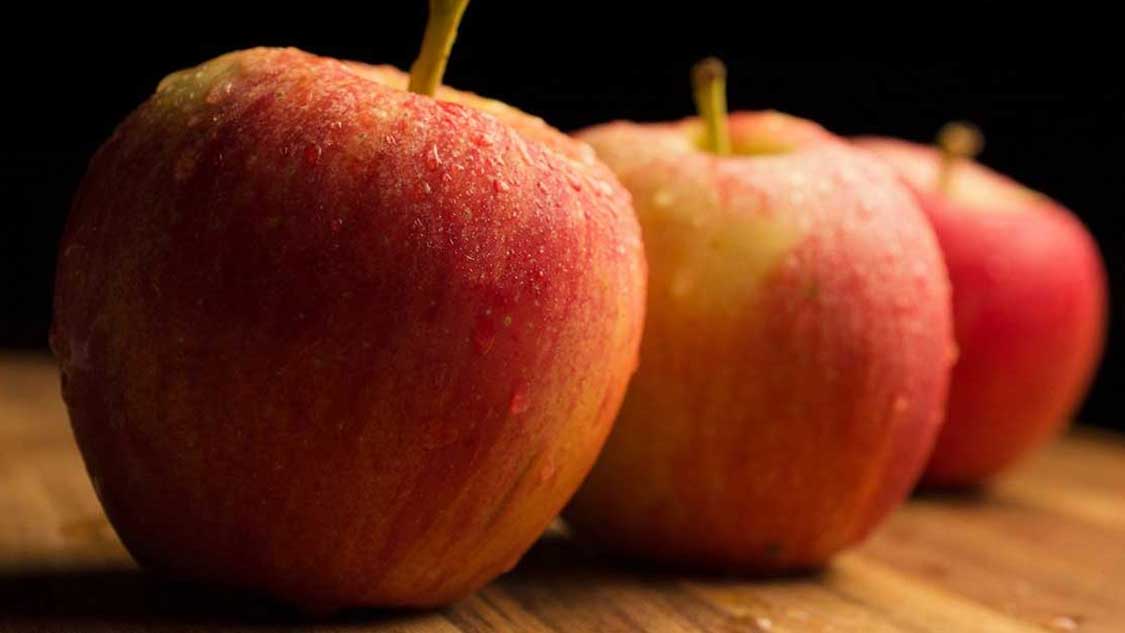 Don't get us wrong, we've got a tremendous amount of love for our Ontario breweries, but it's high time that we realize that this province is also producing some darn good cider.
It used to be the case that it was difficult to get your hands on decent Ontario cider, but that idea is history nowadays. If your only exposure to cider is overly sweet Strongbow or something similar, then you haven't really tried cider.
With cider done the right way (basically, the Ontario cideries listed below), you can actually taste the fruit and the production, as opposed to just being overwhelmed with a sugar rush.
Where Can You Find the Best Cider in Ontario?
From the Prince Edward County to the Blue Mountains, and Norfolk to Niagara, some of Ontario's top bloggers give their pick below for the best cidery in Ontario!
Thornbury Village Craft Cider
Andrea Traynor from Mommy Gearest:
Dry or tart? Fruity or full-bodied? Cider can be a hit or miss experience, with some taking on too much of a beer flavour and others tasting much too sweet. Hitting that perfect balance and knowing where to layer in other flavour profiles is a sign of a skilled cidermaker.
One of the best cideries in Ontario is Thornbury Village Craft Cider & Beer. Nestled in Grey County — the heart of Ontario's apple production — this cidery was originally a wooden apple storage building, which even doubled as a nuclear fallout shelter during the Cold War.
Fascinating history aside, Thornbury Village Craft Cider & Beer (located in Thornbury, Ontario) is as well-known for its welcoming patio as it is for its cider flights. All crafted in-house, the ciders here are crisp and it doesn't take long to branch out from the original all-apple version to spiced apple and its stellar infused ciders like wild blueberry elderflower and (my personal favourite) blood orange. There are usually some limited-run special flavours each season, too, which means you have no choice but to keep returning.
Spy Cider House and Distillery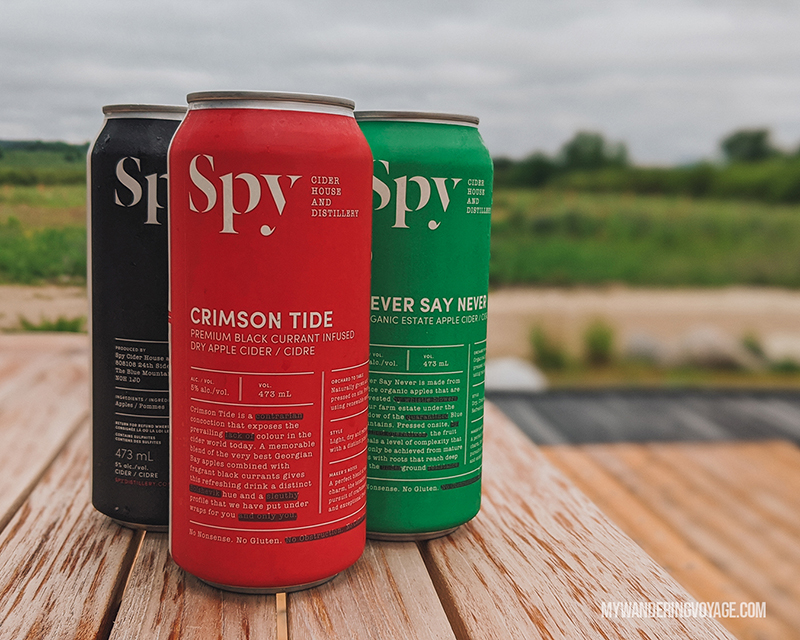 Olivia Rutt of My Wandering Voyage:
The South Georgian Bay area stretching from Owen Sound to Collingwood is known for many things, but their apple production takes the cake – or pie, I guess? You'll find some of the best cideries in Ontario here, including one of my favourites, Spy Cider House and Distillery.
There are three ciders on the menu at Spy, a premium dry cider, an organic cider and a black-currant-infused cider. Try all three in a flight at their Spy House located less than 10 minutes south of Thornbury.
At their facility in Clarksburg, Ontario, they've got a fancy bar, an indoor seating area, an outdoor patio looking out over the apple orchards, and even an awesome trailer with seating inside. Plus, you'll feel like you're in a James Bond movie, deciphering clues with their excellent commitment to their Spy theme.
You can also try one of their delicious cider cocktails or grab a flatbread to split with friends. Don't miss the opportunity to try some of their apple-based spirits too, like the apple-based vodka or the Eau de Vie de Pomme.
My personal favourite is Never Say Never, their organic cider made from local Spy and MacIntosh apples. It's just slightly sweet, very refreshing and crisp, perfect for patio season.
West Avenue Cider House
Victoria Heinz from Guide Your Travel:
Located just outside of Toronto (in Freelton, Ontario), the West Avenue Cider House is one of the best in the area and an absolute must-visit for those who enjoy good cider and a large selection of drinks to try. Most cider here is produced in smaller batches and there is a range of different ciders available both on-tap and for purchase in bottles.
Of course, there are classic cider flavours but also more extravagant such as Bohemian Raspberry, Legend of the Fall or Bleuet Sauvage. Most ciders range from 5% to 10% alcohol but West Avenue also offers alcohol-free options to choose from. This cidery might not be the largest but they put emphasis on high-quality products and a traditional production process. They have been voted "best cider in Ontario" multiple times and pride themselves in producing small batches, taking care to perfect every single cider.
They also sell kegs of cider for special occasions and of course offer tastings to help you pick out the perfect one for you. Everything here feels like a family business and the staff is always incredibly friendly. The apples used for the cider are Heritage Apples which come from orchards owned by the cidery. If you're after quality and exceptional taste this is the spot for you.
Hounds of Erie
Sherri Telenko from Dog Trotting:
Any travel destination claiming to be dog-friendly will have me driving out of my way. That's how Hounds of Erie Winery in Clear Creek, Ontario at the end of Highway 24 had me travelling 45 minutes off my planned route during a pre-pandemic road trip through Norfolk County.
Dog-friendly and a business name that honours the humble canine? I'm there.
Turns out, I loved the cider too. Specifically, Sassy Bitch, pink with a hint of raspberry, spoke to me. Best in Show is slightly tarter than its Sassy counterpart but crisp and only lightly carbonated, which I prefer. Two other new releases are Top Dog and Dog House. Clearly, there's a theme.
In 2012, Hounds of Erie owners Matt and Melissa Vaughan bought a 23-acre farm in Norfolk County with one goal: turn a passion for wine making into a full-time obsession. Fast forward eight years and there's a mature vineyard and orchard onsite, producing grape, pear and strawberry wines and four types of hard cider from 21 varieties of apples.
Visitors are free to do a self-guided tour of the vineyards and meet the free-run chickens, or guided tours are offered for a fee. Summer 2021, the winery goes to the dogs, literally. Dog Days of Summer celebrates a different dog breed each Sunday, May 2nd to September 19th, 2021. Tickets are free but required to limited numbers.
Tall Post Craft Cider
Mike Armstrong from Daddy Realness:
When I was in my early 20s, starting my own cidery definitely wasn't on the radar, in terms of career options. For Aaron Post, however, this was a dream that he made into a reality at that age. In 2019, Post started Tall Post Craft Cider, located on some farmlands on the outskirts of Hamilton. Post has grown his business from operating out of a shipping container that he built himself, with a pickup truck as a roadside billboard ( the truck was unfortunately the subject of arson by vandals not long after the cidery's inception), to a 14,000 square foot facility.
At the time of this writing, Tall Post Craft Cider operates as a storefront only. However, on a recent visit, Post did reveal to me more plans to expand in the near future, including restrooms, a patio, live music capabilities, and walking paths, to make his cidery more of a destination experience. The growth and eye for improvement is made possible, of course, because Tall Post makes a really good cider.
What makes them unique is that they specialize in small batches, using ingredients grown or sourced on site, leading to a recipe book full of interesting concoctions. This ranges from their own takes on traditional hard apple cider, to more adventurous, experimental ones like strawberry cider and "Jordan Juice", a tasty combination of numerous fresh berries and apples. Throw in some personable customer service, and it's easy to see why Tall Post Craft Cider has become a favorite for many people, including me!
Loch Mór Cider Company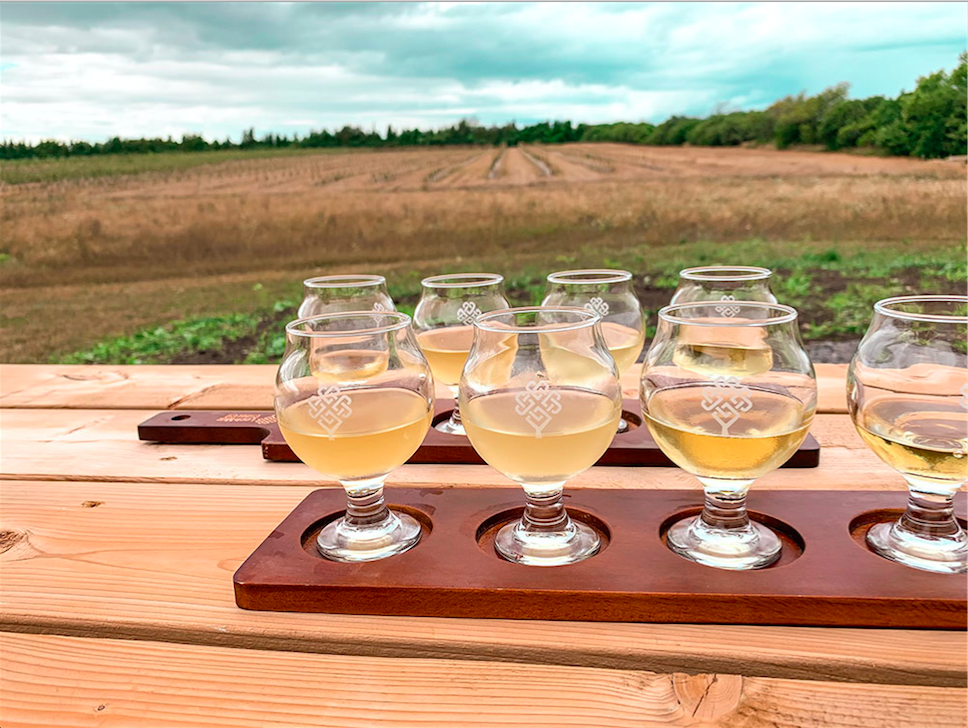 Teri Yeung from Teriaki Talks:
Prince Edward County may be known for being home to some of the best vineyards in the province, but if you're looking for a break in between glasses of wine, drop by the Hillier, Ontario's Loch Mór Cider Company.
A mere two miles from Lake Ontario, the cidery (formerly Settlers Cider) was aptly re-named Loch Mór meaning "Great Lake" in Irish Gaelic. Nestled in the idyllic countryside near Wellington, the family-run orchard is brimming with heirloom varieties of apples that give their cider an edge over the competition.
To ensure premium quality, Loch Mór produces small batches with crops of cider-specific varieties. The apples are pressed on site during harvest season only when the fruit has had time to fully ripen and are bursting with flavour. It's then fermented at cool temperatures to enhance the aromatics, ready to emerge to be filtered and bottled in the Spring.
The result? Award-winning drams that are lip-smackingly dry yet hearty, full-bodied and pleasantly fizzy. But don't take my word for it — head over to Loch Mór immediately and try it for yourself!
After being welcomed to the property by a friendly and excitable pup, head to the patio out back. Snag a cheerful yellow picnic table with a majestic view of the expansive grove while perusing a menu listing their seasonal offerings.
For a well-rounded tasting experience, order a flight including their traditional crisp ciders like Loyalist Spy (my fav!) and bone-dry ciders aged in rum barrels that add another layer of depth. They even had a lovely apple port, perfectly paired with an indulgent cheese board and/or dessert.
The County Cider Company
Jerry Godinho from Four Columns of a Balanced Life:
The County Cider Company in Waupoos, Ontario (often just called "County Cider Waupoos) is the product of a family farm that has been around since 1850. Grant Howes started making cider in 1995, which was on LCBO shelves in a year. Grant is known as "The Grandfather of the Ontario Cider Industry."
Today it is owned and run by a talented group of women that are on the cutting edge of making cider.
Jennifer Dean brings her two decades in the hospitality business and her education in Wine Technology to produce authentic cider with the best apples and from 100% apple juice.
A variety of classical French and European cider apples are used to make Michelin, Tremlett's Bitter, Dabinett, Yarlington Mill, Northern Spy, Russets, and Ida Red.
My favorite is the County Apple. It is the crown jewel of the company and echoes the personality of bittersweets and bitter sharps. The Northern Spy is used and is the perfect apple.
When summer is here, this is the perfect cider for anything spicy or BBQ. I am overlooking the Bay and the vineyards and the crisp County Apple has the tart, acidity, and tannin well balanced on a beautiful summer day.
If you want to experience everything Prince Edward County has to offer then County Cider Waupoos is the place. They offer educational tastings; Alfresco dining and the view is to die for.
County Cider is located at 657 Bongards Crossroad, Waupoos Ontario, and is just ten minutes outside of Picton.
BUSL Cider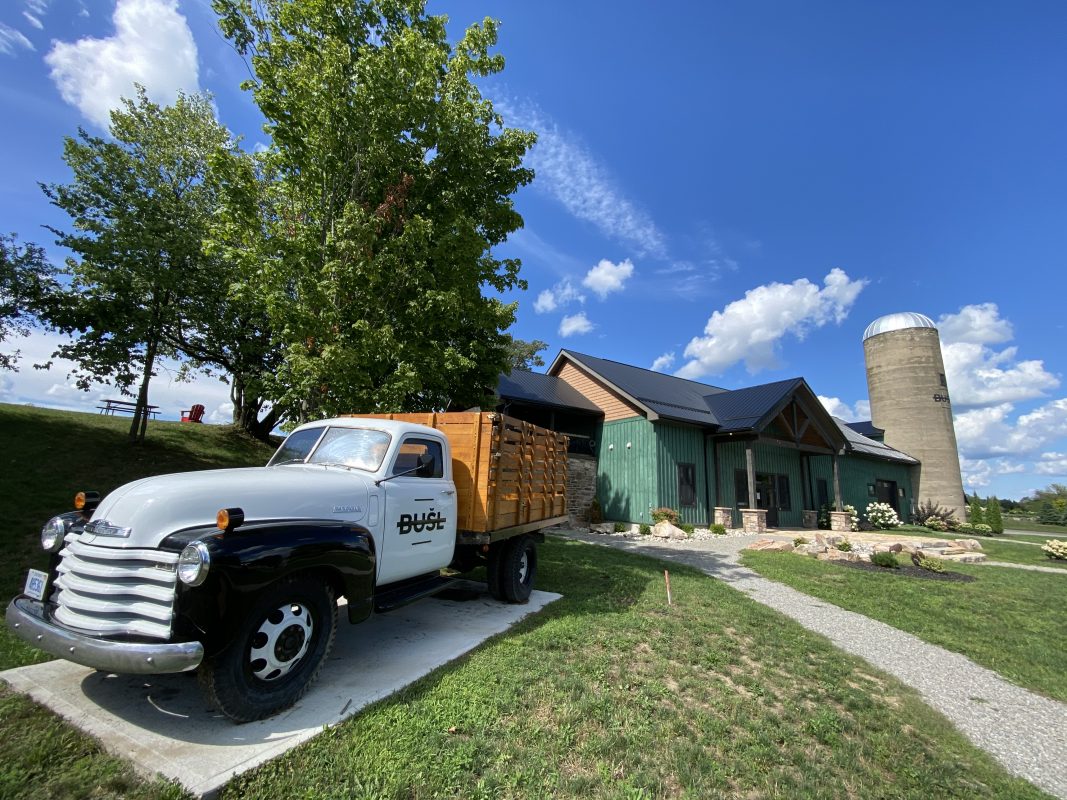 BUSL Cider is located in Mallorytown, Ontario. It's another small, ambitious craft cidery to pop up in this region of Ontario. If you're doing a road trip from Toronto in this direction towards the likes of Gananoque, Kingston, or Ottawa, then this makes the perfect stop to get out and stretch your legs.
When we visited, they had a nice selection on tap.
"Aurum" – Premium Apple Cider
"Pirum" – Pear Cider
"Cerasus" –Cherry Cider
"Baca" – Blueberry & Beet Cider
"Haskap" – Plum, Pomegranate, Guava & Fresh Berry Cider
"Ma Cherie" – Chocolate Cherry Cider
They also have excellent views with which to accompany your cider sipping, and all that makes this one of the best cideries in Ontario.
Grey & Gold Cider
Kathryn Dickson from Kathryn Anywhere:
What Do Wildflower, Highlander and Spruce Of The Bruce all have in common?
They're all names of excellent ciders from Grey and Gold in Beaver Valley, in the Blue Mountain region of Ontario. Named Grey and Gold for the location (Grey County and the golden hue of a cider), the cidery is new to Ontario, but the owners are not new to the process. Born out of an idea after a cycling and wine tasting trip, the business started as a hobby in a Toronto basement before blossoming onto a picturesque property in Grey County.
How I discovered this cidery was a happy accident. After hiking at Hoggs Falls with a friend, we struck up a conversation with someone in the parking lot who told us about Grey and Gold – so new they weren't even sure they had a website yet, but they could tell us the junction intersection to find it. So we set out in search of this place a stranger in a parking lot told us about.
I've now been back twice since to refill my growlers.
There are many reasons why I love the tastes and atmosphere of Grey and Gold Cider. Their farm to glass philosophy tastes local and creates a very well-balanced cider. All ingredients are grown on the 6-acre orchard, are foraged in the fields and produced on the farm, or in the surrounding area.
All of the ciders are worth tasting and enjoying, but I'm most partial to Modern Girl, an off-dry, honey-sweetened, sparkling cider as well as Wildflower, a dry cider infused with chamomile and wildflowers.
Where Else Can You Get Delicious Ontario Cider?
We were fortunate to have so many friends of Ultimate Ontario share their opinion on the best Ontario ciders around. We're going to share a few more top-notch Ontario cideries below, since we've got readers from all over the province, and we want to ensure you can find a local cidery to support near you!
Spirit Tree Estate Cidery in Caledon, Ontario
Revel Cider in Guelph, Ontario
Brickworks Ciderhouse in Toronto, Ontario
Howell Road Cider Co. (Brantview Apples and Cider) in Saint George, Ontario
Pommies Cider Co. in Caledon, Ontario
Crimson Cider Company in Picton, Ontario
Clafeld Cider House and Market in Waupoos, Ontario
Apple Falls Cider Co. in Carrying Place, Ontario
Niagara Cider Company in Fontfill, Ontario
Windswept Cider in Meaford, Ontario
Ernest Cider in Aurora, Ontario
Twin Pines Orchards & Cider in Thedford, Ontario
Hard Way Cider Co. in Bath, Ontario
We hope that you enjoyed this overview of where to get your hands on some great Ontario cider. If you did indeed enjoy it, remember that we've got the Ultimate Ontario Facebook Group where we are always talking about all things Ontario travel, as well as the Ultimate Ontario newsletter.
Christopher Mitchell is the Cofounder of Ultimate Ontario. He's visited over 80 countries, and has lived on 4 continents, but now has his eyes set squarely on exploring this incredible province, and helping others do the same.