Point Pelee National Park is known as a premiere destination in the warmer months, but many people don't realize that it's a truly incredible place to visit in colder climes. Ultimate Ontario contributor Erin Hynes walks us through how we can make the most of a winter visit!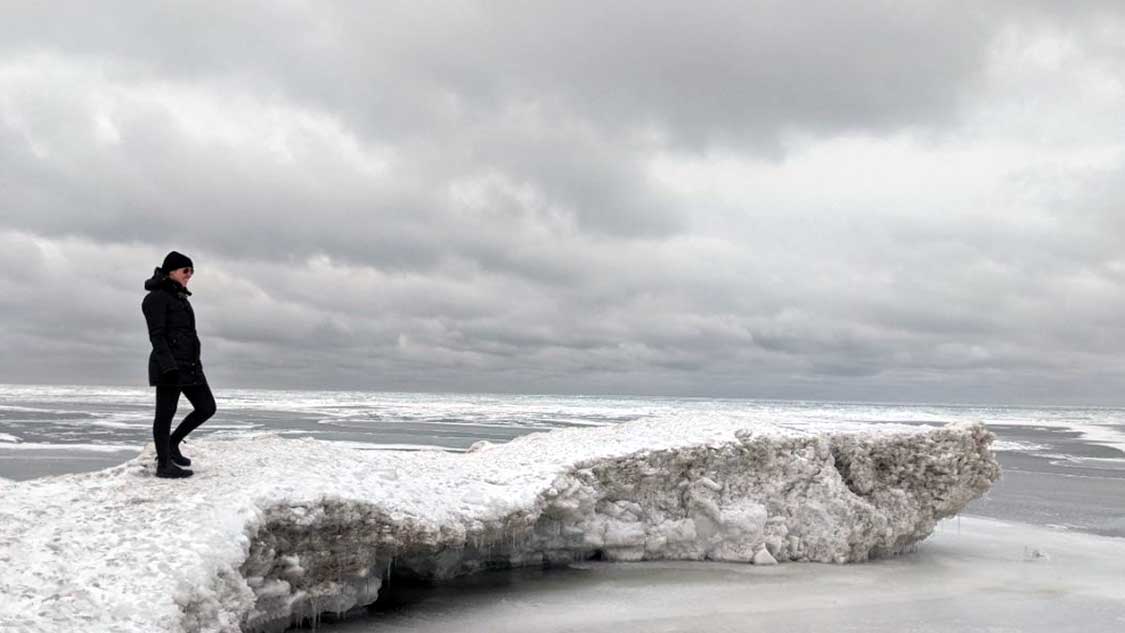 ---
A winter weekend escape to Point Pelee National Park is the perfect way to get out into Ontario's outdoors. Leaving the comfort (and warmth) of your home in the dead of winter might not seem all that appealing. But once you're out exploring Point Pelee's trails and taking in the park's incredible winter landscapes, you'll be glad you did!
Point Pelee National Park is located on the traditional territory of the Anishinaabe, Haudenosaunee and Miami peoples. As early as 600 CE, First Nations had summertime settlements around the park's marshlands. Western settlement in the area began in the early 1800s, and in 1918, Point Pelee National Park was officially created. It's since become a winter playground for camping, hiking, bird watching and stargazing.
Why Visit Point Pelee National Park in Winter?
Point Pelee is a unique Ontario Park because it is the southernmost point in mainland Canada. The park is shaped as a peninsula that tapers out into a long, sandy point, surrounded by Lake Erie. This point is so south, it's actually further south than the most northern border of California!
When visiting Point Pelee, you can walk all the way out to "the tip" of the park, which is as far out on the peninsula as is possible to go. Once you've been to the tip, you can say that you've officially stood on the most southern point on the mainland of Canada.
At 1,564 hectares (6 square miles), Point Pelee is Canada's smallest national park. While it might be small, it's accessiblity is part of what makes it so perfect for a weekend escape or winter getaway. The park is small enough that over the course of two or three days, you can see all of its highlights.
During the winter, Point Pelee transforms into a winter wonderland. It's hiking trails and forests are enveloped by snow, the park's marshes freeze over, and the beaches and shores of Point Pelee become blanketed by sheets of ice. Throughout the park, there are ice formations that develop on driftwood, trees, and other vegetation.
During the coldest months of the year, Point Pelee almost feels otherworldly!
Point Pelee: What to Know Before You Go This Winter
It's easy enough to pack up and go to Point Pelee for a quick two to three days without too much planning, but there are two things to keep in mind.
Double-check the park is open. Be sure to check the Point Pelee National Park website before planning your weekend, especially if you're visiting in fall or winter. This is important to do because the park occasionally closes for a week or two for a deer cull. Parks Canada works with Caldwell First Nation to reduce the deer population in an effort to protect the health of the park's sensitive ecosystems. It's also important to note that during the winter, Point Pelee is open from 7:00 AM to 7:00 PM.
Pack warm clothes and outerwear. Point Pelee might be the most southern point in Canada, but it definitely doesn't have California weather! While winter in southern Ontario is milder than other regions of the province, it can still get very chilly. Since Point Pelee extends out onto the lake, it can be especially windy in winter. Be sure to pack layers of warm clothing, a proper winter jacket, snow pants (if you have them!), and warm boots.
How to Drive to Point Pelee National Park
You'll need a vehicle for your weekend escape to Point Pelee because the park isn't accessible by public transport. The good news is that Point Pelee isn't too far a drive from the GTA and other southern regions of Ontario.
From Windsor, Ontario, it's just a 65-kilometre drive to Point Pelee. You'll follow the ON-3 East to Essex 33 in Leamington. Then, follow Essex 33 to Point Pelee Drive to enter the park.
From Toronto, Point Pelee is about 355 kilometers. You'll take the ON-403 West, eventually merging into the ON-401 West. Take exit 63 from the ON-401 onto Chatham-Kent Country Road 1. When you reach Wheatley, take County Rd 34 West and Mersea Road 12 to Point Pelee Drive in Leamington.
For anyone coming from further east like Kingston or Ottawa, the drive to Point Pelee is over five hours. The trip is still well worth it, but given the length of the drive, consider tacking another day or two onto your weekend to break up the driving.
Where to Stay in Southern Ontario
Going on a winter weekend escape to Point Pelee National Park is the perfect excuse to book a cozy place to stay! There are plenty of options to choose from.
Stay inside Point Pelee National Park. An oTENTik is a permanent structure that looks like a simple cabin or a prospector tent that's on a raised wooden platform. This unique accommodation is convenient and comfortable and comes with most of the supplies you need to camp. OTentiks make for a fun winter camping experience and don't worry, each oTENTik has a gas or wood stove to keep you warm. You can book an oTENTik on the Parks Canada website.
Book a waterfront cottage. Along Point Pelee Drive (which turns into line 33), and between the park and Kingsville, there are many cute rental cottages. These cottages have incredible views of Lake Erie, and many of them are outfitted with fireplaces and other cozy amenities.
Book a hotel room in Leamington, Wheatley, or Kingsville. These nearby towns have a variety of hotels, Airbnbs, and bed and breakfasts to choose from. For example, the Seacliffe Inn in Leamington is a cozy turn-of-the-century hotel. Some of the rooms even have a fireplace! Perfect for snuggling up by the fire after a day of winter exploring.
Things to do in Point Pelee National Park in Winter
On a weekend getaway to southern Ontario, you'll want to get out onto the trails to see Point Pelee's wintry landscapes. These are some of the highlights that you won't want to miss.
Hike One of Point Pelee's Trails
Point Pelee has many walking trails that range in length and difficulty. There are short and flat kilometer loops, as well as longer trails that run the length of the park. The trails are all considered easy to moderate and don't have a lot of elevation gain.
One of the longer trails in Point Pelee is the Chinquapin Oak Trail, which (of course!) brings you through a beautiful forest of Chinquapin oak trees. This route connects to other trails, so if you're looking to walk a good distance this is the one to do!
You can tack on the Tilden Woods Trail (a 1 km loop), or the DeLaurier Homestead & trail (a 1.2 km loop).
The park's most popular trail by far is the Marsh Boardwalk. The boardwalk is 1 km long, and loops through the Point Pelee's wetlands. This trail includes an observation tower that serves fantastic aerial views, as well as plenty of telescopes that can be used to spot the marsh's wildlife.
Visit the DeLaurier House
The DeLaurier House was built between 1851 and 1861 and was occupied by Oliver and Esther DeLaurier and their descendants up until 1966. Today, the house is an important heritage site that gives visitors an idea of what it was like to be part of Point Pelee's early settlements.
There is a parking lot just a short walk from the DeLaurier House. After exploring the homestead you can walk the 1.1 km DeLaurier Homestead Trail, which loops back to the parking lot. As you walk the trail, you'll see signs explaining how settlers like the DeLauriers shaped the modern ecology of the park, and in particular, Point Pelee's marshes.
the impact that the DeLauriers and others living in the park had on the ecology of the marsh. It's a fascinating story of how human settlement shapes the land we live on.
Walk Out to "The Tip"
Point Pelee National Park's famous "tip" is the spot where the peninsula stretches out the furthest into Lake Erie. During the winter months, you can park in a parking lot that is about a 15-minute walk from the southernmost point of the park. The walkout to the tip is fairly easy because the path is paved.
In the winter, the tip of Point Pelee is magical. Lake Erie is iced over, and sheets of ice that collide with the mainland create interesting ice formations. When you walk out to the tip, it can sometimes be hard to even tell where the land officially ends!
Spend An Evening Stargazing
Point Pelee is one of Canada's designated Dark Sky Preserves, meaning it's one of the best places to admire the night sky in Canada (we recently covered the newest Dark Sky Preserve, Quetico Provincial Park!). During the night, you can view in the sky the light of millions of visible stars.
To enjoy stargazing in Point Pelee, you'll need to plan to come on one of the park's "Dark Sky Nights." The dates of these nights are chosen based on when visibility will be best. On those evenings, the park is open until midnight. You can see the dates for designated viewing nights, here.
Other Things to Do in Southern Ontario
While visiting Point Pelee National park it's possible to spend some time exploring other highlights of southern Ontario. With its proximity to Windsor, as well as many towns and counties, there are a few notable activities that are worth checking out if you can fit them into your long weekend. The best part? These indoor activities can offer a break from the cold.
Amherstburg Freedom Museum – a 45-minute drive from Point Pelee.
Head to the cute town of Amherstburg to visit this community-based, non-profit museum that tells the story of African-Canadians' history and contributions. Founded in 1975 by local residents of Amherstburg, the Freedom Museum preserves and presents artifacts that tell the story of African-Canadians in southern Ontario. You can learn about Amherstburg's role in the Underground Railroad and more.
Wolfhead Distillery – a 45-minute drive from Point Pelee.
The first premium craft distiller in Windsor Essex County, Wolfhead Distillery is known for making delicious craft vodkas and whiskeys. You'll find their classic premium spirits, as well as fun variations like Wolfhead's coffee whiskey liqueur. You can drop by their restaurant for a meal, do a tasting, go on a tour of the distillery, or just pick up some craft spirits to take home with you.
Art Gallery of Windsor – a 1-hour drive from Point Pelee.
Established in 1943, the Art Gallery of Windsor is a not-for-profit art institute that showcases works of art by local, regional, and national artists. Year-round you can visit the gallery's permanent exhibitions, as well as temporary exhibitions that change every few months. The gallery also regularly holds educational events.
A Winter Weekend Escape to Point Pelee
It's easy to overlook winter rather than embrace its beauty. This winter, take the time to appreciate the unique landscapes and activities that Ontario's chilly months have to offer. With a short weekend escape to Point Pelee, you can enjoy a winter wonderland!
---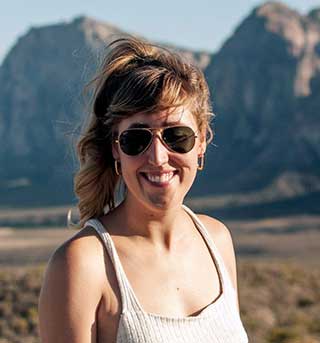 Erin Hynes is the travel blogger behind Pina Travels and the host of Alpaca My Bags podcast. Having lived and travelled in over 30 countries, Erin aims to inspire others not only to travel but to do so responsibly.