Located near Milton, the Crawford Lake Conservation Area offers an array of experiences to keep any Ontario traveller engaged. From the historic longhouses to the picturesque hiking trails, there's a little something for everyone at the Crawford Lake Conservation Area in the Hamilton Halton Brant Region.
---
In Ontario, we're remarkably fortunate to have such an abundance of conservation areas to choose from, each with their own unique reasons to visit.
Even more broadly, we're fortunate that we care enough to conserve and appreciate what deserves to be conserved and appreciated. In the case of the Crawford Lake Conservation Area, what is being conserved isn't just access to serene natural surroundings (though that is certainly an element of it), but also a history that is worth understanding and protecting.
Below, we'll talk about what you need to know about the Crawford Lake Lake Conservation Area, as well as showcasing what you can do there to make the absolute most of your visit.
About the Crawford Lake Conservation Area
The Crawford Lake Conservation Area is a 232 hectare park that was established in the late 1960s near Milton, Ontario. The lake (located in the heart of the conservation area) is named after the Crawford family, who lived on the site and eventually donated the land to Conservation Halton.
It's located along the Niagara Escarpment and, like the Royal Botanical Garden in Burlington, is a part of the Niagara Escarpment Biosphere Reserve. One of its primary draws is the nearly 20 kilometres of trails connecting to the Bruce Trail.
It's well known for its educational programs and exhibits, and thus is a favourite for school groups, but it's certainly well worth the visit for more than just students. In our humble opinion, the Crawford Lake Conservation Area, located in the Hamilton Halton Brant Region, is a hidden gem in the world of Ontario travel and exploration.
Beyond what we've mentioned above, the Crawford Lake Conservation Area is also famous for its meromictic lake (which we'll explain in greater detail below), as well as the reconstructed Iroquoian village complete with three longhouses that you can visit.
Beyond being a part of the Niagara Escarpment World Biosphere Reserve, it is also categorized as a regional environmentally sensitive area, as well as an Ontario Area of National and Scientific Interest. We mention that because it's important that before you visit, you understand that this is land that needs to be respected.
Please ensure that when you visit, the only thing that you leave behind are footprints, and the only thing you take with you are memories.
How Can You Make the Most of Your Visit to This Beautiful Ontario Conservation Area?
To ensure that we got the full experience, we actually were fortunate enough to be guided around by Fran Frampton as part of their Lake to Longhouse Tour which, last season, was offered between August-October. You can use the link in the previous sentence to look at availability if it coincides with your visit, but note that you can always contact Conservation Halton directly if you have further questions about the tour, or anything at all really.
Fran did a brilliant job of guiding us around and giving us the context we needed to truly appreciate what we were seeing. We'd strongly recommend the experience, and if you're able to get Fran at the helm of your tour, even better!
Visit Crawford Lake, The Meromictic Lake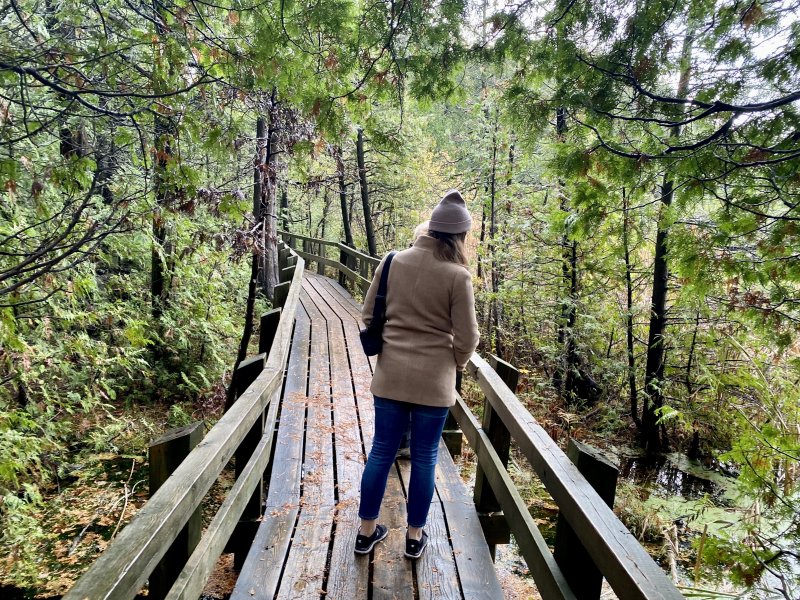 Not surprisingly, the heart of the Crawford Lake Conservation Area is indeed Crawford Lake. A study was conducted in 1971 that effectively concluded that the lake was, in fact, meromictic. A meromictic lake (for those of us who didn't major in biology or geology) is a lake which has layers of water that do not intermix. In normal lakes (called holomictic lakes), at least once each year there is a physical mixing of the surface and deep waters.
Basically, in the case of Crawford Lake, the lake is deeper than its surface area, and so the lowest levels of the water area rarely disturbed, and very little oxygen reaches the bottom. That means the lake became an invaluable asset for understanding the history of this land.
In fact, researchers found ancient corn pollen deep in the sediment of the lake. That information led them to dive deeper and ultimately ascertain that First Nations groups settled in this area overs six hundred years ago! That is what led to the excavations which uncovered 11 longhouses on the property.
Beyond its almost immeasurable archaeological and geochemical significance, it's also just plain pretty.
There's a boardwalk built around the lake that provides today's visitors with the ideal chance to look at Crawford Lake from a variety of angles and snap a few photos. As Conservation Halton notes on their site, you can take a stroll on the boardwalk and "contemplate how science and natural history brought us to the park we have today."
Follow the Hide and Seek Trail
The Hide and Seek Trail includes large wooden carvings by local artists that depict Species at Risk. This is a particularly good activity for parents who might be trying to teach children some initial, practical lessons about what climate change looks like in Ontario and how it can affect us, as well as Ontario's flora and fauna.
As they note, "Ontario is home to a diverse collection of mammals, reptiles, amphibians, fish, birds, insects and plants. Nearly 200 of Ontario's species are at risk. In particular, southern Ontario species including those of the Carolinian region and along the Niagara Escarpment live in the most heavily urbanized areas in Canada."
A few of the species at risk that you'll see carved include the Hooded Warbler, the Jefferson Salamander, the Monarch Butterfly, and the Snapping Turtle.
Appreciate the Longhouse Village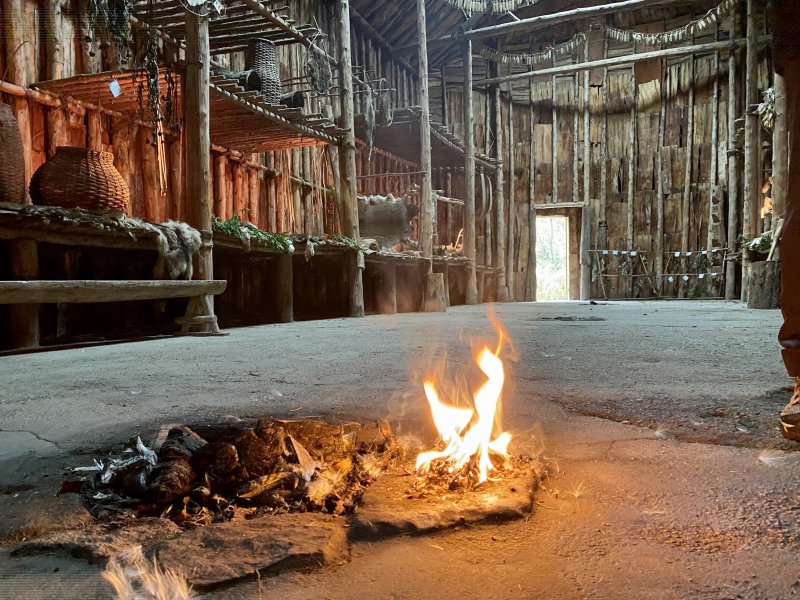 This is one of the most impressive reconstructed villages of this kind that we've set eyes upon. Our tour leader, Fran, was immensely passionate when it came to telling us the story of how this all came to be, and we even spent time in the largest longhouse to practice making a fire as the Iroquoian people who once lived there would have.
As noted briefly above, this is a reconstructed 15th century Iroquoian Village. Excavators worked for 15 years starting in 1973 to uncover 11 different longhouses, and over 10,000 artefacts which shed immense light on the daily lives of the Iroquoian people who once called this village home. Fran let us now that they believe over 250 Iroquois lived here by the year 1430.
It was truly a window into a fascinating history. We personally appreciated learning more about the four sacred plants (cedar, tobacco, sage and sweet grass) and how they were used back then both in ceremony and function. There's also a grinding stone that you'll come across if you visit that's over 600 years old!
There are three reconstructed longhouses nowadays. The purpose is to illustrate what life was like back then through interpretive programming, and things such as simulated digs and fire starting demonstrations. The Deer Clan Longhouse also often has seasonal exhibits that explore contemporary Indigenous art and culture.
It's really something to behold, especially if you've never seen a reconstructed longhouse before.
Get Out Those Hiking Boots!
Crawford Lake Conservation Area has some quality hiking available for folks of all skill levels.
The Crawford Lake Trail is the boardwalk trail that we mentioned before. It's the trail that you really shouldn't miss, and it's nice and easy. Essentially, you're just following a boardwalk for a little under 1.5 kilometres.

The Woodland Trail is also nice and easy. It's not really any more difficult than the boardwalk, and it's about the same length, it's just a considerably more woodsy walk than the boardwalk will provide. It wouldn't be hard to do both trails on one visit, to be honest!

The Escarpment Trail is a little bit tougher, but that's because the payoff is a little greater in terms of the views that you'll be experiencing. You're going to encounter the escarpment a little more literally on this trail that is a little under 2.5 kilometres. It's not particularly difficult, but it's not a trail you'd probably want to hike without a pair of hiking boots.

The Pine Ridge Trail is the longest trail that stays only on the Crawford Lake Conservation Area land, and it comes in a little over 3.5 kilometres. You're a little more removed and in the forest on this one.

The Nassagaweya Canyon Trail actually connects two parks, Crawford Lake and Rattlesnake Point. It's the most famous and well-known hike here, but it's also the longest and the most difficult. It's not a loop like the others here, so it'll be a little under 9.5 kilometres total all said and done. If you're keen, you should set aside a full day, pack plenty of snacks and water, and be prepared for 4-5 hours of hiking. That being said, it's a famous hike for a reason, and we're told the views are worth every ounce of effort.
We should also mention, if you're visiting in the winter, there's apparently a fair bit of cross country skiing that can be done on both the Pine Ridge and Woodland Trail. You can get more information here.
A little tip – if you drove out here from Toronto, consider stopping at Backed by Bees on your way home. It's just ten minutes away, and they've got plenty of great local products as well being the first meadery in Ontario that's dedicated to making session mead. West Avenue Cider House also isn't far as well.
Lakes & Longhouses Await at Crawford Lake Conservation Area!
This is a place where you can spend a full day very easily, regardless of season in many cases. There's something for outdoor lovers, for history buffs, and really for folks of all ages. It's an ideal family adventure in a lot of respects.
As always, we hope the information we've provided for you here helps you discover something new about this province, and perhaps even about yourself! This spot, we know, is an ideal setting for both.
---
We want to humbly thank Hamilton Halton Brant and Attractions Ontario for hosting us as media. All opinions are completely our own.
If you appreciated this article, you'll love our newsletter, as well as our Facebook group! Feel free to join, all are welcome.
Christopher Mitchell is the Cofounder of Ultimate Ontario. He's visited over 80 countries, and has lived on 4 continents, but now has his eyes set squarely on exploring this incredible province, and helping others do the same.