The Blue Mountains, Ontario is one of the most popular places to visit in Ontario. From the golf courses to adventure courses, hiking to swimming, here are the best things to do in Blue Mountains, Ontario this summer.
---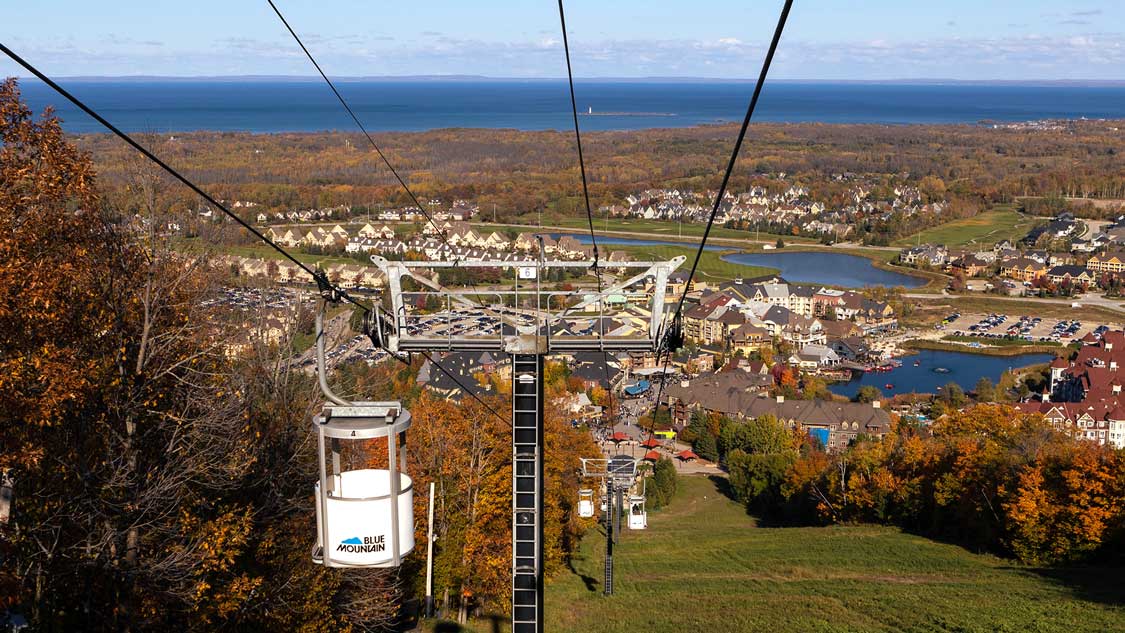 Situated just north of Collingwood, where the rocky shores of Georgian Bay give way to the rolling hills and karst rock formations of the Niagara Escarpment, is the Blue Mountains.
While the immediate thought that many people have when thinking of things to do in Blue Mountains, Ontario is usually Blue Mountain Village, that is just one small part of what is one of Central Ontario's most beautiful regions.
The Blue Mountains are exploding with golf courses, wineries, beautiful hikes, and amazing spots for food lovers.
Where Is Blue Mountains, Ontario?
Blue Mountains is a sprawling region of Grey County that stretches down from the base of the Bruce Peninsula and includes the towns of Thornbury, Craigleith, and Clarksburg, as well as a plethora of small villages and hamlets. And, of course, the central focus of Blue Mountains, Blue Mountain Village and Ski Resort.
The region is about a two and a half hours drive north of Toronto, although, during weekend traffic can bump this time up significantly. But once you're there you'll be swallowed by the stunning forests, gentle switch-back routes, and welcomed by some of the most amazing hotels and restaurants that call Blue Mountains, Ontario home.
What To Do In Blue Mountains, Ontario This Summer
You don't have to look far to discover the best things to do in Blue Mountains, Ontario. While this area established its popularity as one of Ontario's top ski destinations, the past several decades have seen an expansion of tourism and travel experiences that have hardly been matched by even the most popular destinations in Ontario.
Blue Mountain Village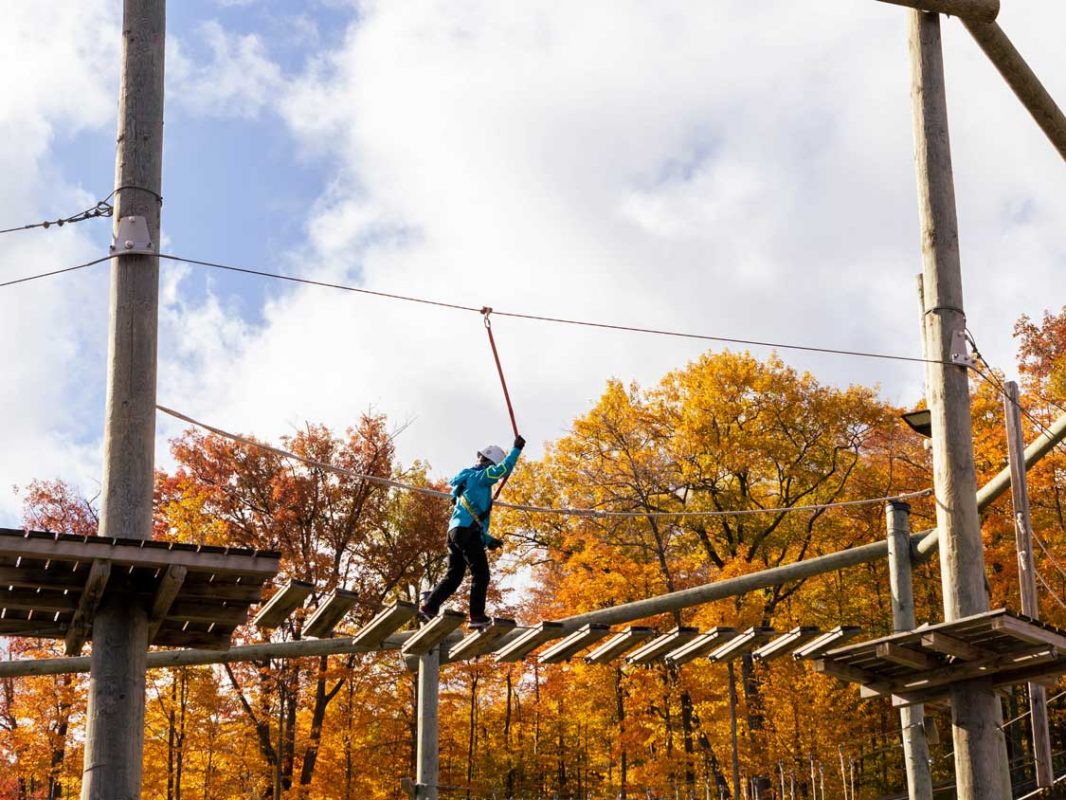 Blue Mountain Village and Resort is the centrepiece of action in Blue Mountain, Ontario, so it makes sense to start there before exploring all of the other amazing Blue Mountains attractions.
With loads of amazing restaurants, beautiful lodges, and fun attractions, Blue Mountain Village in the summer is a fun place to be. Whether you're spending your time roaring down the mountain on the Ridge Runner Mountain Coaster or getting pampered at the luxurious iwa Spa, there is something to entertain everyone at Blue Mountain Village.
Grab a reservation at Copper Blues and enjoy some of their famous steak before relaxing in style in one of their Westin Trillium suites. Your next morning can be spent hiking the gorgeous trails or just strolling through the village and nosing through the quaint shops.
Explore One Of Ontario's Newest Wine Regions
Just north of Blue Mountains (along the shores of Georgian Bay between Meaford and Owen Sound) is one of Ontario's up-and-coming wine regions. Make a stop at Coffin Ridge Estate Winery for their gothic twist on Ontario wines that include names such as "Back From The Dead Red." Or stop by Roost Wine Co. in nearby Clarksburg and pick up a case (trust me, you'll want more than one) of their elegant, dry L'Acadie white wine. You can find their website here.
Explore The Trails And Viewpoints of Scenic Caves
Scenic Caves is just a short distance from Blue Mountain Village and it's a fun side trip that will take you away from the hustle and bustle of the popular Blue Mountain resort, and drop you into a place with some of the best views of Georgian Bay.
Scenic Caves is an outdoor family-friendly adventure park where you can spend your time crawling through a wild series of caves, hiking gorgeous trails, and taking in the views from one of Ontario's most beautiful pedestrian suspension bridges.
During the winter this is also one of the most popular snowshoe trails in Ontario. But during the summer things get even more spectacular as the caves and rocky landscapes open up even more of the amazing scenery.
And between hikes and adventures, there's plenty of places to stop for an ice cream bar as well. You can check out the Scenic Caves website here.
Hike Some Of The Amazing Blue Mountains Trails
One of my favourite things to do in Blue Mountains is hiking. This incredible area has some of the best hiking trails in Ontario. And every time I visit I discover a new trail that quickly becomes a new favourite.
Nearby to Blue Mountain Village you'll find the scenic Pretty River Loop which takes you on a gorgeous 4 km winding route through the landscape. In nearby Collingwood there are a number of scenic hikes including White's Bay Park.
But currently sitting on top of my list of the best hikes in Blue Mountains is Metcalfe Rock. This gorgeous area, which is part of the famed Bruce Trail, is listed at 1.9 km, but its easy to make it far longer by including the myriad of side trails that meander through the forest. The park is centred by towering cliffs, caves, and crevasses that make exploring so much fun.
Visit Some Waterfalls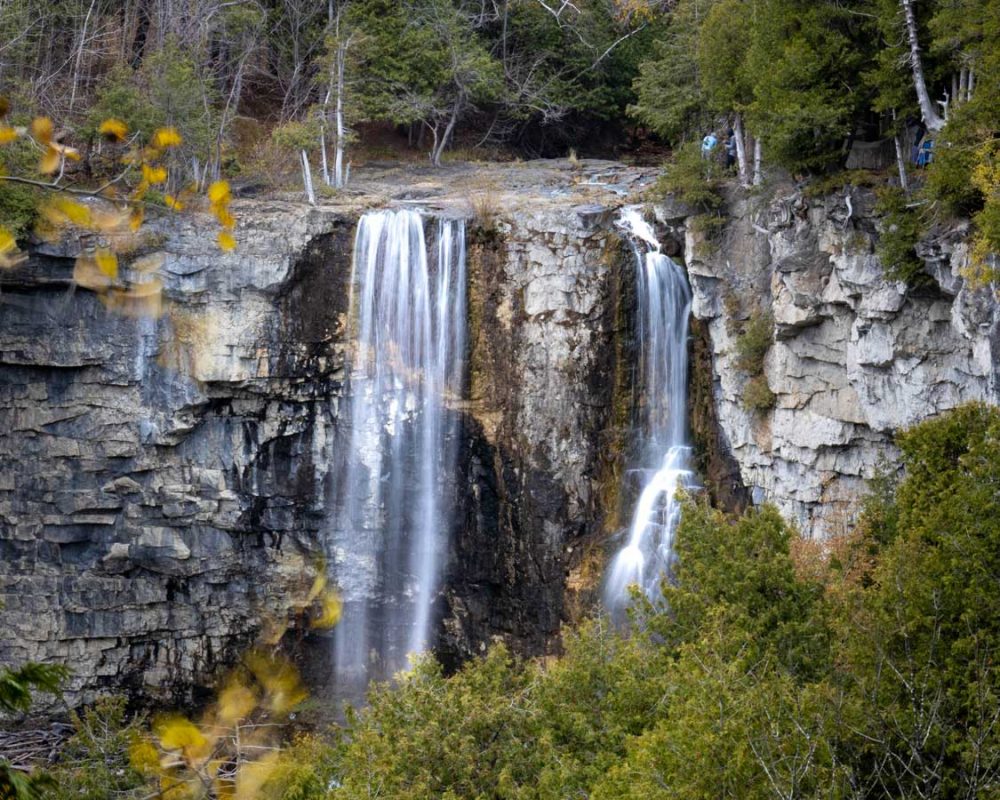 While many people consider the waterfall capitals of Ontario to be Hamilton and Algoma, Blue Mountains and the surrounding area definitely takes the runner-up prize. They may not have as many waterfalls as some areas, but the ones that they due are dazzling to behold.
There are two spectacular waterfalls in the Blue Mountains that are worth the drive from wherever you're staying.
Eugenia Falls Conservation Area is a short 23-minute drive from the Blue Mountain Village and combines gorgeous canyon trails with beautiful viewpoints overlooking Eugenia Falls.
Not far from Eugenia Falls is the towering Walters Falls Conservation Area. It's an easy 31-minute fall drive from the village and features an old mill and rough trails that will make you forget how close you are to civilization.
Hit The World's Longest Freshwater Beach
Ok, I might be stretching a bit here as Wasaga Beach isn't technically in Blue Mountains, Ontario. But, it is just a brief 30-minute jaunt from Blue Mountain Village, so I'm going to say that's close enough.
Wasaga Beach is known as one of Ontario's big party spots. But it's also home to some beautiful long and winding canoe routes and many more fun activities. Take in the views of the remains of the HMS Nancy which was sunk off of the coast and has become a man-made island not far from shore. Or, just lounge on one of eight different beaches and recreation areas spread out along 14km of soft white sand.
Explore The Apple Pie Trail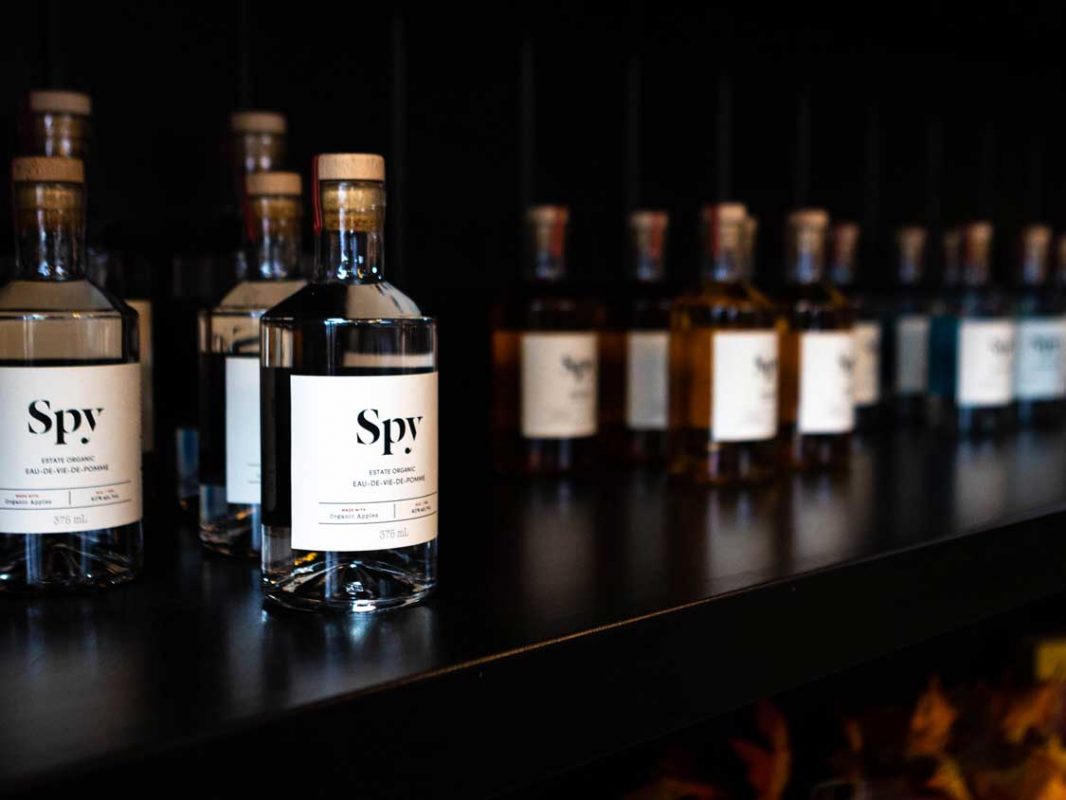 While exploring the best things to do in Blue Mountains, it's hard not to notice all of the sprawling apple orchards that dot the landscape. Apples are big business here, and the Blue Mountains Apple Pie Trail is one to hit during the warmer months. If you can make the visit in the fall, you'll find the freshest and juiciest products.
Make the run over to Thornbury and taste some of the mouthwatering ciders coming out of Grey & Gold Cidery, a sustainable, farm-based cidery based on a 6-acre orchard. And make a stop at Goldsmith's Orchard Market or RT 26 for some fresh-baked pies and locally-crafted delicacies.
When I was up in Blue Mountains last fall, I discovered that they had an incredibly unique gin distillery in the region. Spy Cider House and Distillery is another great stop on the Apple Trail. The fun atmosphere and great patio of Spy make this a gorgeous hangout on warm summer nights and the apple gin is something you're going to want to bring home a bottle or two of.
You can check out the complete list of Apple Trail stops here.
Hit The Links on these Blue Mountains golf courses
Take some time between hiking and relaxing to test your golf skills at one of the nearly 30 golf courses in and around Blue Mountains. This is one of Ontario's premier golf destinations. And with magical views from the Niagara Escarpment and the fresh air coming off of Georgian Bay, it's no surprise as to why.
Blue Mountains Golf and Country Club and Monterra Golf are right in the village and popular for those staying in Blue Mountain Resort, while OslerBrook Golf and Country Club sits at the base of the nearby OslerBrook ski resort and sits on 230-acres of rolling hills.
For some truly amazing putting, head to the Golf Club at Lora Bay, which is one of Ontario's top-rated golf courses. This gently-winding course was designed by PGA professional Tom Lehman and features an amazing variety of landscapes to play through.
Pamper Yourself At One Of These Blue Mountains Spas
If you love to be pampered, there are few better places in Ontario than in Blue Mountains. There are four fabulous spas in Blue Mountain Village and several nearby in Thornbury and Craigleith.
iwa Spa at Blue Mountain Village has been one of our favourites. Our wellness expert, Chris Ryall, wrote about them not long ago. You can check that out here. Close by is the absolutely gorgeous Scandinave Spa. This luxurious adult-only spa offers a circuit of outdoor pools, sauna's, steam, rooms, and hot tubs. The spa is first come, first serve, so arrive early so you don't end up on the waitlist.
Now It's Time to Experience These Things To Do In Blue Mountains For Yourself
There are more things to do in Blue Mountains than meets the eye. From Blue Mountain Village to the apple trail and everything in between, you can find something for everyone in this beautiful region of Ontario. Many of these businesses and restaurants are anxious for visitors after a tough year. So let's support local and make the most of your Blue Mountains adventure.
Do you have a favourite attraction or restaurant in Ontario? Head over to the Ultimate Ontario Facebook Community and join the conversation! You'll find an amazing group of people passionate about Ontario and who love to share their local secrets.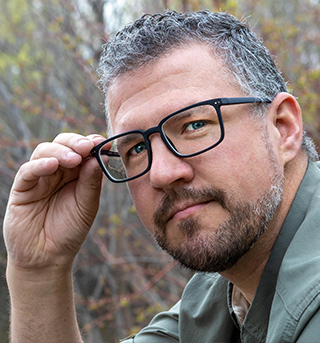 Kevin Wagar is a founder and editor of Ultimate Ontario. He has been working in the travel media industry since 2015 when he founded his family travel website Wandering Wagars – Adventure Family Travel.
Over the years Kevin has developed a deep love for his home province of Ontario and aims to showcase the incredible experiences and amazing small businesses found within it.