When spring arrives in Ontario, people get that unmistakable pep in their step, and it feels as if the whole province is smiling at once. Don't get us wrong, winter has its highlights, but by the end of an Ontario winter, it's safe to say that most of us have had our fill.
Often times, in the depths of winter, we think about all the things that we'll do when the weather gets a little warmer. Then, when that warmer weather actually arrives we proceed to promptly do precisely none of it.
That's where today's article comes into play. We want you to make this Ontario spring one to remember.
At Long Last, Ontario's Spring Has Arrived
Before we get into our list, we just want to again remind everyone to experience and appreciate this province responsibly. Please take note of the restrictions/colour code put in place for each region, and respect the advisory associated with that colour.
Without further adieu, let's dive into the best of spring in Ontario!
Toast Spring with Ontario Wine
Is there any better way that we can celebrate the arrival of this new season than to take a moment to be grateful for it? It's no secret that we are huge fans of Ontario wine, but that's not due to any bias. No, Ontario wine is excellent.
We have an array of wine regions in Ontario that are well worth visiting. Regions such as Niagara and Prince Edward County are historic and esteemed, but we also have many up-and-coming Ontario wine regions such as the EPIC wineries (Essex-Pelee Island County), Norfolk County, Huron Shores, and Georgian Bay.
In Ontario, we have over 150 vineyards spread across nearly 20,000 acres, and this province is the country's largest producer of wine. So, let's make sure that this spring we support local where we can – because we certainly have no shortage of options.
Get Out on an Ontario Golf Course
For many sports enthusiasts, the arrival of winter means hockey is upon us, and the arrival of spring means they can once again hit the links. When you think about it, the list of the best golf courses in Ontario rivals almost any list of golf courses that you can find.
We're spoiled for good golf in Ontario.
We've got some higher end courses that you'll really have to break the bank for, but it's also likely that you've got a local golf course right near you that's just great.
We've personally reviewed a few courses in southwestern Ontario such as Forest City National Golf Club and FireRock Golf Club, and aim to put out more and more reviews moving forwards.
Go Hiking
To us, strapping on the hiking boots and getting back out there on the trails is one of the true perks of an Ontario spring. It's something that we can do on our own (though always let a loved one know where you're headed), with your partner, with friends, or with your whole family.
Hiking is good for both our body and our minds, and that's why we spent time putting together a list of the 10 most beautiful hikes in Ontario. We can only hope you make good use of that article this Ontario spring.
Check out an Ontario Farmers Market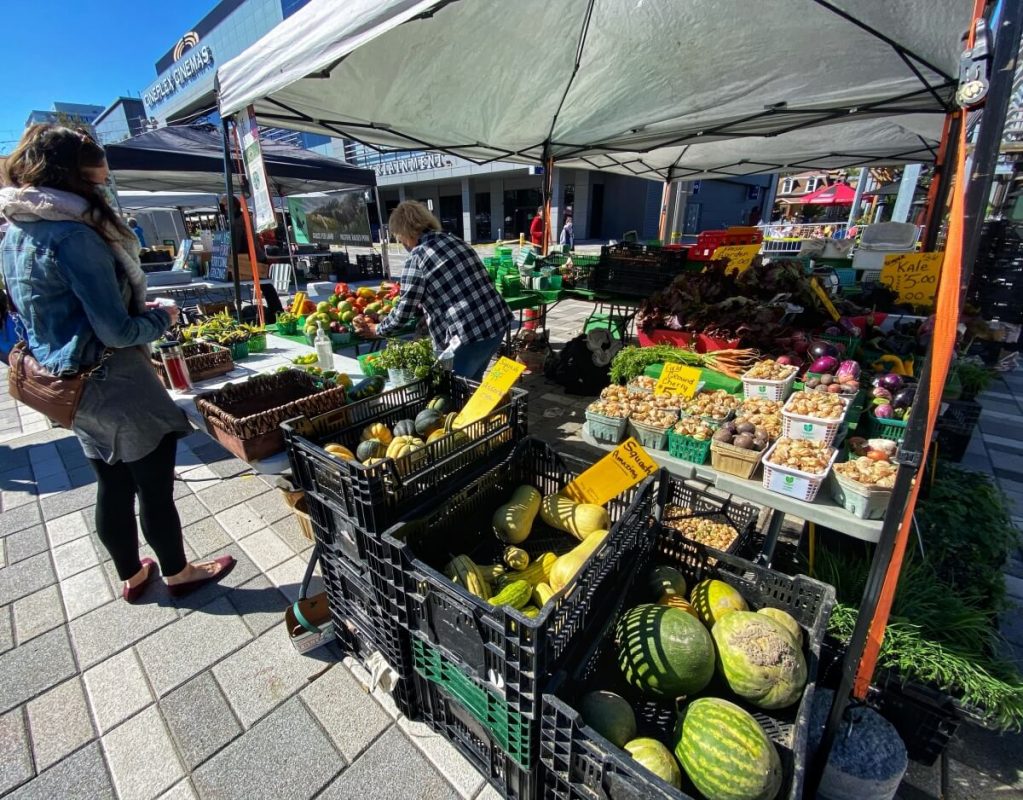 When it comes to Farmers' Markets in Ontario, spring is often the time when things kick back into swing. Some markets have been inventive and have managed to operate year-round, but that's more the exception than the rule.
And that means that when spring arrives, we should start to think of how we can support local by safely visiting a local farmers market.
Here are a few markets you may want to consider:
The Ottawa Farmers' Market at Lansdowne Park (Ottawa, Ontario)
Elberta Farms Country Market (Paris, Ontario)
Welland Farmers Market (Welland, Ontario)
Lee and Maria's (Kingsville, Ontario)
St. Catherines Farmers Market (St. Catherines, Ontario)
Orillia Fairgrounds Farmers' Market (Orillia, Ontario)
Mill Market (Sault Ste. Marie, Ontario)
Strom's Farm & Bakery (Guelph, Ontario)
Campbell's Orchards (Carrying Place, Ontario)
Sarnia Farmer's Market (Sarnia, Ontario)
Wendy's Country Market (Rideau Lakes, Ontario)
There are so many more that are worth visiting. It's best for us to first and foremost support any farmers' markets which are popping up in the city or town nearest us, if possible. This way we can ensure that all Ontario farmers are getting our much deserved support.
If you find an Ontario farmers market that you like, we urge you to join their Facebook group/page, newsletter, or find whatever their main form of communication is. That way, you can stay up to date on news, what is on offer, and also be informed of any changes for opening and closing times or cancellations etc.
Put One of Our Ontario City Guides to Use
We've been working hard here at Ultimate Ontario to ensure that we've got guides at the ready for as many cities in Ontario as possible. And, of course, the list grows day by day.
Here are 10 Ontario city guides that we'd like to share with you thus far:
Go on a Romantic Getaway
You've been cooped up all winter, so why not spread those romantic wings and fly this spring?
If you've ever read Shakespeare, you'll know that spring is the time where love and jubilation is in the air, and why shouldn't that hold up all these years later?
We had a little fun putting together our most romantic getaways in Ontario article, and we hope that you and your partner can make good use of it. May your love blossom right along with the flowers.
Okay, we'll stop.
Visit a Provincial Park
Whether you are looking to camp and spend the night, to plan your ideal canoe trip, or simply to visit for a quick hike, our provincial parks are an absolute treasure.
Fun fact – did you know we have 330 provincial parks in Ontario?! In fact, almost 8% of the province is provincial park land. That's over 8 million hectares of land and water! How lucky are we?!
We suggest you start by visiting the Ontario Parks website to ensure that you're visiting safely and responsibly, and that there's availability on sites etc.
There are so many fantastic provincial parks it can be overwhelming, so we'll give you a list of some of our favourites.
Show Some Love for Our Breweries
Many breweries in Ontario have outdoor seating areas, or at least the option to take beer away and enjoy in a nearby park or at home. That way, you can enjoy great beer, but do it while getting a touch of sun, and appreciating the spring.
The patio on Cured Craft Brewery in Leamington, for example, is a sun lover's paradise. That being said, there's absolutely no shortage of great breweries in Ontario worth supporting. In fact, we tapped some Ontario writers on the shoulder to ask them what they thought the best breweries in Ontario were.
The Ontario beer scene is starting to get worldwide recognition and all we can say is – about time.
Sit Under the Stars
In recent years, it seems as if stargazing in Ontario has become something of a certified provincial pastime. People may not know this, but Ontario is actually revered around the world for our dark skies. In fact, we have three dark sky preserves, with Quetico Provincial Park being the most recent addition to that list.
Even if you can't make the trek to somewhere like Quetico, we urge you to take an extra second to appreciate the night sky from your home or cottage. We are blessed in terms of what we can see above us.
If you're passionate about astrology and the night sky and want to take it a step further, consider seeking out a view of the northern lights in Ontario!
Go Somewhere a Little Different
Sometimes we'll post something on Instagram and people will respond will something along the lines of, "wait! This is in Ontario?! Like, Ontario, Canada?!"
And, we love to be able to answer, "why yes, yes it is."
After this happened again and again, we just thought it would be downright fun to put together an article on all the unique places you'll never believe are in Ontario.
From the rails of Agawa Canyon to the flowerpots and shipwrecks at Fathom Five National Marine Park, this list is sure to offer you a fun idea or two this Ontario spring.
Beyond just that article though, we'd urge you just to do something you might not normally do. Consider eating your way through the Lanark County Chocolate Trail, or perhaps you can drive to a restaurant that's not near you, but worth the drive. A place like as MJ's Roadhouse near Lucan, Ontario comes to mind!
Appreciate That Small Town Charm
It's no surprise to us that one of the perennial favourites on our site is our guide to visiting the most charming small towns in Ontario. From Perth to Port Hope, Picton to Port Perry, the list of Ontario small towns that are worth the visit in the province is remarkable.
And, it is seems as if every year we're finding new spots that are worthy of recognition. We're excited to continue to safely explore, and put eyes on more deserving local businesses moving forwards.
---
You know that old expression that we need to "strike while the iron is hot?" Well, here at Ultimate Ontario, we feel that the same holds true for the weather. So shake off that winter dust, throw on the sunglasses and embrace this Ontario spring like you never have.
We sincerely hope this article gets you on your way this spring, and remember that if you're looking for more ideas on Ontario travel, you're always welcome to join our growing Facebook community.