These Prince Edward County Breweries showcase some of the best flavours of "The County". With a range of styles and distinct notes, craft breweries in Prince Edward County are a booming business.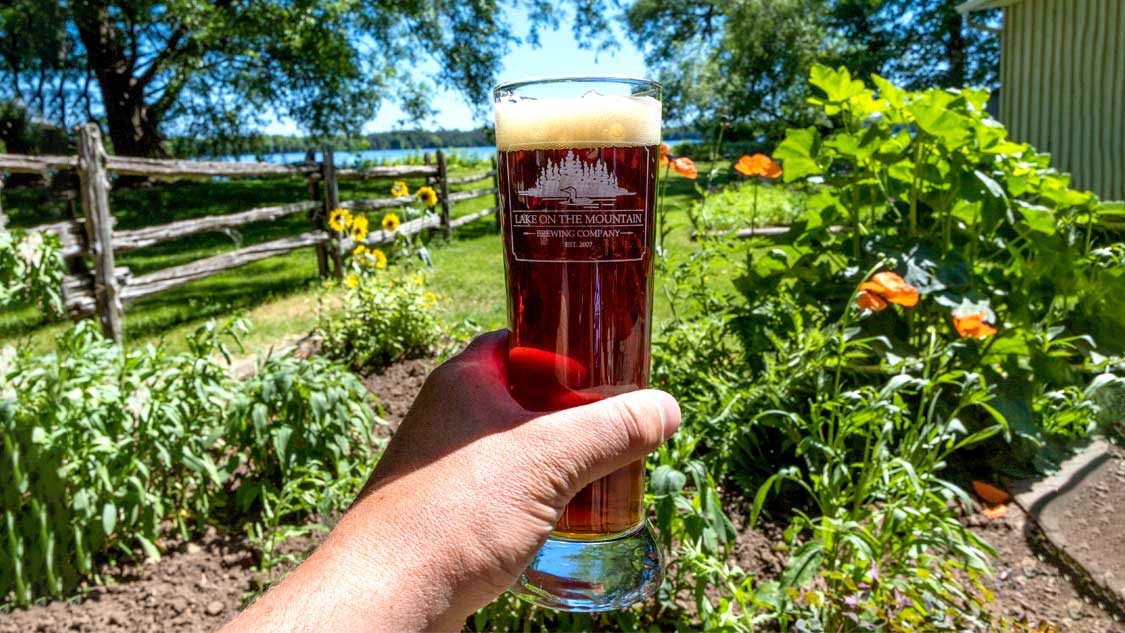 Prince Edward County has become one of the most popular and established wine regions in Ontario. But drifting behind the scenes, another boozy business has been brewing.
Since 2007, craft breweries in Prince Edward County have been popping up faster than dandelions in the spring.
This craft brewery scene in "The County" has been a welcome alternative to the fantastic selection of wineries. And it's added a new angle to the popular tourism in the region.
We love our Ontario craft breweries. And the more selections available means more creativity is lent to the brewers. And that's a win for everyone.
Of course, it goes without saying that if you embark on a craft beer tour in Prince Edward County this year, make sure that you join a tour or pick a designated driver. You'll definitely need one if you decide to tackle more than a couple of these Prince Edward County breweries.
Don't Miss These Breweries In Prince Edward County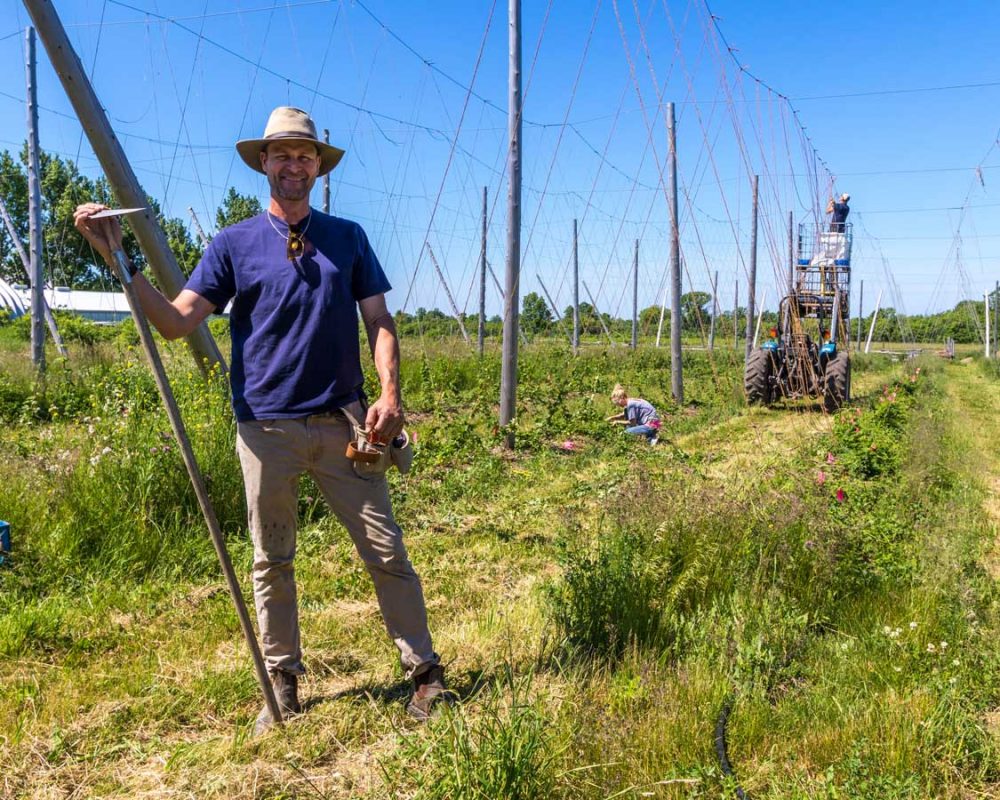 Prince Edward County has a wealth of attractions. From stunning camping and glamping to some of the best beaches in Ontario. It's the type of place that you can enjoy on a romantic Ontario getaway, as part of a girl's weekend away, or on a roaring bike tour through breweries and wineries.
If you're planning on hitting a Prince Edward County brewery or two (or three, or four…) during a road trip or Ontario staycation, there are a few that, in my opinion, stand out above the rest.
That's not to say that any of these PEC breweries are bad. In fact, I'd be hard-pressed to say that there is a bad one in the bunch. And if I miss one that you love, drop a comment to our Ultimate Ontario Facebook Group and let us know what your favourite craft brewhouse in the County is.
Midtown Brewing Co.
Coming to the Prince Edward County brewery scene 10-years after Lake on the Mountain, Midtown Brewing Co. is a relatively new addition to the party. But its brilliant location, excellent patio, and excellent brewpub, Midtown has made waves.
Located on Wellington Main St. in Wellington, Midtown Brewing Co. serves up some delightful flavors that compliment the menu at their onsite restaurant.
The beers tend to lean towards European accents with their Bavarian-style County Kolsch and the citrus notes of their Witbier. But they also brew some mean IPAs.
Midtown also has an on-site market where you can shop for local produce and goods which adds to the nice "support local" feel.
Lake on the Mountain Brewing Company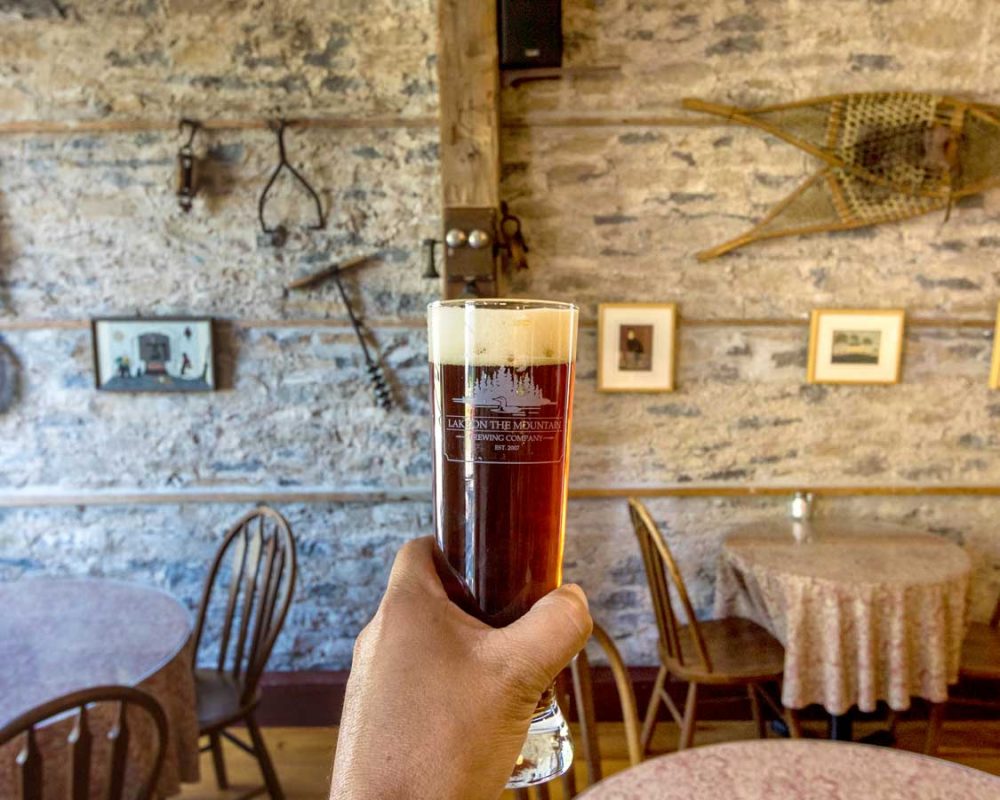 With perhaps the most scenic location in all of Prince Edward County, Lake on the Mountain Brewing Company is among my favourite craft breweries in PEC to visit.
The brewery launched in 2007 as an in-house brewery for Lake on the Mountain Resort, and was quickly a destination for beer lovers in Prince Edward County.
They recently expanded to the Miller's House that includes a taproom and retail bottle shop as well as a beer garden that offers picnic tables and a fire pit located next to Lake on the Mountain itself.
Make sure to grab their Model A Amber, which is named after the classic car parked outside. Their Oatmeal Stout is a winner for cold days.
If you're looking to enjoy some of the best road trips in Ontario, this is a must-stop on the Loyalist Parkway journey.
Parsons Brewing Company
Located just a little northeast of Picton is one of the most popular breweries in Prince Edward County. It's a great stop for those who are exploring some of the local Ontario sunflower fields.
Parsons Brewing Company undertook the engineering feat of moving and re-building two heritage buildings to a large property near Picton. After a lot of work, they've made a huge impact in the area and have left themselves lots of room to grow.
Parson's features a large property that seems to be constantly hosting events throughout the summer and fall seasons. And their wide selection of tasty brews keep visitors coming back for more.
Part of the draw is their excellent kitchen which serves up scrumptious Mexican and southern comfort food, which on a clear night can be enjoyed next to the ever-roaring bonfire.
On a cool night, sip on a thick and rich Grandpa Miguel's Coffee Stout. Or, treat yourself to something truly unique with their barrel-aged Rum Brulee Stout. For something lighter, I'm a big fan of their Mousetrap Rye Pale Ale.
555 Brewing Co.
Combining the classic flavours of pizza and beer, 555 Brewing tugs at my heartstrings. Although the name harkens back to the famous County murder back in the 1800s, this Picton craft brewhouse is anything but dark.
Launched by Nat and Drew Wollenberg in 2015 with a manufacturing facility, excellent beer garden and patio, and a stylish wood-fired pizza oven, it's become a popular destination for anyone who makes the visit to Picton.
The owners had already established the popular County Canteen before they launched their brewery, so they understand what goes into a great patio experience.
I recommend tasting the Sasquatch Smash Ale, which has a wonderful flavor. And make sure to have a sip of both the Judge Pale Ale and Jury Lager to get a proper taste of the justice system.
It also makes for a great spot to stop after a night at the local drive-in movie theatre.
Prince Eddy's Brewing Company
Another Prince Edward County brewery located in Picton is the local-favourite, Prince Eddy's Brewing Company on Macsteven Dr. Not only does this brewery capture the charming, Ontario small-town feel of Picton, but the brews are pretty good as well.
Serving loads of hop-heavy beers, Prince Eddy's is riding the wave of hoppy IPAs in the Ontario craft beer scene. And they've captured the vibe by making their location a funky hangout in the midst of Picton's industrial area.
The ample yard and casual atmosphere makes for a casual meet-up spot. And their two-story tasting room is where you can spend some time sipping on on a flight that includes their Chin Dropper Blonde and Chiller Instinct Dry Hopped Sour.
Prince Eddy's doesn't serve their own grub, but during the summer months, visitors can usually find a food truck serving casual fare parked on-site.
Matron Fine Beer
Just entering the Prince Edward County craft brew scene in 2019, Matron Fine Beer, which is located on Barkers Lane in Bloomfield, was started by three friends with a passion for quality beer.
Matron has made a big impact in a short period of time. And their beer can already be found in taprooms from Ottawa to Hamilton as well as throughout the County
Their Yeasayer Lager is a delicious option but it's their Farmhouse Wheat that I turn to on a hot summer day.
Strange Brew Studio
I applaud any craft brewery that refers to it's creation space as a studio. The brand new Strange Brew Studio is still shaking off the dust, and they don't even have a web-presence outside of Instagram and a few glowing reviews.
But one visit to this literal basement brewery on Chase Rd. will shake your understanding of craft beer tours in the County.
Strange Brew Studio runs out of the owner's backyard and caters mostly to bicycle tours in Prince Edward County.
Dave's unique focus on barrel-aged beer hit me right in my heart. I absolutely cannot get enough of this style of beer and I'm so excited to see more craft breweries focusing on it.
It doesn't get much more small business than this, but don't let the size of the operation fool you. Strange Brews operates a gorgeous tasting area in the cozy yard. And we look forward to seeing them grow quickly.
Gillingham Brewery
Another Hillier Brewery, although one with a much larger footprint, is Gillingham Brewery on Wilson Rd.
With a gorgeous patio and a dog-friendly atmosphere, this Prince Edward County brewery, just a short drive from Wellington, has become a popular summer hangout in the County. Especially for the roaring bonfires on the patio overlooking nearby wineries.
This family-owned brewery features a rotating collection of small-batch beers that promise to make each visit to Gillingham Brewery a unique taste experience.
Slake Brewery
Located almost directly south of Picton on Mowbray Rd. on a hill with panoramic views of nearby orchards and farms Slake Brewery is proof that if you build it, they will come.
This winery, located on a small farm keeps things simple with a focus on easy-drinking ales and lager. Although they have plans to expand their offerings in the future.
Their fun, colourful cans extoll the light, hoppy flavours inside. Grab a flight while you're there and take home a sixer of their tasty Mosey Pilsner.
Barley Days Brewery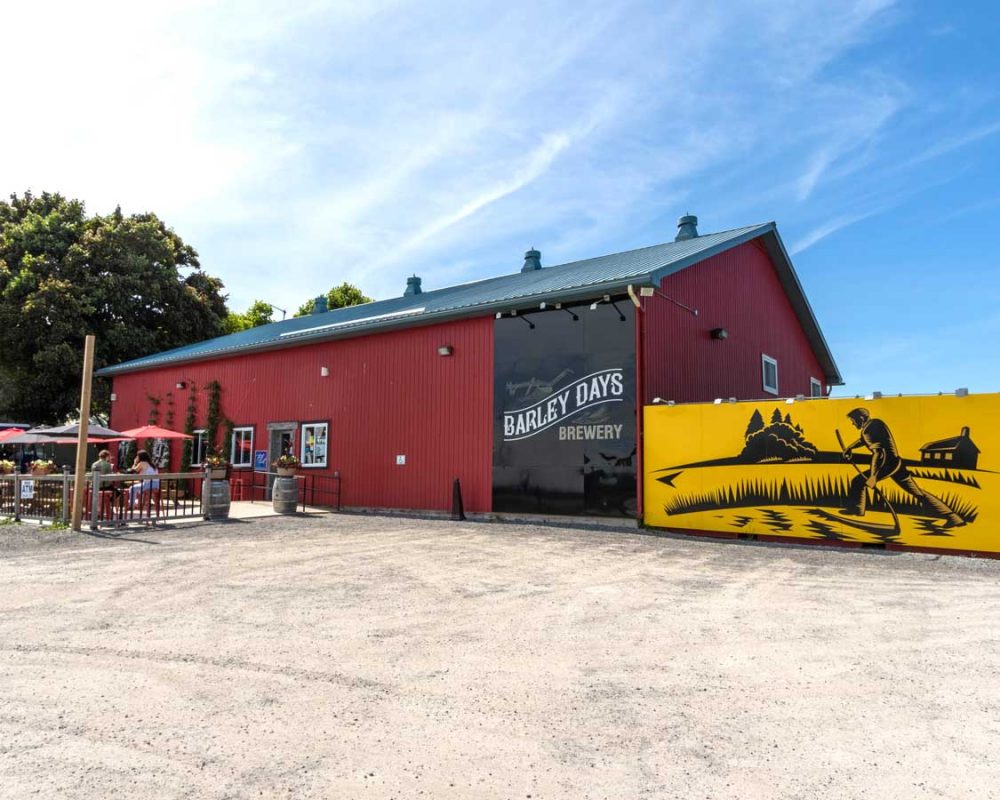 Barley Days is the first craft Brewery to open in Prince Edward County way back in 2007. In many ways, they have led the charge of craft breweries in the County.
This brewery has seen its fair share of politics that have led to conflict with other small-batch breweries both in the County and in the province. But it continues to push out new beers each and every season.
The Barley Days patio often features live music and they offer facility tours and an on-site bbq food truck.
Now It's Time to Experience These PEC Breweries For Yourself
There is more to do in the County than meets the eye. In fact, we've touted this as one of the most unique places in Ontario. And the these Prince Edward County Breweries are just one small angle. Many of these businesses and restaurants are anxious for visitors after a tough year. So let's support local and make the most of your adventures in The County.
Do you have a favourite craft brewery in Prince Edward County? Head over to the Ultimate Ontario Facebook Community and join the conversation! You'll find an amazing group of people passionate about Ontario and who love to share their local secrets.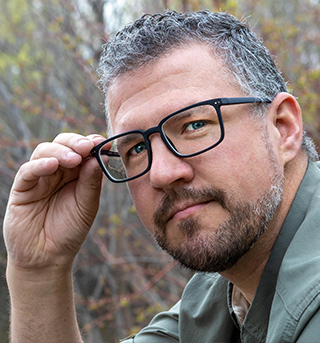 Kevin Wagar is a founder and editor of Ultimate Ontario. He has been working in the travel media industry since 2015 when he founded his family travel website Wandering Wagars – Adventure Family Travel.
Over the years Kevin has developed a deep love for his home province of Ontario and aims to showcase the incredible experiences and amazing small businesses found within it.